November 2: CONCERT + pic spam
In the end... in front is still better.
We might not be against the barricade but at least we're in a good spot if ever we decided to attempt fancams and pics. Surely, they would find it harder to pull people from the middle of the crowd than from the very front or very back. There were a bunch of very obnoxious fans behind us but whatever. If you're being pushed, push back. We all paid good money for the opportunity.
STILL ALIVE
I didn't buy a light stick for the 2NE1 concert but man, I'm so glad I had one for BIGBANG. I got a short fancam but it is massively overloaded. I'm still debating whether to share it or just let you guys search Youtube for better sounding/looking fancams.
After that, they did their usual intro spiel. Adorkable English! Let it be known that it is in California that TOP spoke the most English, compared to other cities. None of that shy boy, mic in hand, smiling as if too embarrassed to speak a foreign language. No. He was confident and smiling. And oh, they called us "Cali" or "California". Technically, Anaheim is not Los Angeles. ;-) Now if it were in Staples... hehehe.
One of the few group shots I managed that night.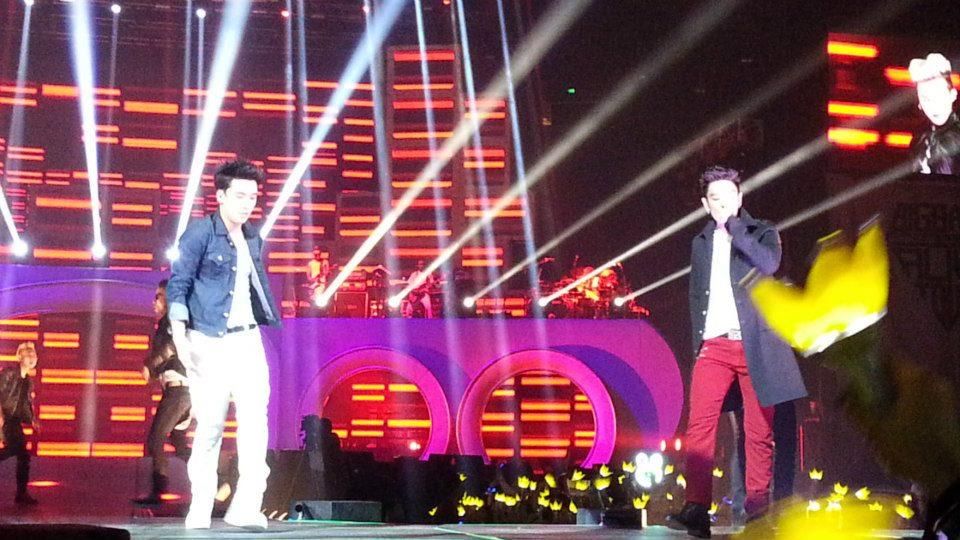 My bbs... <3
Look CLOSELY at this photo.