First half of 2012: The Avengers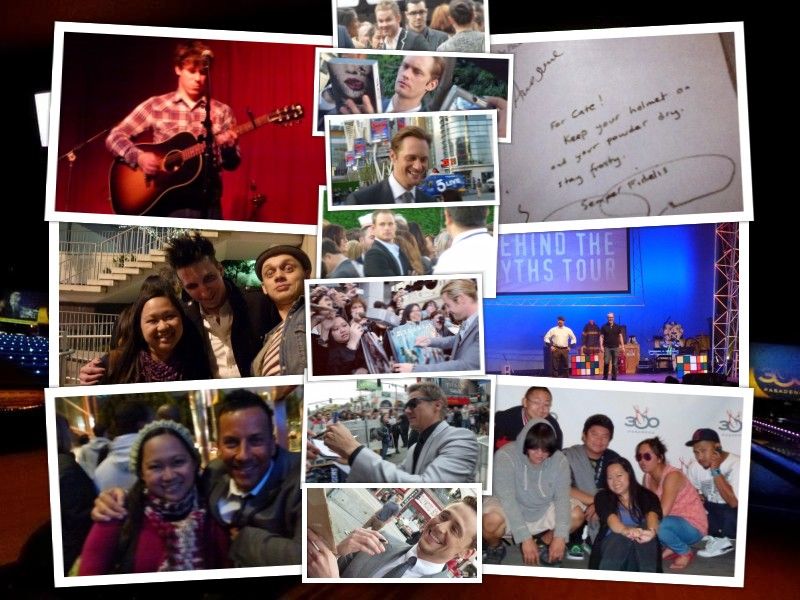 It is the last day of 2012. What are your favorite memories of this year?
To me, 2012 has been the best year of my life so far. I had the most fun, met a lot of great people, saw many famous ones (lol), crossed out a lot from my bucket list. I did so much this year and it was tough to fit them in one photo. So I split them into two.
The first half of my 2012 can be represented by
The Avengers
. It was by far, THE BEST red carpet premiere I've attended. I was with good friends and I was able to share it with my brother. To me, that was the most important thing. Not to mention,
The Avengers
is my favorite movie of 2012 (sorry,
The Hobbit: An Unexpected Journey
). I could not stop thinking, talking about it. But yeah, like I mentioned, I was thrilled to share that moment with my brother. It was a long and uncomfortable wait but I'm glad he soldiered on with me and saw/met the likes of Stan Lee, Jeremy Renner, Samuel L. Jackson, Scarlett Johansson, Alexander and Stellan Skarsgard, and even Dominic Monaghan of LOTR!
Speaking of Alexander Skarsgard, I saw the guy three times this year. No joke! All at premieres:
True Blood
(I don't watch it anymore but I go to the red carpet every year for three years now),
Battleship
(come on... how many people can say they watched a movie with ASkars, Rihanna, Andy Roddick, and Liam Neeson in the audience with them lol), and when he went with his dad Stellan at
The Avengers
premiere. I think he recognizes me now... yeah, I'm pretty sure he does. I know that smile he gives me when he sees me and my GK stuff amongst the sea of
True Blood
.
Also speaking of LOTR, my starstruck moment of 2012 is meeting
Craig Parker
at the
Spartacus: Vengeance
premiere. I've talked about that moment in a previous post. I don't know how I held it together when he stopped by my spot, talked to me, took a photo (asking if we were doing a serious or wacky face even), and coming back after he'd moved on to tell me "not to enjoy the naughty bits (of the episode) too much". OMG. I've talked with a lot of celebrities but this one takes the cake. That night, I also saw Manu Bennett who had a small part in
The Hobbit
. And I shook hands with Lucy Lawless. I win.
One of the prouder moments of my life was taking my mom and brother to see
American Idiot
. Yes, I'm not a huge fan of the tour but I am a huge fan of the show. To be able to have both of them there on the 2nd anniversary of the first time I've seen the show (April 19) was priceless. I had my brother beside me at front row center and my mom got to see it for the second time from a distance. And they both enjoyed it! It was a full circle, seeing it for the first time on 19 April 2010 and then again two years later, 19 April 2012. It was special.
And I also added to my
Generation Kill
list. This blog knows nothing of my love for this amazing HBO mini series and I will remedy that soon. I met Benjamin Busch at his book signing at my local Vroman's Bookstore. I had him sign both his book and my very
very
special GK copy. And then I had the opportunity to talk to him. Again, no idea how I kept it together haha.
My first event of the year proved to be a foreshadowing of how awesome 2012 would be for me.
Mythbusters: Behind the Myths
tour. After yeeeeaaaars of watching and loving
Mythbusters
, there they were in front of me in the flesh. Adam and Jamie proved to be as interesting and entertaining in person as on TV. Then less than a week later, I was at the
Spartacus: Vengeance
red carpet premiere. How cool was my January? XD
This year, I also learned to appreciate having friends. I know this sounds rather sentimental but I didn't have a lot of friends that I meet in person at a regular basis. But these group of people that I met at work... they're great. I mean, the place we worked at wasn't the best of places but they were the ones that made it worthwhile. I may not be working there anymore but I will definitely keep those ties no matter what happens in the future.
January to June was pretty eventful. It only got better from there...