Review: Big Bold NYC reviews
My local CVS finally carries NYC, New York Color cosmetics. Well, my local RiteAid does but they don't have the new products. At least not yet. I also found these new products at Sears. But the products I'll be reviewing here are from CVS.
Okay, I lied. I got that Big Bold mascara from RiteAid...
ages
ago! (Note: I am aware of the shelf life of mascaras but whatevs.) Based on glowing recommendations from
Nouveau Cheap
, I went and picked up NYC's Big Bold Mascara in Extra Black. I was looking for new mascaras to try out. I'm lucky that almost all the mascaras that I try work well. The contest lies with the staying power. So far, CoverGirl Last Blast takes the cake. I like Maybelline mascaras also but they tend to leave me with black rings after a few hours. I don't like Wet n Wild, ELF, and Revlon mascaras. So I figured I would try one from NYC. And they're way cheaper than other drugstore brands. Was it any good?
And I thought the LashBlast (top) brush was big. On the bottom is the Big Bold mascara brush. It's HUGE! My mom tried to use it but she has short lashes and this huge hunk of a plastic brush wasn't the easiest thing to use. But with my longer lashes, it works like magic. I used it in this
Face of the Day
but I deleted the raw photo of the picture on the right. My other eye showed the full effect of this mascara on my uncurled (they're naturally curly, hey) lashes. I didn't really plan to do a review on this mascara. My original intention was to feature the new plumping glosses. But since they sort of belong to the same collection, I decided to feature this as well. Anyway, this is one of my favorite mascaras so expect to see this again in future Face of the Day posts.
Now, on to the new stuff!
As you can see in the first photo, the items in the Big Bold line are packaged similarly. Same sized tubes apparently. Big. Indeed. Just look at the size of that applicator. For reference, the smaller one is from a Sephora lip gloss. The other glosses from NYC, the liquid lip shines and the City Proof gloss, have different applicators so I couldn't really compare it to this one. It reminds me of the Hard Candy Glossaholic lipglosses. I don't those unfortunately but I've seen them at Walmart... I just am not much into sparkly glosses.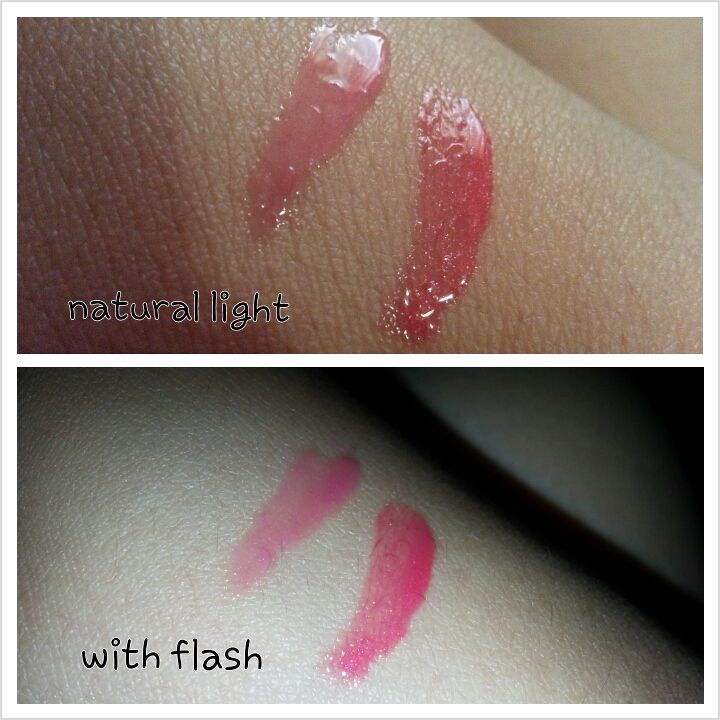 (L-R) Full on Fuchsia and Coral to the Max
I am a huge fan of NYC's Liquid Lipshines. I love their pigmentation and staying power. These Big Bold Plumping glosses claim to stay for 5 hours. Eh... honestly, I have yet to come across a gloss that stays longer than 2 hours. Pigmentation on these are sheer to slightly opaque. But I believe that glosses are meant to be applied over a lipstick so I can't knock much on these. And to be fair, they do give off a decent amount of pigment. Just not enough to give much of a difference on my fairly pigmented lips.
They smell pretty weird. Not a minty sort of scent characteristic of a lot of lip plumpers. I can't place it exactly. It's a mix of candy-ish and plastic. It's not disgusting but not entirely pleasant either. Speaking of lip plumpers, NYC used to have these Lippin' Large Lip Plumpers. I had the clear one and I hated it. It smelled like rubber, it came out with the consistency of super glue - almost solid sometimes - and it was so disgustingly sticky. I tossed it right away.
This one is definitely the better product. It does have a slight tingle when you put it on that will last for a few minutes but I think the plumping action comes in the form of an optical illusion rather than a chemical reaction. The huge applicator deposits a generous amount of product and the shine gives you fuller-
looking
lips. The formula is not sticky and yes, you can feel it on the lips but not to the point that is becomes annoying and heavy.
I still fail with lip swatches. I think that's the one thing that will not change. XD
On bare lips, I prefer Coral to the Max. It intensifies the pink/red tones of my lips. Between these two, I think I can wear Coral to the Max on its own. It's a deeper pink, not really much of a coral, with tiny sparkles. You won't be able to see or feel the sparkles once on your lips. I just think this color is pretty.
Full on Fuchsia is very sheer. It almost comes across as clear on my lips. Although, call me crazy, but I feel more tingle from it than from Coral to the Max. This is definitely one to be layered over a pink lip color. I may do a suggestion post of possible pair ups some time along the way. But yeah, if you have pale lips, you might be able to wear this on its own but for me, I'd stick with Coral to the Max.
There are other colors in the collection but they are loaded with obvious shimmer, I might stick to just these two for now. I think NYC has underdog lip products and people should start looking into them. (My favorite lip gloss - Liquid Lipshine - and drugstore red lipstick - Retro Red - are from NYC.) However, I don't recommend starting your NYC experience with these particular lip products. They're good but not the best.