Orange haul and Outfit of the Day (20130209)
Orange
is my favorite color. And I've been a bit orange-obsessed lately. Specifically with orange makeup. Most of my recent lip color purchases are in that color family. According to Pantone, I'm a whole year/season late but whatever. Those color "trends" are essentially the same every year - nudes, reds, brights, neons... it has been like that for years. But orange has always been that statement color. And I love it!
So I went on a little orange frenzy haulin' at both Target and Ulta after 한국어 class today. Speaking of that, it was extra fun today. We "studied" songs. I chose and
여자 이니 까 by 키스
and
그 남자 by
백지영 from the K-Drama Secret Garden. Man, K-Pop has pretty sad as hell songs. These two are prime examples. It brings me so much joy to be able to actually read these lyrics in 한굴 and not just rely on the Romanized lyrics. I'll be able to understand them eventually. Fighting!
Anyway, it was crazy cold last night and today so my OOTD is not that fancy. (Btw, sending warmth and love to y'all East Coasters! Stay safe!) But I did have my kitty hat!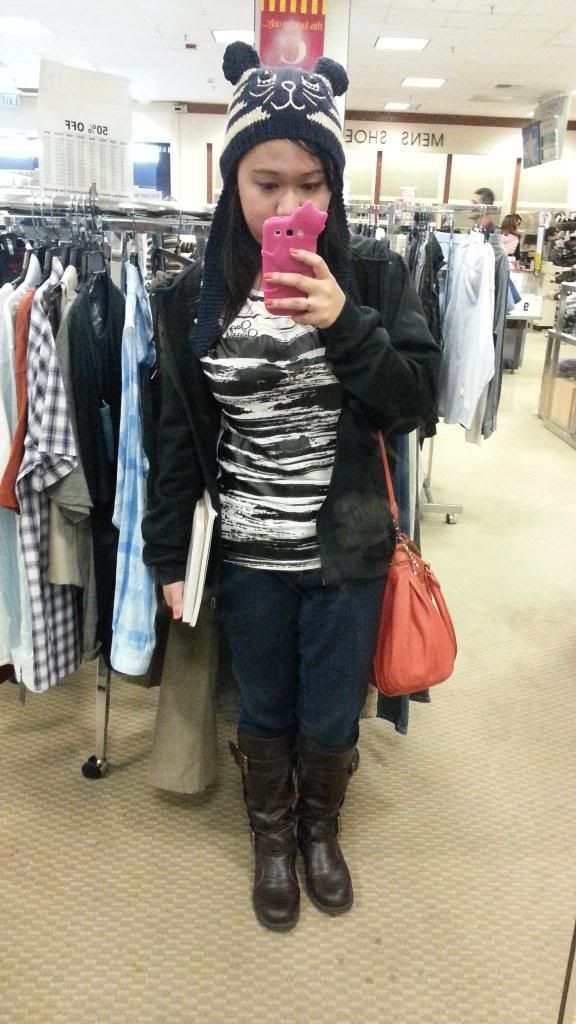 Outfit:
The Sak bag... in orange.

my crochet kitty hat that I did not make

shirt from JAG Philippines

Forever 21 denim

Under Armour jacket

Nicole boots
Face, nails, and all that jazz after the jump.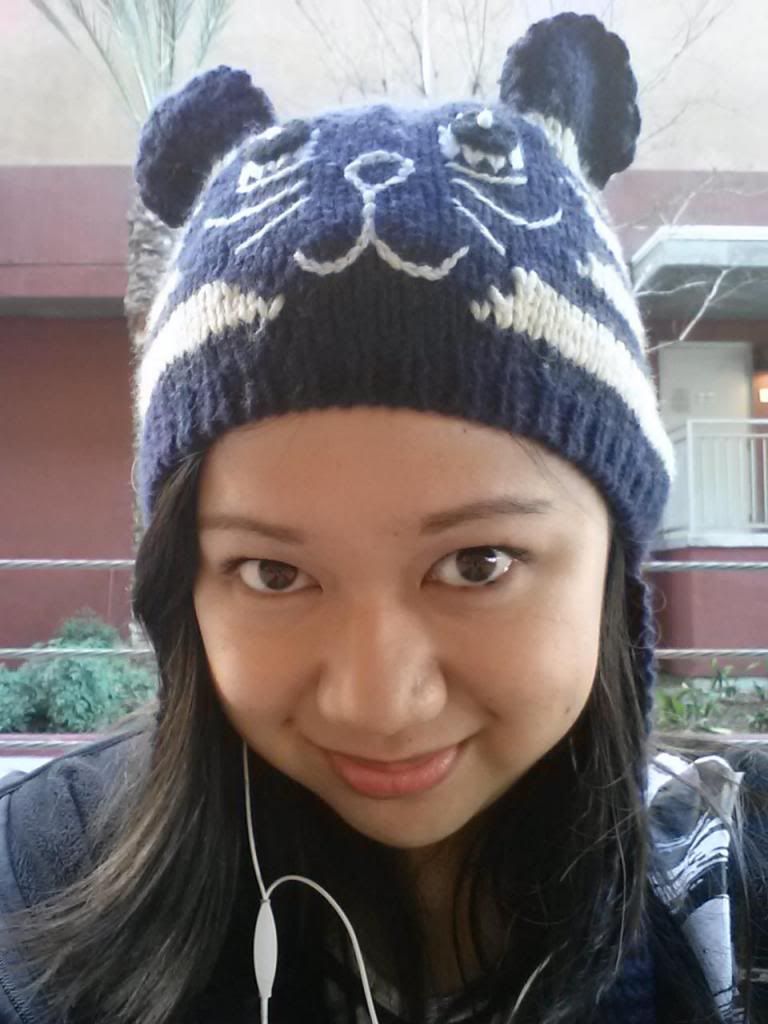 No makeup makeup
Face:
Missha M Perfect Cover BB Cream No. 23

Wet n Wild brow kit

ELF clear brow gel

ELF Essential blush in Glow

Skinfood Honey Gloss Rouge in #331 Garden Balsam

Physicians Formula Plump Potion in Pink Rose Potion

Physicians Formula Mineral Eye Shadow Quad in Fresh Minerals

NYX HD Eyeshadow primer

ELF cream eyeliner in Brown

Maybelline The Classic Volum'Express in very black

NYC bronzer in Sunny
L'Oreal in #102 Boozy Brunch. It's actually Boozy Bruch on the bottle but whatevs. I'm not a fan of this formula. It took 3 coats because it was so streaky. And after two days... it chipped. No loss though. I got it on sale at Sears for $1.99. Great orange pop though. And on to more oranges...
Products pictured (L-R):
NYX The Runway Collection in Caviar and Bubbles. I finally picked this up. I've been going back and forth for the longest time. I mean, how many neutral palettes does one need? But with the marked down price of $5.49 from ULTA? Yes, please.
Revlon Super Lustrous Lipstick in #677 Siren. I know, I know. I did say that I am allergic to Revlon cosmetics. But it's nothing life-threatening. Nothing that a very good lip balm cannot prevent. Plus dang, look at how ORANGE that bad boy is! ($5.89 at Target. It's the only full-priced item on this haul.)
Revlon Moon Drops Cream Lipstick in #710 Orange Flip. Apparently, this is a classic. And how bold is that shade?! I'll brave chapped and peeling lips for that color. Again, it was on sale at ULTA at $4.49.
NYX Butter Gloss in Cherry Cheese Cake. It's a new thing. I haven't found swatches online yet. When I swatched it at the store, it was bright and pigmented and it made me happy. And ULTA was having a 50% off all NYX stuff so I picked it up. Checked in at $3.75, I think.
NYX Powder Blush in Cinnamon. My other orange blush is also from NYX. And after my research, this turned out to be the most affordable orange blush out there. I might wait for Spring before trying this out. ($4.99 original price at ULTA.)
Milani Multitasker Face Powder in 02 Light Medium. I've always wanted to try this out after such glowing reviews from my favorite Youtubers. I finally found it in the price that I was comfortable paying. $4.18 at Target.
I also got some nail polish remover from the Up and Up brand. It's $0.58 but a boring bottle of acetone is no fun so I didn't put it in with the other stuff. I won't be reviewing these lipsticks right away. I might do a post on all my orange lipsticks in the future. I'm still on the look out for more and I am waiting for my Missha order to come in. But if you want swatches, hey, the Internet is your friend! =D