Review: Eva Armisen for Skinfood Vita Tok Lipstick in #1 Eva Pink
To round up this sort of Skinfood week, I saved the cutest for last.
The lovely ladies at the Skinfood boutique told me that all purchases from their "Eva Armisen wall" comes with a free umbrella. As I mentioned before, I already decided to pick up an orange lip plumper that costs $11. I looked at the other Vita Tok lipsticks and decided to skip it because of the $16.60 price tag. But Eva Armisen for Skinfood is limited edition. When I tried it, I did like the shades. And the free umbrella sweetened the deal. So I dropped the lip plumper and went with this one.
There are two lipstick shades in the line, or at least in the store. #1 Eva Pink and #2 Eva Peach. Even though I'm in my orange lipstick phase, I went with the pink one because it was more pigmented and I was attracted to that more than to the peach shade.
Isn't this just the most adorable packaging? It's one of those products where instead of tossing out the box, you keep it because it's so cute. On both the box and the tube cap, you can see
Eva Armisen
's precious artwork. 정말 귀여워요!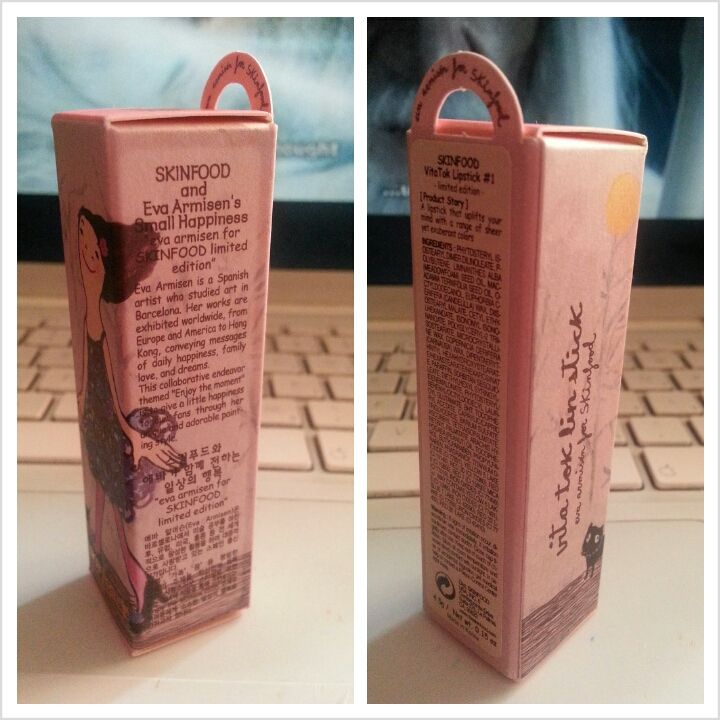 I cannot get over how adorable this packaging is! I like the handwriting font, the soft pink background and the little girl in blue. It's very well thought-out and so girly. The lipstick tube even has a Skinfood sticker keeping it closed and tampered-proof until you take it off for use. This is definitely my favorite out of the Skinfood lipstick packaging so far. (Their regular Vita Tok line does not come in a box.)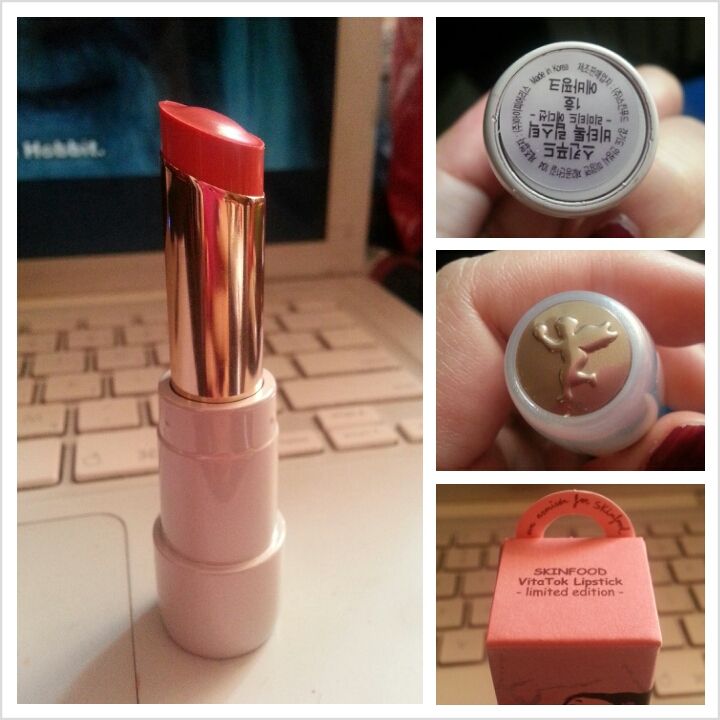 The lipstick itself is precious also. I mean, look at that color! So girly. It reminds me of the form that the Revlon lip butters come in. Actually, it reminds me of the Revlon lip butters a whole lot sans the dryness. (I don't know what it is but I seem to be allergic to everything Revlon.) The formula is super buttery and moisturizing. But like with the Honey Glossy Rouge, it is so sheer that it takes a few passes for color to show. By the time you get to that, it feels a bit greasy and heavy on the lips. And again, no English name on the tube. Please refer once again to the top right photo (and I was watching
The Two Towers
while I was taking photos of this):
Skinfood
Bitatok (Vita Tok) Lipstick
- Limited Edition -
#1
Eva Pink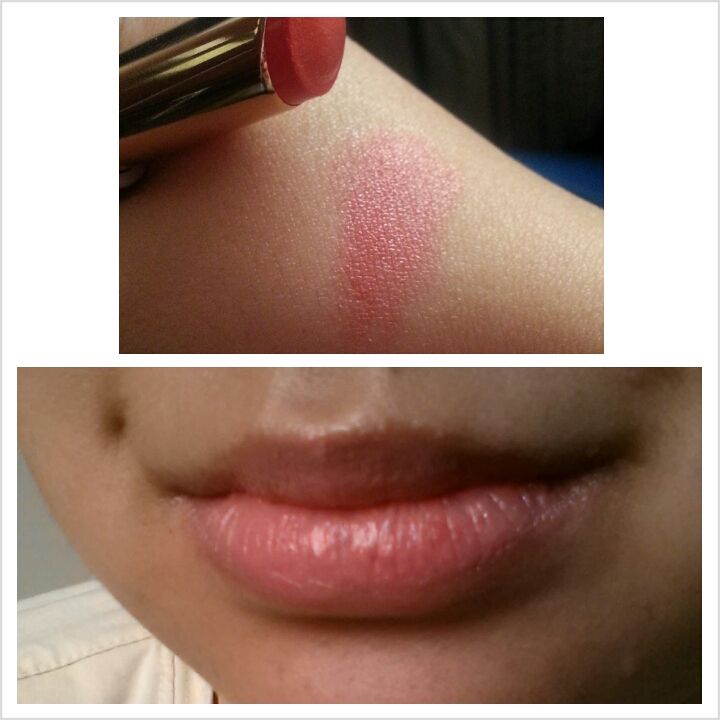 As you can see with the skin swatch, it is very sheer. I think I gave that a good four passes. My lips are rather pigmented so I don't think it shows too well. But in person, it comes across as a baby pink with a sheen. It does not have glitter but it does have a glossy shine.
But the one thing that drives me insane about this lipstick is the smell. It's not bad. It's actually very good. It's just that... it reminds me of something... but I can't remember what it is exactly! It's something from my childhood - a candy, or a toy, something. It is super sweet, slightly fruity. I think I won't be able to sleep until I remember LOL.
Like I said, there's one more shade in this line. I'm thinking of getting it but then again I'm not a huge fan of the pigmentation. I could use another umbrella, hey. :)