Favorite book 1: Generation Kill by Evan Wright
Say hello to one of my favorite books of all-time.
Generation Kill
by Evan Wright. I cannot even begin to tell you how much I love this book. If having multiple copies is any indication... I also have a digital copy and an audiobook version. I read this book at least once a year. I also love
to death
the HBO mini-series.
This is not going to be a review. I find that I have trouble reviewing my favorite books, especially re-reads. I appreciate a new thing about it each time I read it again and it's tough for me not to gush and put aside my bias. But really, I recommend this to everyone who wants to read non-fiction and military history literature. It's not really talking about the war, instead it is more about the men on the ground; their experiences, what they thought about the things happening around them. The author, Evan Wright, is not a Marine (he was an embedded reporter) therefore, his POV is from an outsider. It is different from most of the military books that I've read. And it really is entertaining. There is the heaviness that war stories bring but there is also a sort of candid tone woven in between.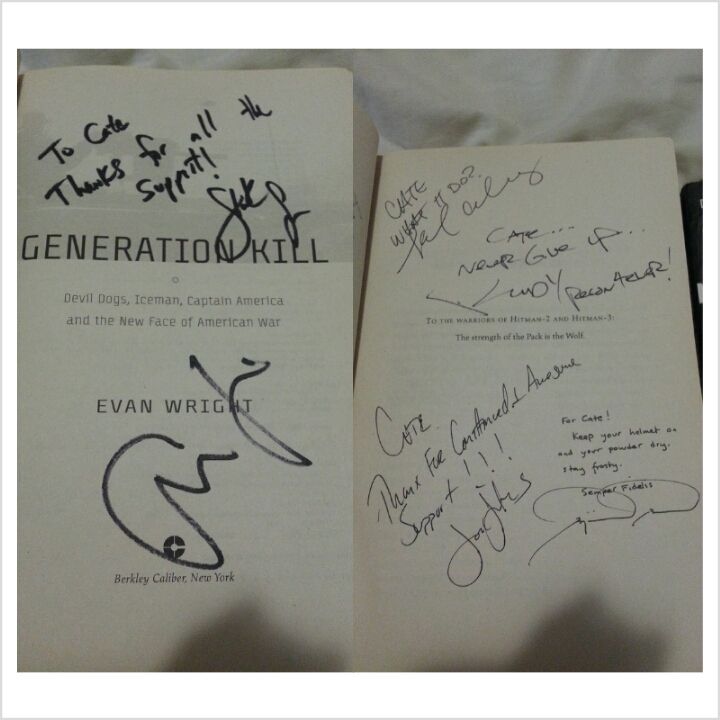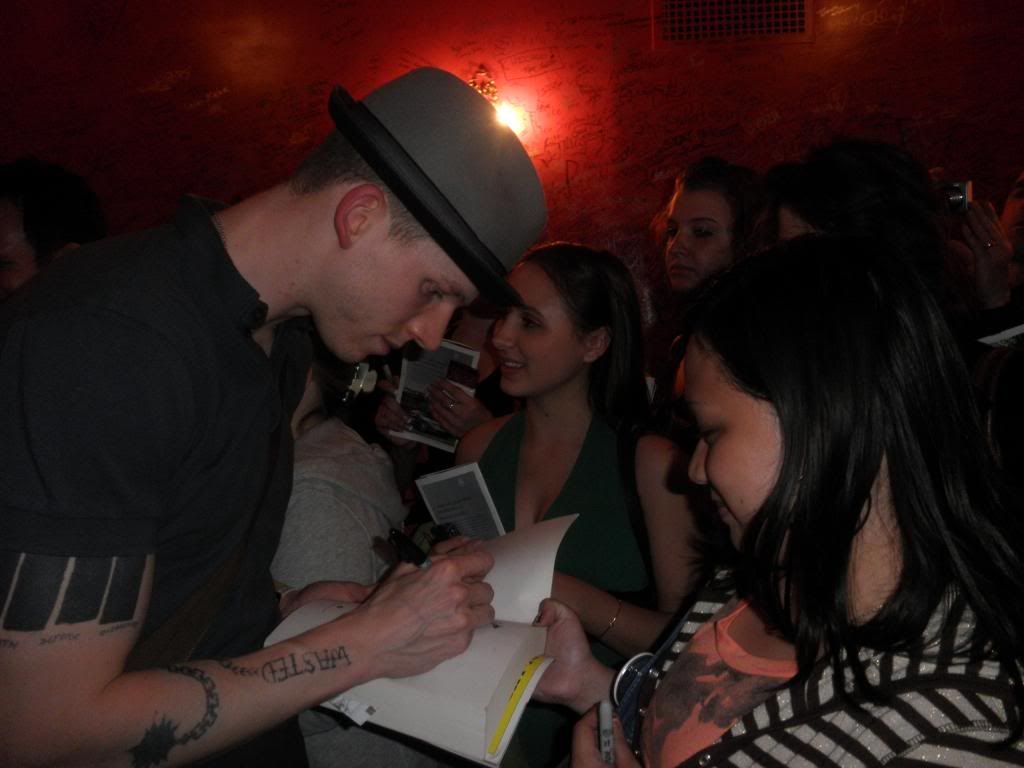 Having mentioned the HBO mini-series... one of my copies is definitely one of my most-prized possessions. You must know that I am not an autograph person. I go to premieres mainly for pictures.
Except
when inspiration comes.
The one with the TV tie-in cover, that one. It has Stark Sands (who played Lt. Nate Fick in the serires) and Alexander Skarsgard (as Sgt. Brad Colbert) on the title page. Jon Huertas (Sgt. Antonio Espera and Det. Esposito in
Castle
), Sal Alvarez (Cpl. Hector Leon), Rudy Reyes (as himself), and Benjamin Busch (Maj. Todd Eckloff) signed the next page. I had Stark Sands sign it during his run with
American Idiot
on Broadway. It was a lucky grab when I decided to bring this book with me as in-flight entertainment. And it started from there!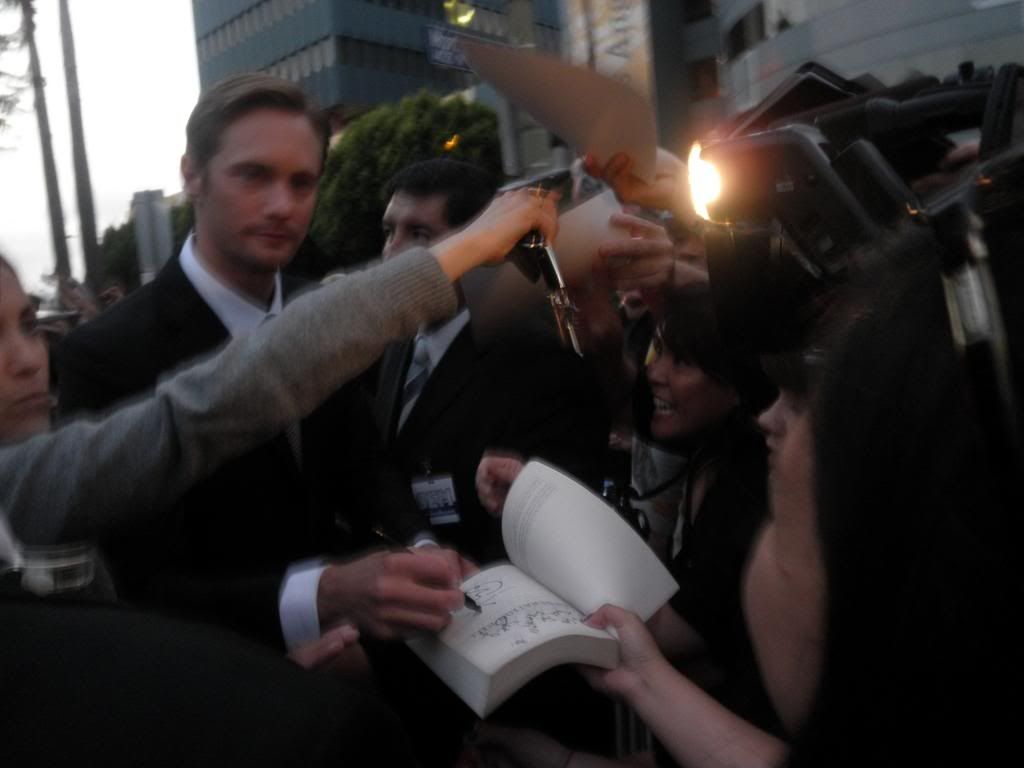 It was the premiere for
True Blood
season 3. I went there pretty late because I didn't know any better back then. I was at the very end of the fan line. I went there for Alexander Skarsgard and I wanted him to sign my GK book. I'm not much of a TB fan and I thought it would work for me if I were the
one
GK fan in the sea of TB fans. And it did!
It was thanks to Stark's autograph on my book that ASkars defied his handler's notice to leave the fans area and went over to where I was to sign my book. He was being led away but he pointed to me and reached for a pen to sign my book. He did not sign anything else after that. My hands never shook harder in my life. After that, I stood there on the sidewalk, dazed. Just... staring into space. And ever since, I went to every TB premiere toting GK-related stuff for him to sign. During the season 4 premiere, I even had a short conversation with him about GK. And it was captured on video so I have proof it happened!
Jon Huertas was the first GK actor that I met in person. I met him on location but back then, I didn't have my book with me yet. I had him sign it during the Paley Fest in 2010. By then, he knew who I was because I was the "GK fan in the sea of
Castle
fans" and he was more than happy to talk about it with me. Sal Alvarez and Rudy Reyes signed my GK book during the
In Their Boots
screening. Rey Valentin and Nabil Elouahabi were also there but they left early. When I got Sal to sign my book, he saw those two on the previous page and said, "Oh I'll leave that page alone. The LT and Brad." Hee!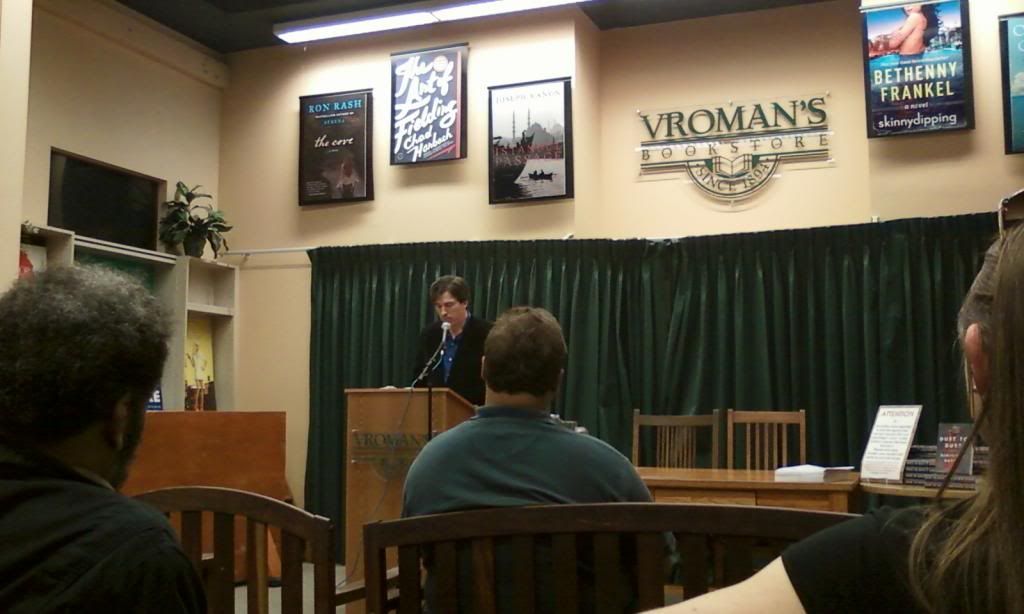 20120514, Vromans Pasadena
I notice that these guys seem to light up when reminded of their experiences in filming GK. I saw that when I spoke with Alexander Skarsgard, Jon Huertas, and Benjamin Busch. And I love hearing those kinds of stories. They really became brothers during that time and it is evident even in their Twitter conversations. Some of them are nice enough to share pics whenever a number of them get together. I have not blogged about my conversation with Benjamin Busch because it was so candid and he was so honest, not just about the GK experience but also with other stuff. I feel that some of those, I need to keep to myself. LOL.
But I can share one thing. During the open forum of his
book
signing, I asked how it was for him filming GK being a veteran himself. He said it was a surreal experience and it reminded him of so much that he found himself stepping away from time to time to separate the reel from the reel. And then, we had a nice talk and he said it was a nice gesture that I wanted to have as many people involved with GK sign my book.
Other GK actors that I've seen but always miss are Wilson Bethel and Eric Nenninger. I have
Left4Dead2
stuff signed by Eric Ladin though.
Now, if I could have Evan Wright, the author of this wonderful book, sign this or another copy of this book, it would make my year. Mr. Wright, you happen to stumble into this humble blog, is it possible to receive an autograph from you? Here's to hoping! Thank you! =)
(I should add that in one of my first and sadly, no longer updated photoblogs, someone named "e wright" commented on one of my pictures featuring my military books collection. I don't know if it is the real Evan Wright but I would like to think so.)