Skinfood and Outfit of the day (20130202)
It was a fun and productive day at Korean language class yesterday. Well, yesterday was pretty eventful anyway. And I must say, I looked cute!
Outfit:
Panda sweater from Papaya (channeling my Seungri bias)
yellow long tank top from Body Basics
leggings from Sears
Steve Madded studded boots (I call them my BIGBANG boots. I originally bought them for the sole purpose of wearing them to the concert. I wore it on the first night.)
Oakley jacket
bag from The Sak
As you can see my book and notebook... being a good student! ;-) Also, I found out that a mall near me actually has a Skinfood kiosk. Yayza! I got a couple of items and do expect reviews on them within the week.
I got so excited when I saw the stall. As you know, I am slowly getting into Korean cosmetics. I absolutely adore Etude House and Skinfood is close second. Blame Korean cosmetics for my orange lipstick obsession, willya? So I perused their lip colors for all the orange that I can get. The girl there was amused that I knew my Korean cosmetics and my oranges. She was a huge help and we had fun in our mini orange swatch-fest.
Anyway, here's my mini haul:
Tomato Smoothy Tint in #1 Red Tomato
Honey Glossy Rouge in 331 Garden Balsam
Eva Armisen for Vita Tok lipstick in #1 Eva Pink
And I got a free umbrella from my Eva Armisen purchase. I was actually going to pick up an orange plumping gloss but between an $11 gloss and a $17 lipstick plus umbrella, I went with the latter. After reading reviews, I kind of want to pick up the other Eva Armisen lipstick, #2 Eva Peach.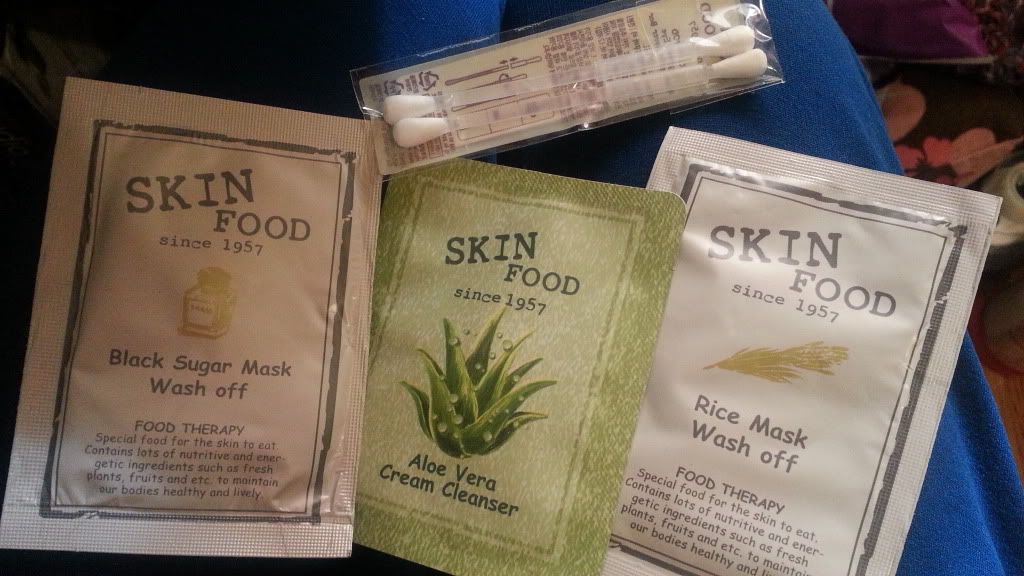 Samples!
And the girl was nice enough to give me extra samples!
PS: Guess who's going to
THE PACKAGE TOUR
concert on 20130705 at The Staples Center? THIS GIRL!