COMIKAZE EXPO 2014! [Part 1]
How was your weekend? Mine? It was fine. I met Mrs. Lovett and Sweeney Todd, the wizards Saruman and Albus Dumbledore, and oh yeah, a couple of
Mighty Morphin' Power Rangers
as well as Brienne of Tarth. I fangirled the way I never had before. I revisted my childhood, met kindred spirits who understood why I think Tauriel is going to die or disappear; saw such inspiring efforts, creativity, and uniqueness. Not to mention, a little bit of K-pop thrown in the mix.
Who am I kidding?
MY WEEKEND WAS FAN-FREAKING-TASTIC
! It was a blast and it was filled with awesome people, things... everything. And I'm glad to have shared it with my partner-in-crime brother on his first con.
(This post will cover the first two days of this three-day event. My brother and I bought passes for days two and three but we went to the LA Convention Center to pick up our badges on the first day of the event, October 31, Friday.)
I'm half-tempted to just flood this post with awesome cosplay images and celebrity pics but I'll try to recap it with words as much as I can. When I saw how much the tickets were for this event, I wanted to go all three days. It was a great deal! But my brother said most of the stuff we wanted to go to were happening on Saturday and some on Sunday so I just opted for those days. But we still picked up our badges on Friday. And saw some AWESOME stuff.
(My pictures, guys. I took them with my own camera. If you take them, I'll send Pyramid Head your way.)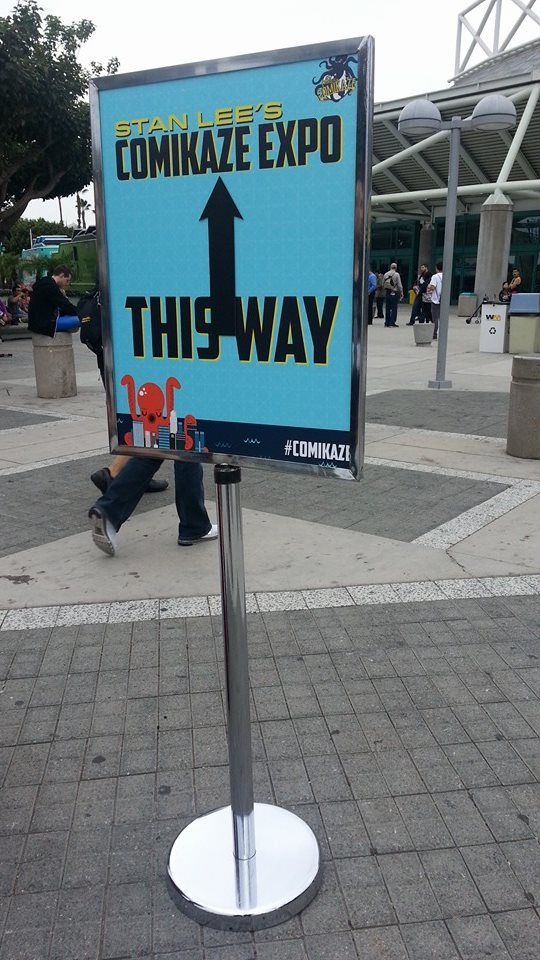 @alfredhightower on Instagram
Oh, Budapest.
Kiki!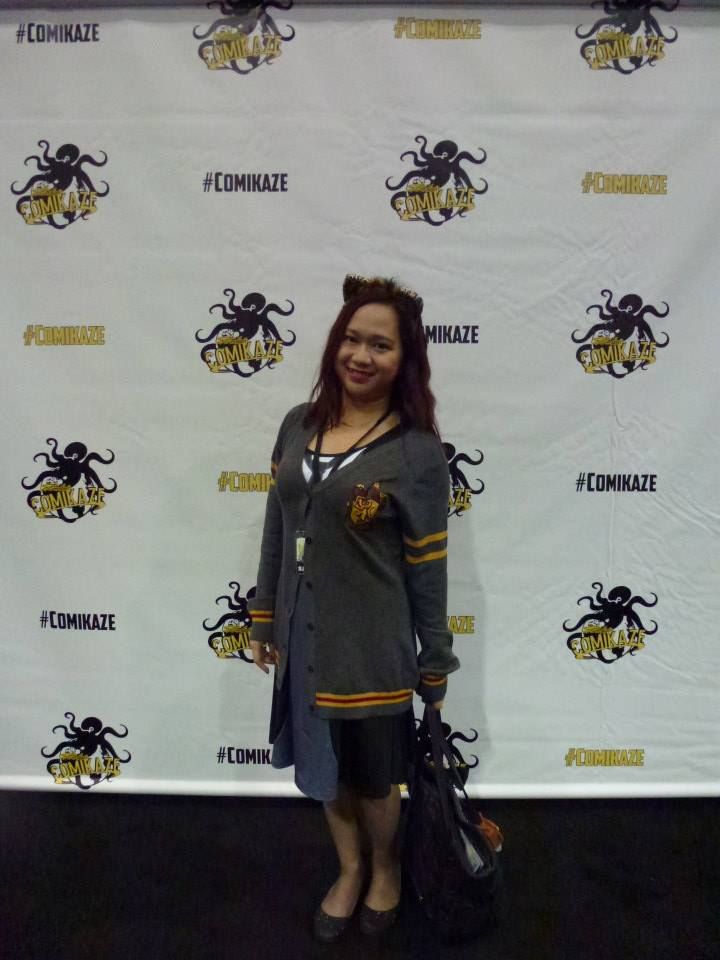 We stayed at the lobby and already we saw so much awesome. The first thing I saw was the Pyramid Head cosplayer and man, what a way to welcome us into Comikaze 2014. Then those Black Widow and Hawkeye ones. I was wearing my Hawkeye jacket with the detachable sleeves. XD
The next day was exciting. It was a day scheduled with panels and limited time for lunch and shopping. They had food trucks nearby. My brother had Jogasaki and I stayed true to my Filipino roots and had White Rabbit Truck. Then we survived the rest of the day with a box of Milk Duds and Cookies and Cream Drops.
I'm not much for dressing up but I made an effort. I went as a Hogwarts student, not exactly as Hermione... or as close as I could get to her. Hot Topic sponsored my look (not really but I got it from there) except for the shoes and cat ears. I even tried curling my hair but it really doesn't take any kind of curl. Fail. But hey, I tried to get in the spirit of the con.
When you first go in, it's an overwhelming sense of nerdness and geekery. A lot of people are dressed up as someone or something that no normal person would in everyday life. If you're not in costume, your fandom is represented in some way in your clothes and/or accessories. Booths are filled with special things. But there was this sense of belongingness that I immediately felt. I do love my real life friends but I know I can be too much at times, especially when it comes to things like this. In that convention floor, no one would judge or say something. It was nerd love all around.
We got there just in time for
Ace of Cakes
'
Duff Goldman
at the Hot Topic Main Stage presentation. I'm a fan of the show when it was airing so it was nice to see him in person. He was presenting a cake in the likeness of the Hulk to the one and only...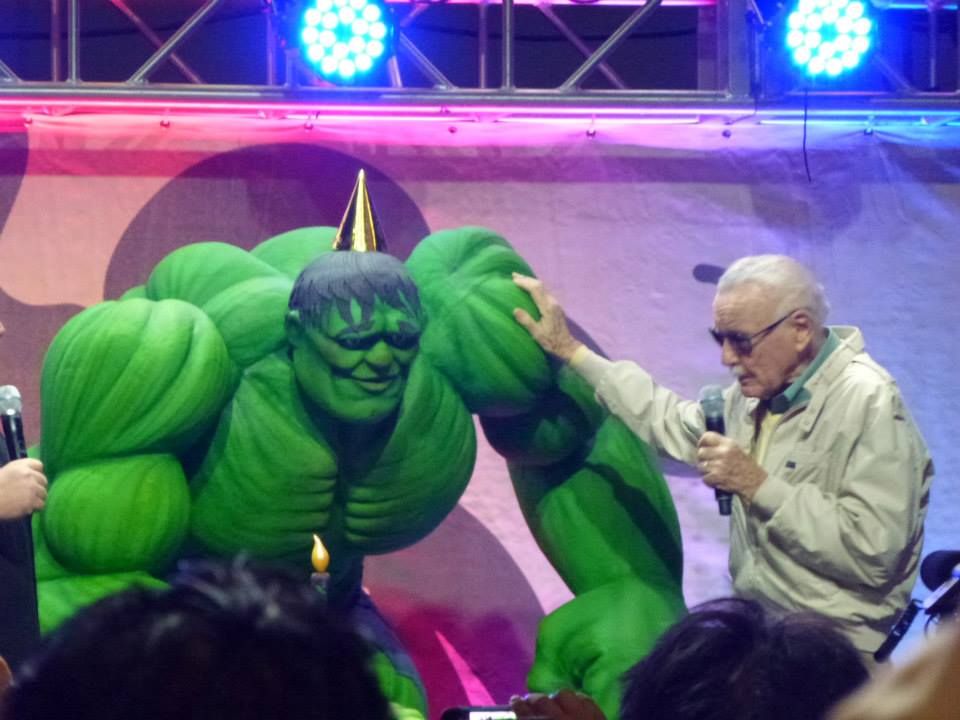 STAN LEE!
The generalissimo himself. The man who started it all. He helped Duff announce a contest... to make a cake for Stan's birrthday. The great comic book legend is turning 92 this December. Huzzah.
We also dropped by the Power Rangers sentai panel but yeah, I'm more into the Japanese super sentai types like Chikyuu Sentai Fiveman and Hikari Sentai Maskman, two of my absolute favorites. Sure, I did watch the American version but anything beyond the first offering of Mighty Morphin', I'm clueless. But I did get some awesome shots of the exhibition floor. From the ground, it looks so vast but from above, it's so overwhelming!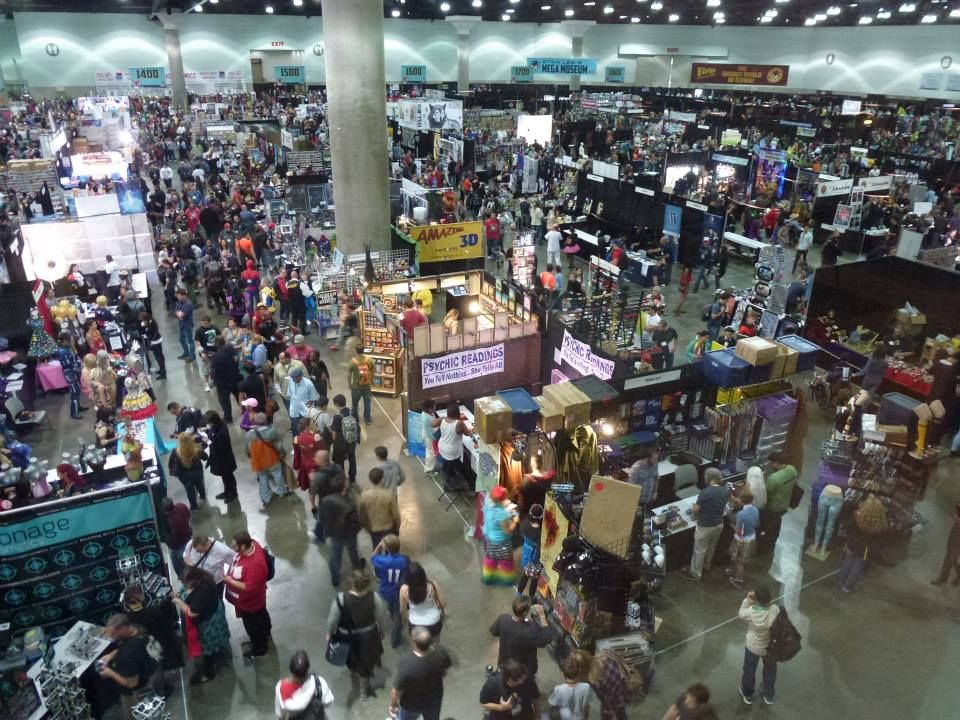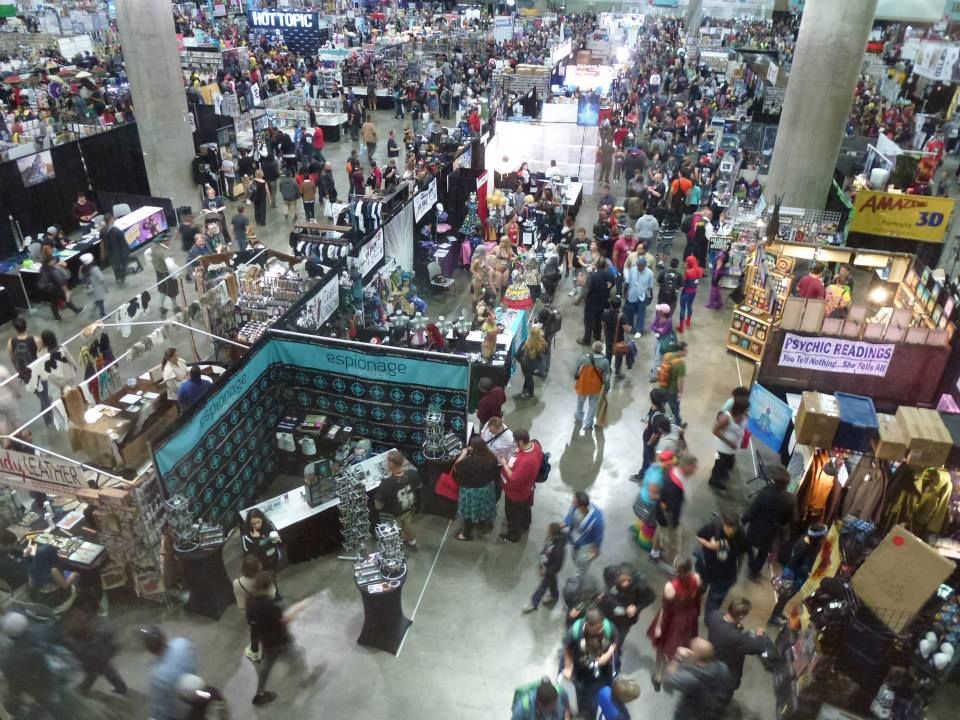 We had a quick lunch and I managed to take a photo of the cutest brother-sister cosplay of the day: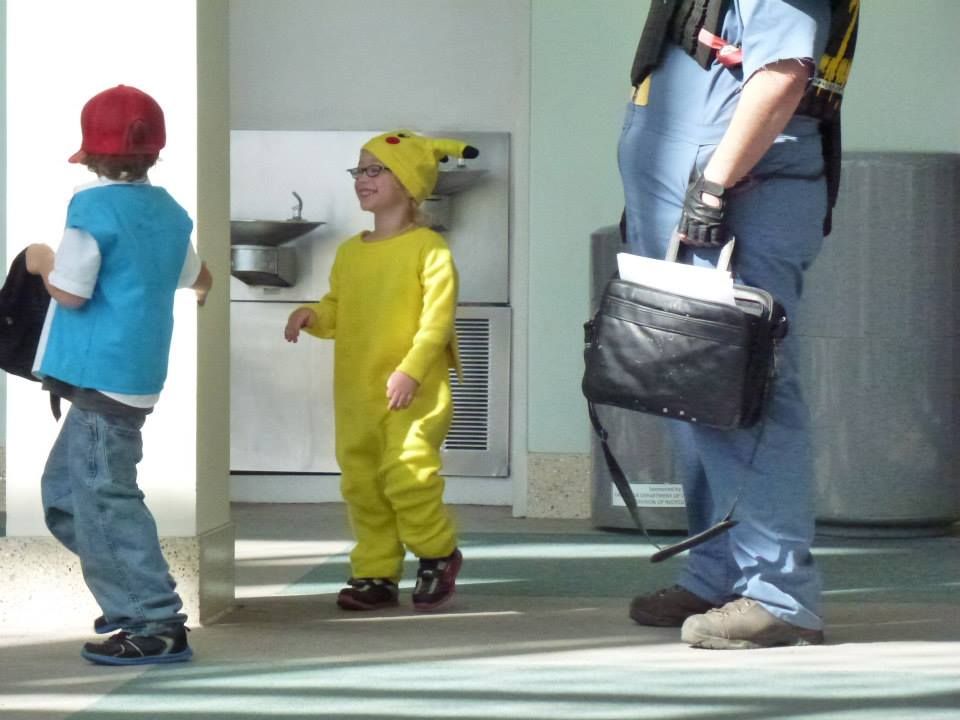 Big brother!Ash and little sister!Pikachu. Your parents are doing right by you.
On our rush back to the Hot Topic main stage, I was met with the biggest surprise of the day so far. About two years ago, I went to
KCON 2013
. That was another friggin' awesome weekend. I didn't go this year because I opted to go to the
Josh Hutcherson Charity Basketball Game
instead. Anyway, at KCON 2013, I saw
Danny From LA
's
Danny Im
and
Dumbfoundead
and also my favorite
Great Food Truck Race
winner,
Seoul Sausage.
I did get to see them but not a picture
with
them. Danny Im has been my K-pop crush since... actually, my
first
one. I was so pumped to see him but I did want a picture with him.
Fast forward to November 1, 2014. My brother and I were rushing when I saw did a double take and cried out, all fangirly... Oppa! One of the MNET girls turned around and saw me there, wide-eyed and asked, "Would you like a picture with them?" Danny and Parker (dumbfoundead) were interviewing a Spider-Man cosplayer. Of course, I said "YES!" My brother had absolutely no idea what was going on lol but I had him take the photo. When I asked for the picture, Danny was even surprised that I wanted a photo with him instead of the superhero cosplayer. But they were happy to oblige me.
Their Comikaze episode airs TONIGHT!
This totally made my day and it wasn't even halfway done yet! Then the MNET people asked me and my brother to sign waivers and say on camera that we were okay with being filmed. Their professional photographer was taking pictures as well. So... you'll never know... ;-) I saw them again filming by the booth of the original Black and Blue Power Rangers later on in the day.
After that, we caught the tail end of Howie Mandel's panel. I already saw him at a filming of America's Got Talent all those years ago. He was really funny but we were there early, hoping to get a good spot for the Game of Thrones panel with Gwendoline Christie, Alfie Allen, and Esme Bianco. Not to mention, the panel was hosted by the queen nerd lady, Adrienne Curry, the original America's Next Top Model. See, it's not just geek stuff/shows around here.
Theon (Reek), Ros, and Brienne
I've been a GoT fan even before winter came. Theon (not Reek) is one of my first favorites. Now, Brienne is one of the most brilliant characters both in literature and TV. Sure, I may not have been watching a religiously as a lot of people but I still love it.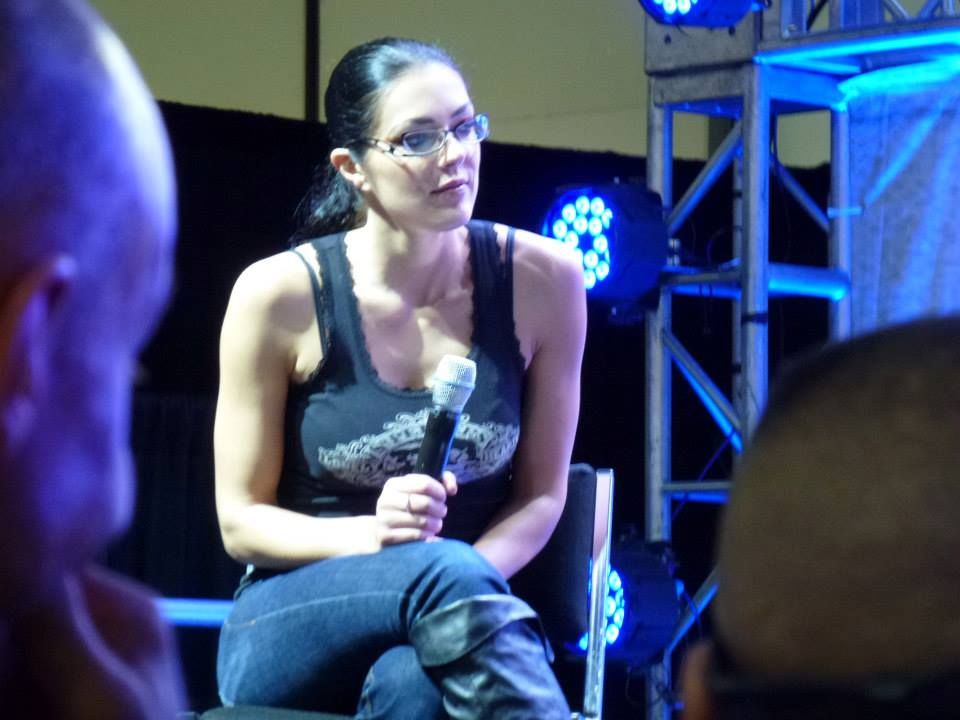 Adrienne Curry
Gwendoline is one of the most down-to-earth, grateful, and HUMBLE actresses that I've ever had the pleasure of watching. I loved everything she said and all her insights and you can feel her love for what she's going and for the show. And she is just gorgeous. A strong female to portray a strong female character.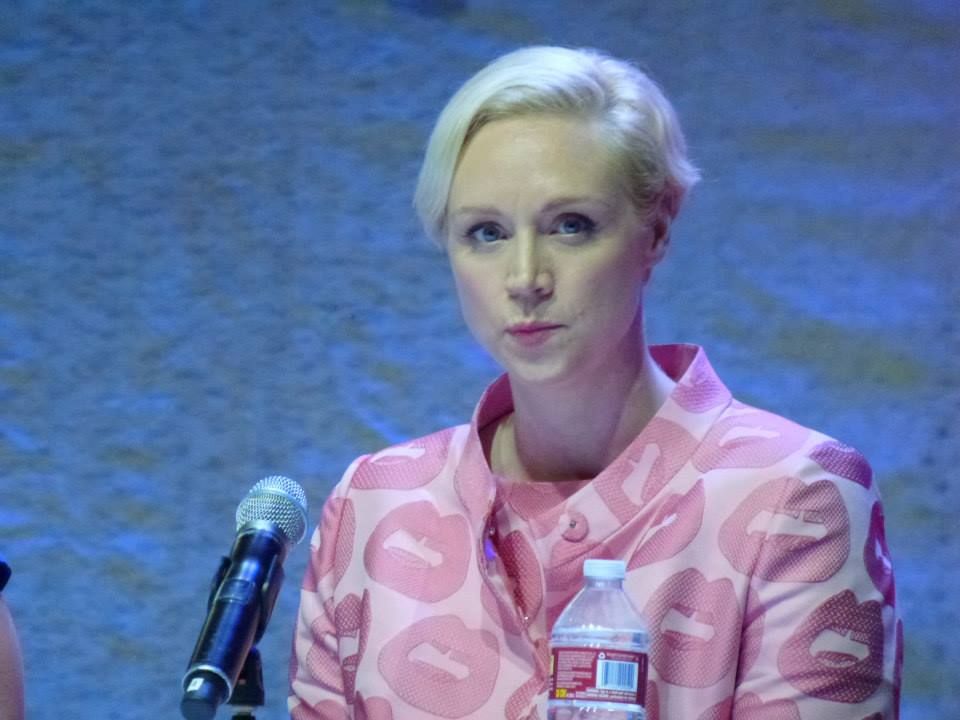 Gwendoline Christie
Oh Alfie Allen. As Adienne Curry said, "Thank you for humiliating yourself for us." He looked a bit tired but he managed to still play off Reek as a laughing stock and give insights to his character, the changes from Theon to Reek. I love hearing actors' own backstories for their characters and to hear that from them in person, it was just a treat.
Alfie Allen
And Esme, oh my goodness. So beautiful. I remember Ros, especially her scene with I believe it was Shae (or was it Sansa, idek) warning her about Little Finger. That was subtle but it definitely stuck with me. She's a badass. And I want that dress she was wearing.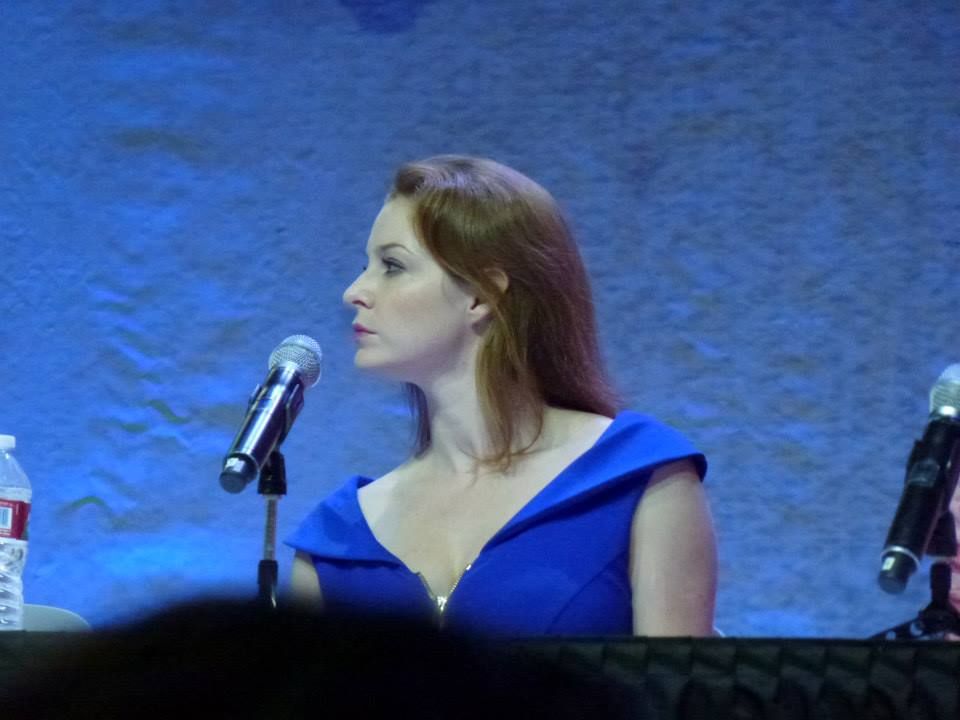 Esme Bianco
It was such a fun panel. That alone was worth my $30. We got good spots and the area filled up really fast. It was like, one moment it was just a handful of people then suddenly, you can't move forwards or backwards. Fan QA has never been my favorite part but I would've wanted to ask them something. "Obviously, we are fangirling and fanboying over you guys right now. Who are the actors/actresses that you fangirl/boy over?" Would've been interesting, yeah?
Right after that, my brother decided he needed a break but the True Blood panel came right after GoT. I've seen the cast of True Blood 4-5 times but never long enough to take good pictures. Yes, I know, Alexander Skarsgard was not part of the panel but Stephen Moyer, Tara Buck, and Kristin Bauer were. :)
Ginger, Pam, and Beeehl
I've been to all except two (I think) red carpet premieres. The first and the final one, apparently. XD It got a bit emotional especially Kristin. I admit, I wasn't a huge fan of the show after the third season but there was a time when I loved it. I love these actors and if we miss the show, just imagine how much they'll miss doing the show.
After that, we had some time to kill before The Hobbit panel so we walked around the exhibit floor. And I wasn't prepared for a sudden childhood flashback so strong, my brother (once again) had no idea what was going on.
The final sentai-like show that I followed was Mighty Morphin' Power Rangers. I fought tooth and nail to be the Yellow Ranger every time my friends and I role-played. But my favorite was the Blue Ranger, Billy Cranston. Lo and behold, David Yost, the original Blue Ranger as well as Walter Jones, the original Black Ranger.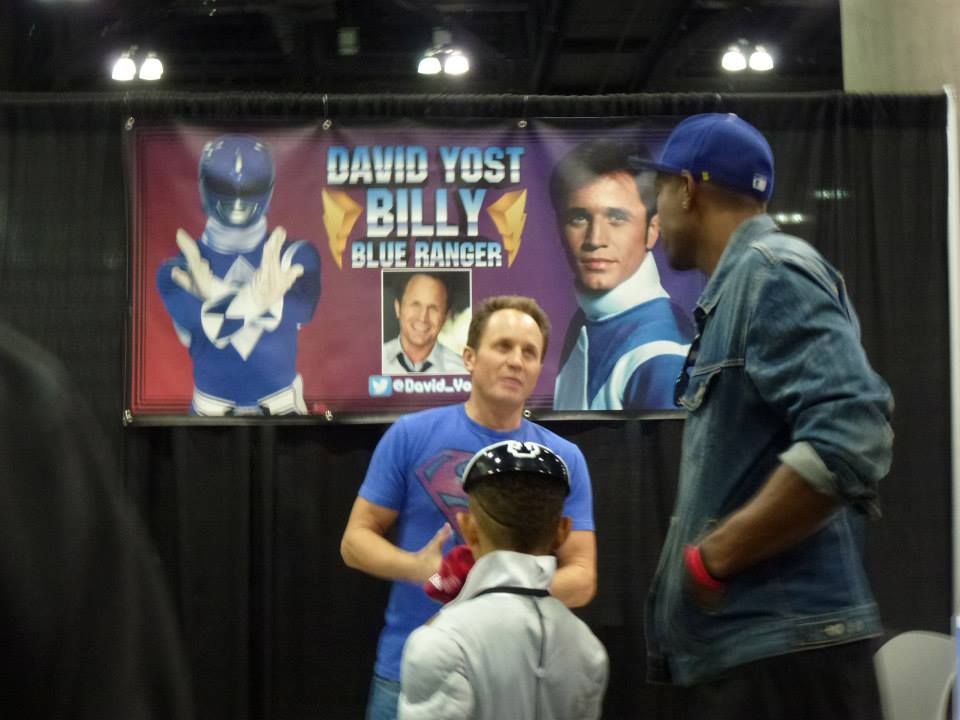 David Yost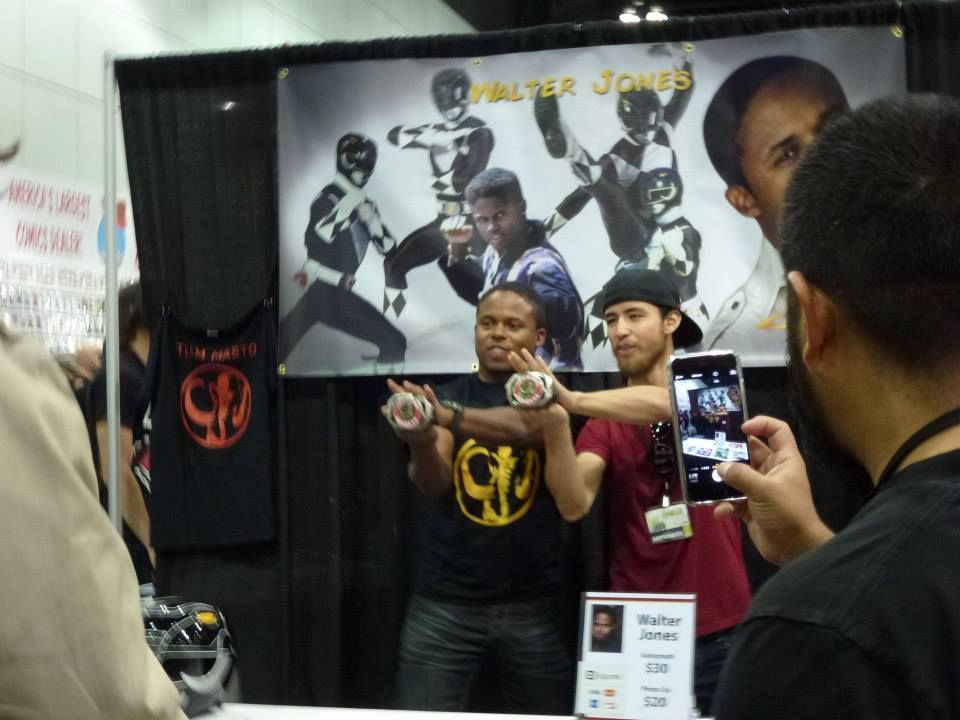 Walter Jones
You guys... omg. I'm not much into American versions of Asian originals but MMPR was HUGE for me. HUGE.
As we walked around, we saw a part of the "comic book legends" panel. I'm not a huge comic book person; I'll devour/read it but won't have an idea who are the people involved in making them. I'll leave that to YOU, comic book people. I just wish we stuck around to see Stan Lee join them on stage.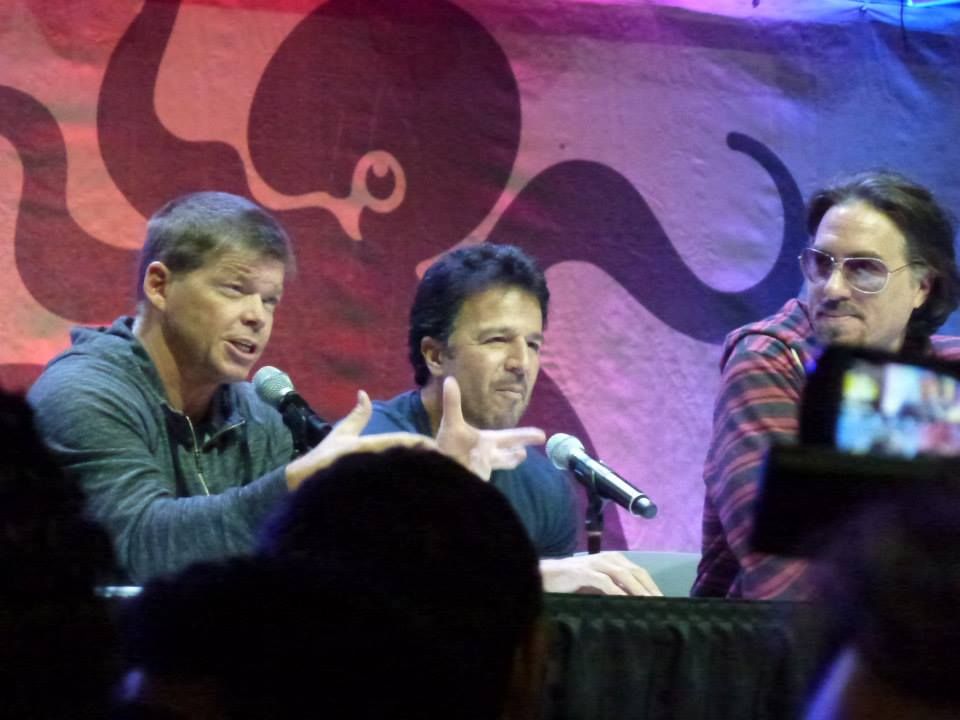 Rob Liefeld
We guy lucky when we got to the room where The Hobbit panel was held. We were an hour early and the place we stopped at happened to be the official front of the line. So when they said to line up, I was the second person in line even though there were other people waiting before me. But it's all good.
The panel was hosted by TheOneRing.Net. They talked about the extended version of The Desolation of Smaug and speculations about what will happen to the characters in the final movie. I would've wanted more on Thranduil but hey, there's this amazing Thranduil cosplayer in the audience.
That's great but the highlight of my afternoon was... sitting beside SARUMAN during The Hobbit panel. OMG. He was supposed to sit beside my brother; I even said, "Yes, sir," when he asked if he could pass by in front of me but with his long white robe, he opted to sit across the aisle from me. Uhm... yes.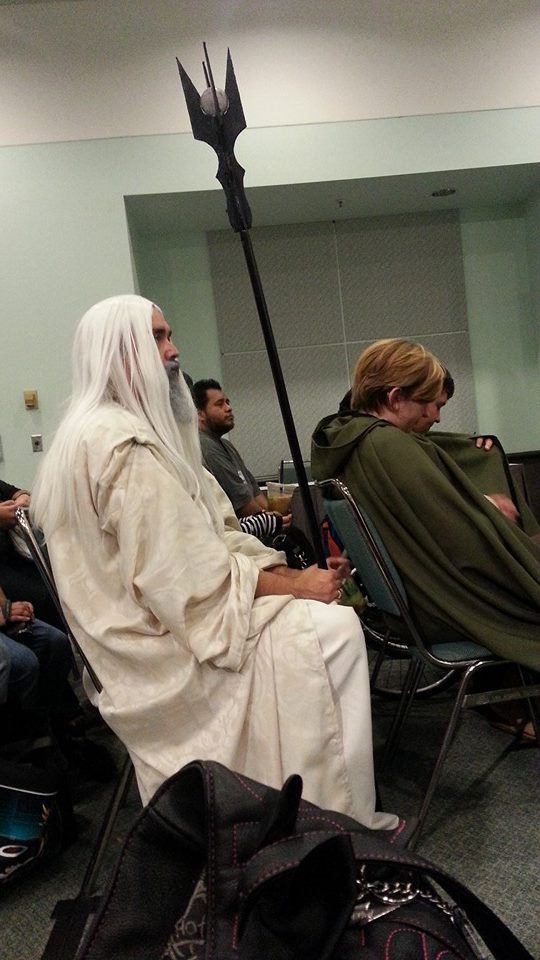 It's incredible! The cosplay is incredible. I just could not stop laughing and shaking my head at the awesome ridiculousness of that situation. At a Hobbit panel beside Saruman. Brilliant!
I enjoyed this panel immensely. But unlike the others where my eyes and ears enjoyed what I was seeing and hearing, this exercised my brain. All the brilliant theories about Tauriel and Kili, insights about Saruman, Legolas, Thranduil, and of course, not-so spoilers about the story in general. If you have not read The Hobbit and/or do not know it ends, I envy you. My heart cannot take it... just thinking about it makes my wee heart break.
For our last panel, we managed to catch the last part of the MadTV reunion. More people are fans of SNL, and I am too. But... I watched more MadTV back in the day.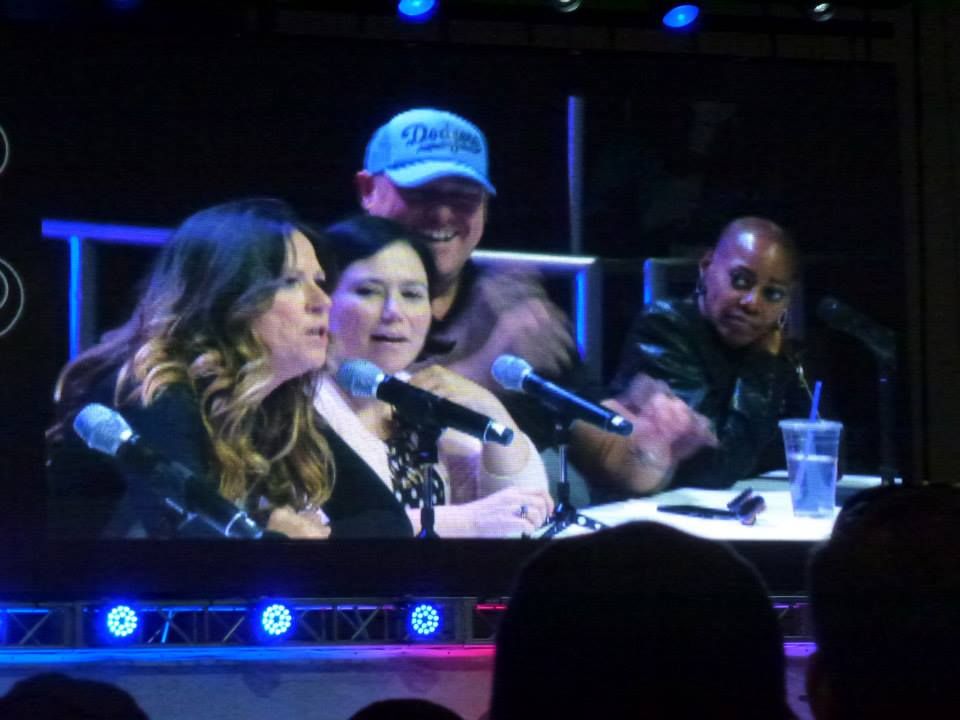 They're still the funniest batch of people ever. My favorite skit will forever be
Jesus and the Widow
starring Michael McDonald and Debra Wilson. And also,
Inside Looking Out
. OMG, do me a favor and Google those. So much fun.
After that, we did a bit of poster shopping. I think, for that second day, I bought two The Hobbit posters and one for Sherlock. I also bought my brother a Comikaze shirt and the exclusive Captain America Funko figure.
The Batman one is for my cousin; bought it on Day 3
We then called it a day. My brother was getting hungry and it was getting dark also. By coincidence, I saw that
Seoul Sausage
was nearby at the Regal LA theatres. Going back to KCON, I saw their panel but never got a photo with them.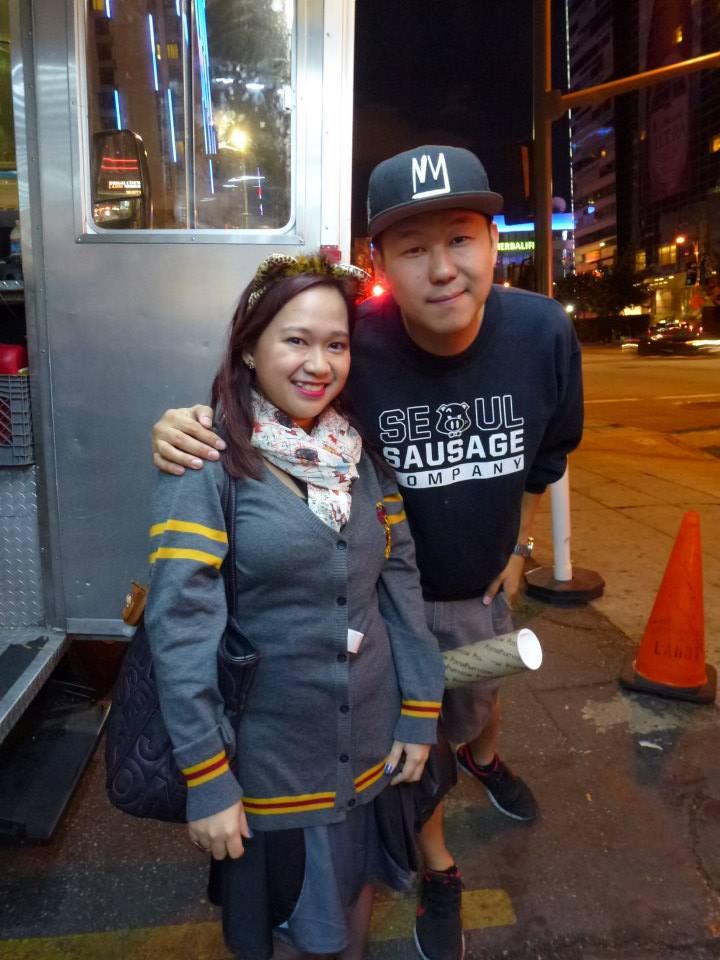 Ted Kim!
I loved watching
Ted Kim
on the show. He's definitely my favorite in the season. He said that my brother and I were the among the first ones to try out their newest truck, Big Papa. My brother had the Lil Osaka and he loved it. Definitely getting one for myself next time.
I found it funny that I didn't even feel tired after such a long and eventful day. I was so ready to face the next day. But Saturday, November 1, was just so much awesome. We saw so many Deadpools, Sailormoons, Kiki from
Kiki's Delivery Service
, Captain America, and other superheroes, Rangers... ah, it was probably the first place where I felt so comfortable being a nerd. I never felt a judging and questioning eye whenever I lost my shiz at something geeky. I'm so glad we made that split second decision to attend!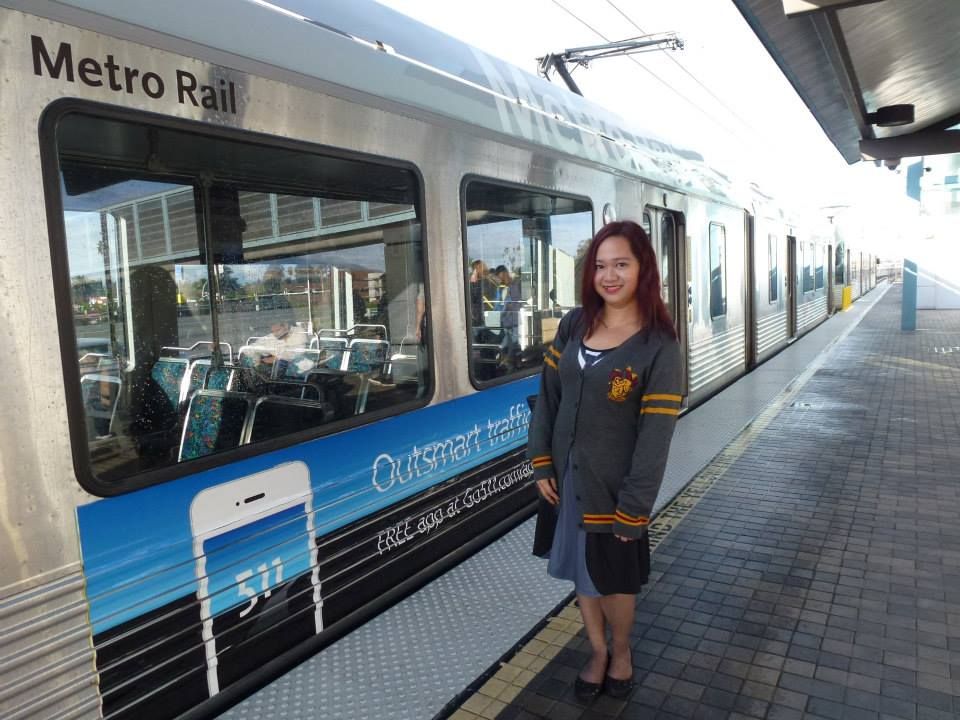 Not exactly Platform 9 and 3/4
No Face from "Spirited Away"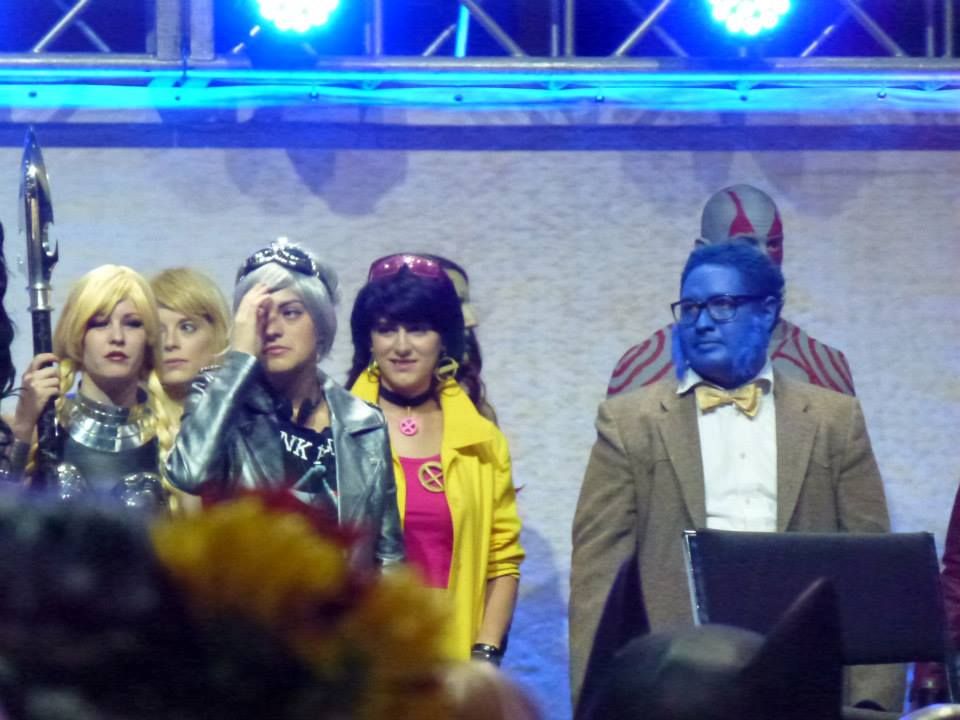 Some X-Men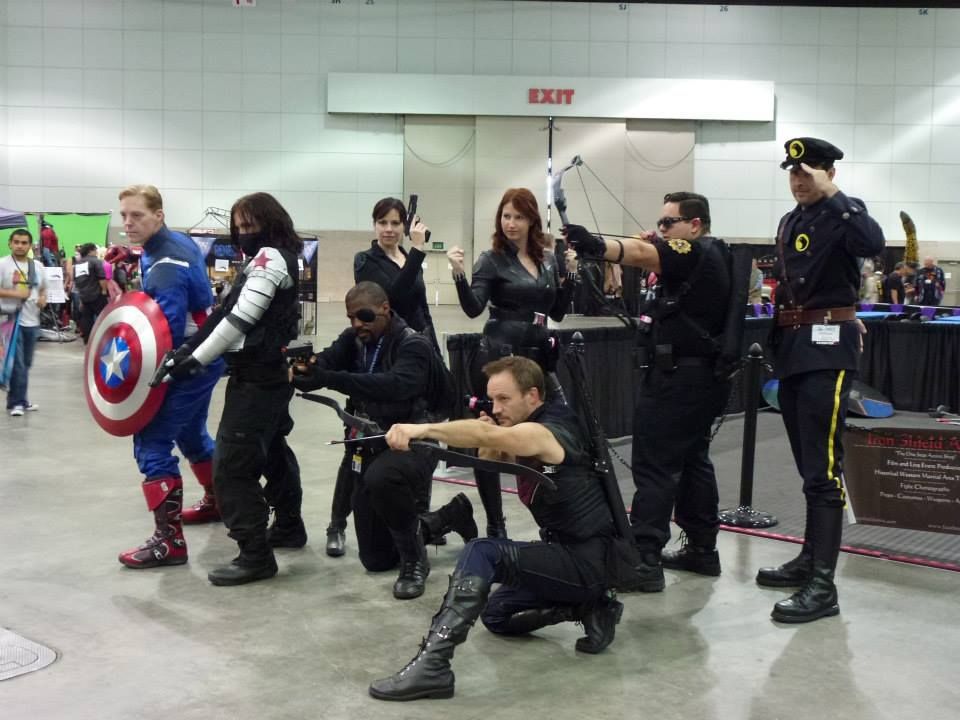 Some Avengers
Howie Mandel
All the fckin' chicken!
Delorean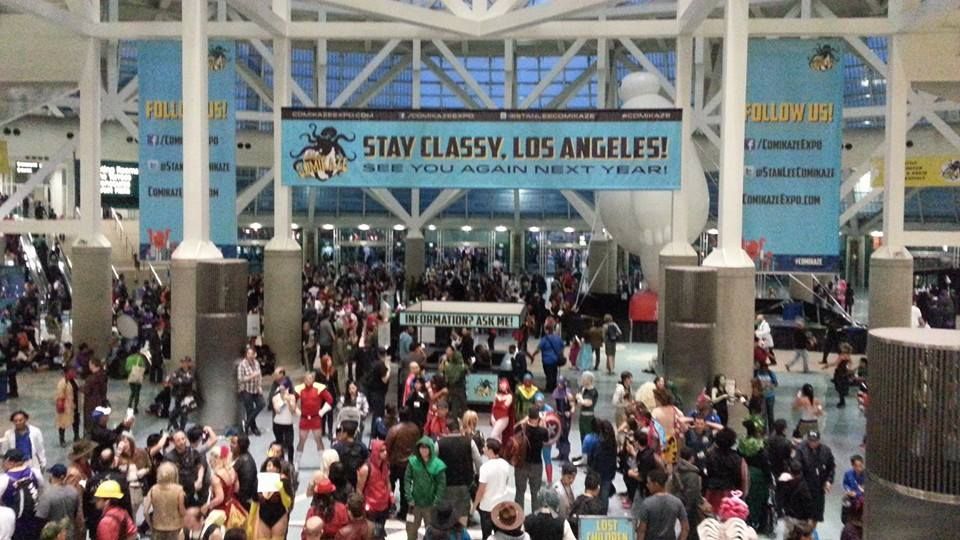 Stay classy!