찹쌀떡 찹쌀떡...
Well guys, I did it.
So everything that I said in my
previous post
was utter BS. I didn't buy the cheapest ticket for the Anaheim show. Instead, I got the 2nd tier VIP, Bae Bae. Forget the newbies to
BIGBANG
and K-pop, I'll be right there one the floor with them. That VIP ticket is for the Anaheim show, the one that I was discouraged to attend. I did not get my mother and brother cheaper tickets to LA. We are all seated together. Yes,
seated
. Forget standing room... LA is not offering VIP packages after all.
But the biggest surprise of them all... this was the easiest concert ticket sale. EVER. Easier than when I bought my
Epik High
ticket. Okay, my brother scored me those but we refreshed our pages for a good 30 minutes before he got it. For the Anaheim presale, June 9, I searched for the Bae Bae VIP package and got it just like that. For the LA presale, June 10, my brother and I both scored P4 level tickets but his seats were better than mine so he scored us that as well. But I would not call it a blood bath at all. Maybe because it's a presale and not all of VIPeople came out full force. Ticket sale will be open to public tomorrow at 12nn PDT. Glad to have avoided that.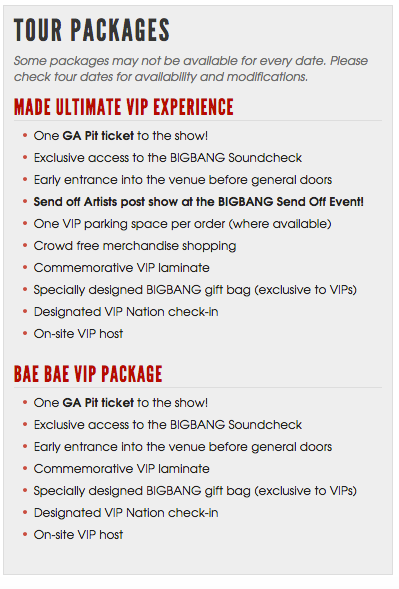 The prices were RIDICULOUS. Insane! Let me put it this way... I bought THREE tickets to the LA show for the price of ONE ticket to the Anaheim one. What gives, YG? Last time, I paid $303 for VIP. This time, $200 separated MADE VIP and Bae Bae. Already, I thought $399 was too damn much. I love BIGBANG to bits but I don't think a "send-off" and merch justify the $700 price tag. Sorry. Ridiculous.
Like I previously said, I was thinking of not going to Anaheim. I had that dilemma even after clicking on that VIP ticket, watching the counter count down from 3 minutes. Should I go or not? I made the decision to just fuck it and go with
literally
10 seconds to spare. It turned out to be the best decision because LA does not have a VIP package.
Apparently that's the word going around. I had a feeling that that was the case. I mean, Ticketmaster handled Las Vegas, New Jersey, Canada, and Anaheim. But AXS handled Los Angeles. Ticketmaster had all the information. AXS, even amongst themselves, had conflicting and inconsistent information. I mean, if you're having a presale, the least you can do is provide information about the tickets you're selling. AXS had GA PIT and GA Floor but the only thing that they had on them was "these tickets are first come, first serve" or something to that effect. I had a bad feeling about that so I opted to sit with my family and enjoy the LA concert with them.
So it's the same story as the last concert. I'm VIP for one and non-VIP for the other. This was honestly, the most stress-free ticket sale. Oh my, I'm laughing at how stressed out I was when I was composing the last post. OMG. So looks like I'll be seeing my boys again. I'm so happy!
(I'm still not going to KCON. Unless you're bringing
WINNER
, I ain't goin'.)