Let's Talk About Conventions
I've been to two so far this year.
Asian-American Expo/Anime Impulse
in Pomona, CA and
WonderCon 2016
that was held in Los Angeles this year. It goes back to Anaheim in 2017. Sigh. This weekend will be my favorite con,
Anime Expo 2016
. I waited a year for this. Yes, my brother and I bought tickets for 2016 on the 4th and final day of
Anime Expo 2015
.
And guess what...
I'M COSPLAYING!
Here's my lineup for this year: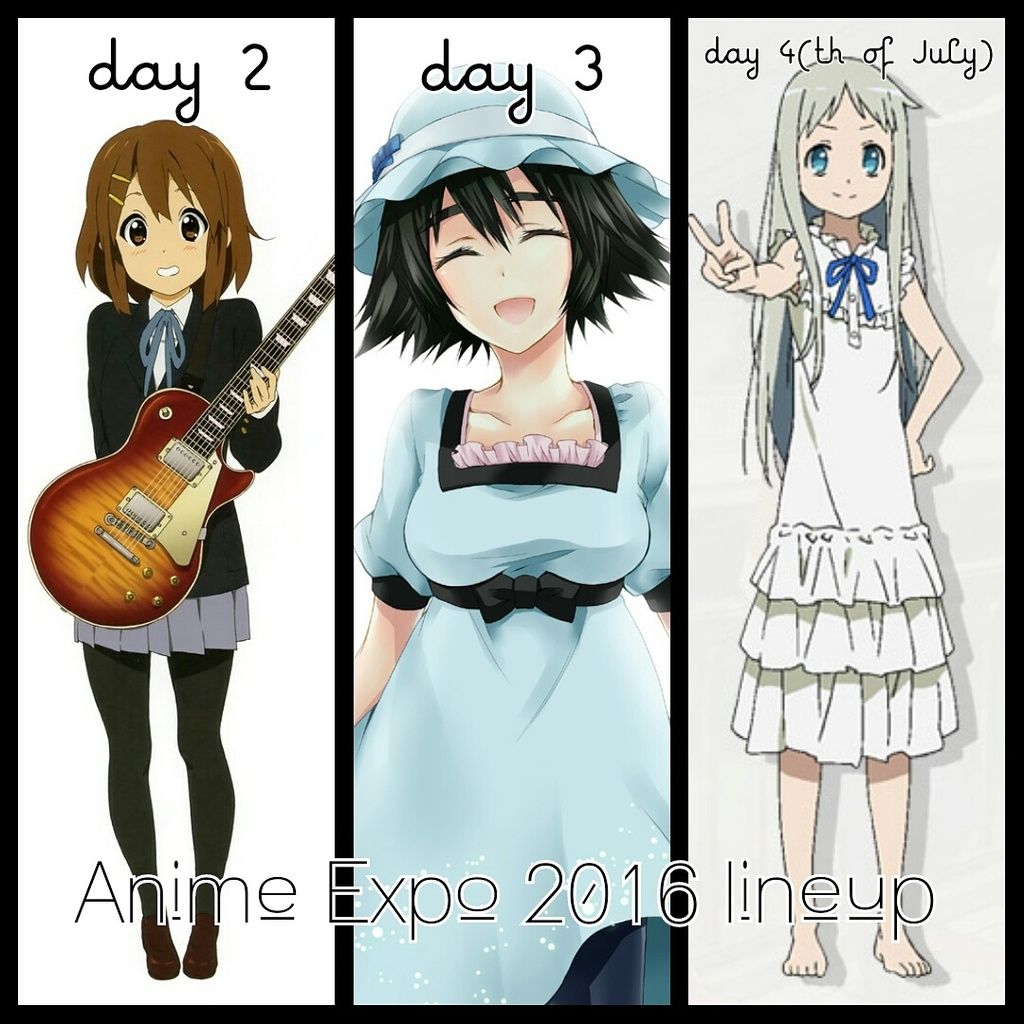 I already went as Shiina Mayuri of
Steins;Gate
at last year's
Comikaze Expo 2015
. I originally planned to go as Mio Akiyama of
K-On
dressed in yukata but I decided to go as Yui Hirasawa instead. I'm going in their summer uniform sans the giita. I do have a Japanese school bag though. And for the final costume, I went back and forth between Menma of
Anohana
and Taiga of
Toradora
. In the end, I factored in how hot it's going to be and went for the simple white... nightie. That's pretty much what that dress is like. Taiga will have her turn. Probably at a convention later in the year.
Aside from anime and nerd cons, I also regularly attend KCON. It's a convention centered around K-pop and all that Korean hallyu goodness. It'll be at the end of July. I've been to IMATS, a makeup convention, three years in a row. And if possible, I might be attending Playstation Experience this year also... if it were to coincide with the Capcom Cup Finals again. I'm also going to EVO 2016 two weeks after Anime Expo. So you see, July is pretty packed. That's why it doesn't kill me to skip SDCC every single year. I just don't have enough energy for that battle LOL.
While I've been to a lot of different conventions, I don't claim to be some kind of expert. However, I've found some things that worked and helped me have a better, smooth-sailing con experience. You can go either as a cosplayer or a simple con-goer. In my case, I do both. Not so serious on the cosplaying side of things though. I
buy
my costumes. I'm not crafty enough to make my own hahaha. But I do try to cosplay and enjoy the exhibit floor at the same time.
These are not "rules" or "guidelines". Still refer to the event's website for those. These are more like "tips and tricks". It doesn't matter if the convention is small like Anime Impulse, huge like Anime Expo, specialized like Playstation Experience and IMATS. It's good to be well-prepared. But do not forget to have fun!
(Today is Anime Expo Day 0. Hype!)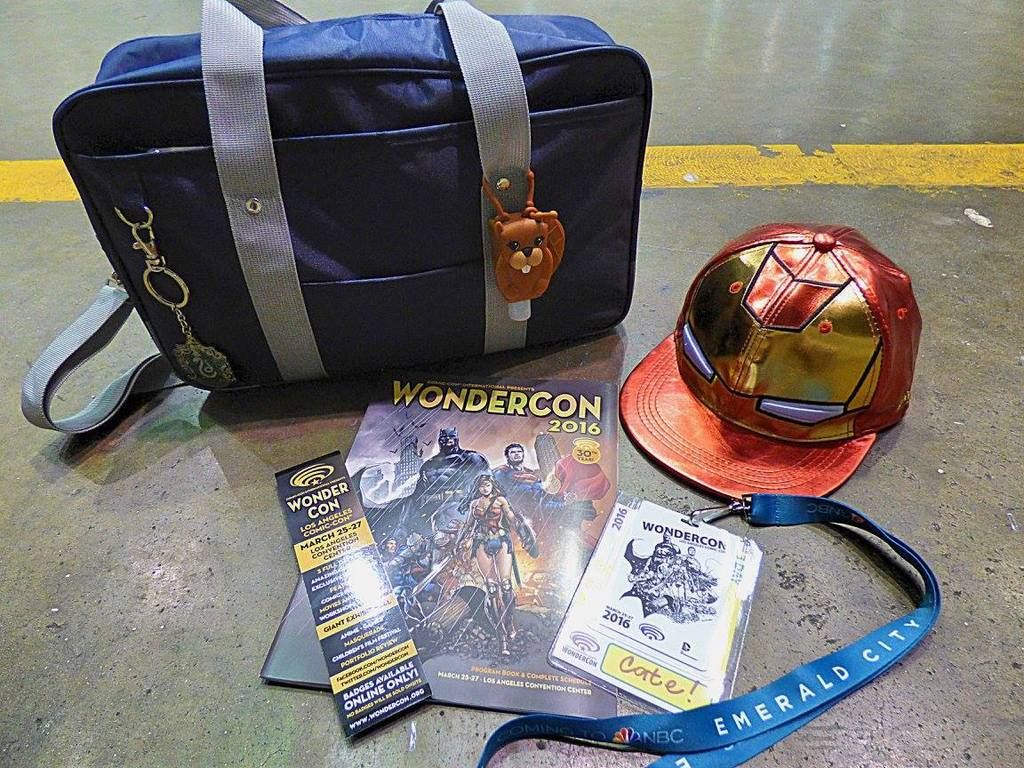 ESSENTIALS as a con-goer
WATER. Don't throw away the bottle. Just refill it onsite, if available. Prices of beverages at events are hiked up like crazy. Still, treat yourself to a boba drink or tea from food trucks, or Starbucks. But keep yourself hydrated especially if it's an outdoor event.
CASH. Bring cash. I cannot stress this enough. Cards are good for bigger purchases or emergencies but smaller booths, vendors, artists, it's helpful to have cash on hand. Make transactions easier for everybody. Also, some booths - especially the autograph booths - take cash only.
SNACKS. Candies, chocolates - remember Remus Lupin's remedy against dementors? They work for lowered sugar levels as well. ;-) And oh, don't forget MINTS. You'll thank me later. Just have something on hand to nibble on while waiting in line or if the food trucks are packed at the moment. Keep that energy up!
PHONE, CHARGER, POWER BANK. Notice I didn't put "camera" with this. While I personally think that a camera is also an essential event item, a lot of people use their phones as cameras anyway. It's more convenient, easier for sharing, and in some cases, takes better pictures than an older camera. If you have a phone that takes good pictures, stay with that. Don't weigh yourself down with more stuff to worry about on the convention floor.
Put all of those in a medium sized bag. If it's too small, you'll end up holding everything in your hands or pockets. If it's too big, it'll be in the way. Get something manageable. Save some arm room for all your other goodies.
GENERAL TIPS ... that are common sense, really.
Make a checklist of things you want to bring with you. Especially if you're staying at a hotel and will be far away from all your stuff at home. Think of it as packing for a trip.
Make a shopping list. It'll help you save money. You'll never know what treasures you'll find at cons. But I'm sure you have a select number of items that you're really looking for. A list will help you remember them amidst the craziness of the exhibit floor.
Bring a shopping tote. Conventions do give out totes of free but what if they don't? What if they run out? What if they don't give them out at all? Be prepared.
Print your tickets. You don't have to but having volunteered for registration at a convention, it's easier to scan a paper ticket than the screen of your phone. Trust me.
Have all your electronics charged as you arrive at the venue. I turn off my phone until I get to the venue. Yes, I have all my charging devices but hey, I'm OC when it comes to battery life.
Plan your day. Conventions provide their schedules and lineups on line. Study them, pick out the ones you want and schedule your day around them. Remember, there will be lines.
Have your art purchase signed by the artist. Make their day!
Thank the cosplayers after taking their photos. Ask them if they have social media accounts if and when you decide to post that photo online. Tag them on it.
Wear comfortable shoes. If you're a cosplayer, switch to those comfy kicks after con hours. You'll be doing a LOT of walking. I once clocked in 23,000 steps at last year's Anime Expo.
Something that I appreciated having gone to a couple of cons is the opportunity to have special things in your collection signed. Your favorite voice actor might skip one convention but he'll be at the next one. Check schedules for panel, autograph sessions. Or it can be just a random chance! You'll never know who you;ll meet. Bring a DVD cover or a trading card or an artbook's dust jacket. Something that you can keep in your bag for almost no space at all. If there's a scheduled appearance, bring a bigger item. If you're not sure, bring something small that it won't be a waste of energy if ever that celebrity doesn't show.
Signed Persona arcana by Yuri Lowenthal and Tara Platt
Can't cosplay? Don't worry about it! Wear a geeky shirt, a cool snapback, a plushie... I can't tell you how many times I was complimented on my
Iron Man
hat or tattoo leggings. There are no dress codes or rules. Just be yourself. And be respectful. Just because a cosplayer is wearing a bikini, it doesn't mean that's an invitation. Imagine if she's the actual character, prepare to get your butt kicked by her witch staff.
Other miscellaneous things that might be helpful are sunscreen (if it's an outdoor event or if the event requires you to go out under the sun for food or a separate location), body mist or any type of fragrance (you wouldn't want to smell like crap when you're meeting your idol), and a sort of first aid kit - band-aids, painkillers, anything else that you might need.
Bottom line is --
HAVE FUN
. Don't sweat the details. This looks like a lot of things to think about but really, they're simple and flexible. You don't have to do everything at every con. Make it work for you. These things work for me so I'm sharing them with you.
Have fun at your next convention! Share pics in the comments section if you like.
See you at
Anime Expo 2016
! Feel free to say hi when you see me there.