Stan Lee's Comikaze 2015
I know, I know. It's mega late. I'm sorry. You know me. You know the drill. And besides, I'm doing this partly for me... so I can look back and relive this day all over again. And also for you. So you can enjoy it with me. (And I have two more recent events to recap. Yay me.)
I've decided that Stan Lee's Comikaze Expo is my favorite. I love Anime Expo too but Comikaze hits me right in the childhood feelz. The 90s kid in me comes back alive. And it's not just the superhero fan in me that is satisfied. Of course, there is pop culture but my video game, anime, and literary sides had their more than fair share as well.
They've expanded the convention to occupy the structure closer to Staples Center. The convention floor was more spacious, especially artist's alley, and the meet-and-greet area was separate from all the chaos of the exhibit floor. Some people felt that this year was smaller but I thought it was just spread out to more floor space. Like last year, I didn't go to many panels but I absolutely loved artist's alley. I admit, I did shell out more $$ this year but then again, I didn't know what a goldmine artist's alley was last year. Remedied!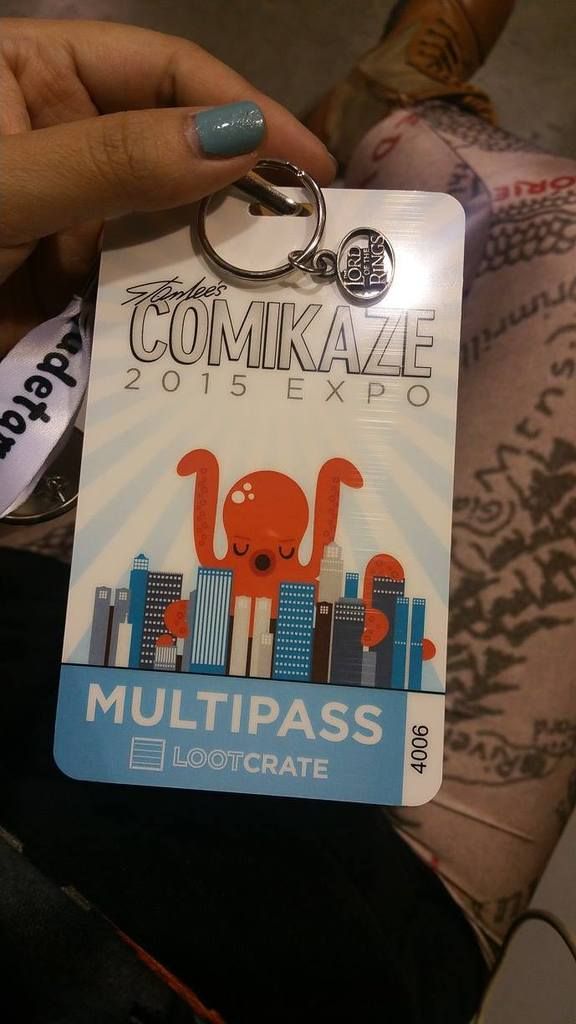 (This was my 3rd time this year at the LA Convention Center. With WonderCon moving to LACC next year... make that 4 times in 2016 - Wondercon, Anime Expo, KCON, and Comikaze. Still no chance for E3 though.)
I didn't dress up for days one and three but I did have my Iron Man snapback. And it got a lot of attention. 고마워, Running Man! Some people even asked me where I got it. Day two fell on Halloween so I did dress up for that... my first serious cosplaying attempt.
DAY ONE
No matter how many cons you've been to, that initial step into the exhibit hall is always overwhelming. It's an attack on the senses. I made my first purchase within the first 5 minutes because the first booth I encountered was TheOneRing.net. I got a shirt and as their first sale, I got a free
Lord of the Rings
keychain. And oh, I was in full LOTR nerd mode that first day with me "One Does Not Simply Walk into Mordor" shirt and Middle-Earth map leggings. It was fate that brought me to the TORn booth first. A lot of people noticed the shirt too. Yep, I wasn't cosplaying but I think I'm doing fine in the nerd fashion department.
It made sense to start the exhibit hall trek from the beginning. That's where I found the TORn booth. I wanted my brother to take a photo in the barrel but he was too shy. Hah. Then not five minutes after my first purchase, we saw two Playstation 2 games that my brother liked. The guy gave it to us for $10 each which was a steal. Later that day, we saw old consoles (we want a working PS One) and I almost freaked. XD We didn't get a PS One because it's cheaper to find it online in a bundle. We don't need one *immediately* but it's on the wishlist.
But I digress. as I go to more cons, I've developed a sort of system as to how to navigate the exhibit hall. I mean, you can also pick a random hallway and start from there but to avoid confusion, do a little planning. We had a shopping list going in that consisted of art - pieces and books - and a couple of specific Funko Pop figures. And that was it. The whole thing is an barrage on the senses. You can see your bank account draining away as you stand there looking left and right at all the Funko Pops, plushies, alpacas, snapbacks, comic books, action figures, art, apparel, and... celebrity encounters.
Day One at cons are mostly walking around and checking stuff out. And I do most of my shopping on day one. I usually have plans for the next days, panels and such, and I don't want to carry around bags of stuff. We brought one of those huge poster bags we got from Anime Expo but not everything fits in that. Also, if we do shopping on the first day, there are less people in general vs the following days.
There really wasn't much to say about day one. The panels we wanted to go to started on Day Two. It was just a LOT of stuff to see and hear and buy. I was so happy with my haul for that day. As expected it was a lot of art and some Funko that I've been looking for for a long time. As for celebrity spotting, we saw
D.M.C.
at his booth (he has a comic books) and everyone's favorite "disaster artist",
Tommy Wiseau
. I wanted to get our photo from last year signed but I think you have to buy stuff from his booth to get his autograph. Oh well...
oh hi, Mark
!
By the time we got to the other side of the convention, a lot of booths were already closed. But that space gave me so much childhood feelz, I almost teared up. From the original Red Power Ranger to the time when shows on Nickelodeon were still great... people that I never thought I would meet... they were there. In fact, I met one of them as he was tidying up his booth. And got a photo for free! ;-)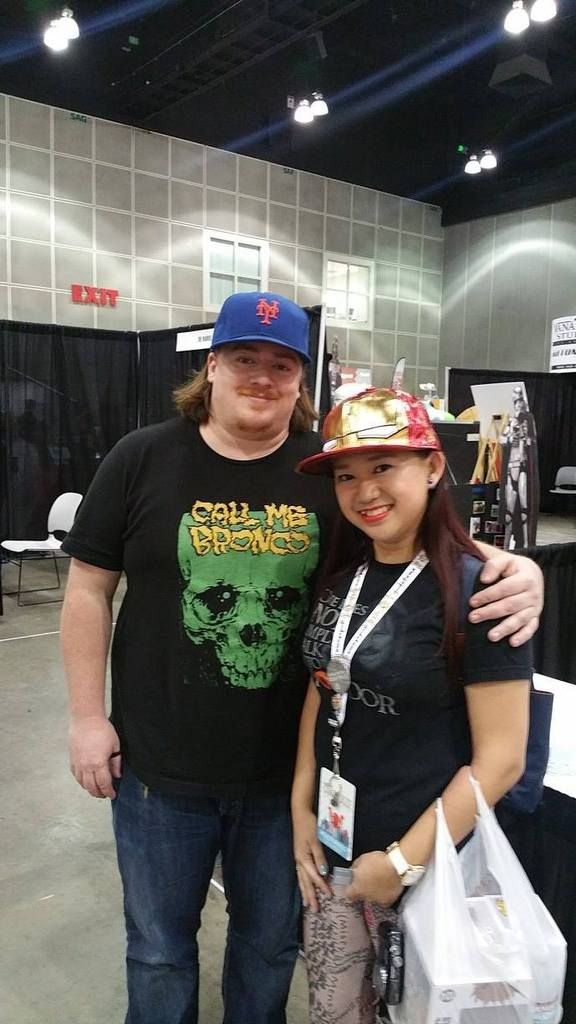 Danny Tamberelli
Danny Tamberelli
from my favorite shows,
The Adventures of Pete and Pete, Figure It Out
, and
All That
. (The
All That
reunion panel gave me so much life. But more on that later.) I was a bumbling idiot when I realized that it was really him. Those shows made my after-school "rest period" so much fun. Today's shows pale in comparison! XD
Anyway, that's our Day One loot. As you can see, a lot of incredible art. And both my Funko purchases are of
Benedict Cumberbatch
characters, Sherlock Holmes and Smaug. Ooops lol. Those up there are the TORn shirt and PS2 games. The
Harry Potter
art caught my eye immediately. It is by
Michelliezoid
. Her booth also had a MadCatz fight stick that we also wanted but... we're going to the Playstation Experience convention later this year so... pass. I wanted it though. The R2Ds and No Face are watercolor prints from
Watercolor Chaos by Levi Craig
. I absolutely love them. That
Final Fantasy
airship print is a complete impulse buy. I can't remember off the top of my head who the artist was but I will check later. [
WATCH THIS SPACE
] It's the biggest print we now have and we're planning to mount it soon. It's just lovely. A true
Final Fantasy
fan can appreciate it.
DAY TWO
Halloween. I finally did it. I legit cosplayed. Not with some merch that I got from Hot Topic. But with an actual wig and an actual costume. And who was I on Halloween?
Tuturuu
~
Mayushii
-
desu!
Shiina Mayuri from
Steins;Gate
. Complete with the upa. And I do have a Metal Upa as well. ;-) I chose her because I am short and she's short and cute. Me being cute is questionable but I think some people thought so. There were some to took pictures of and with me and that felt awesome. There was a guy at artist alley who passed us and actually went back and asked for a couple of pictures. Mind you, this was my first time cosplaying for real so I didn't know how to react. But still, I was thankful that they noticed. Some people did the iconic
tuturuu~
to get my attention. It was so much fun! I know it was just a small bit of what hardcore cosplayers get but it was a great experience. I can't wait to go as Mayuri again at Anime Expo.
Day Two was busy. We had panels that we were interested in. Not to mention, I had to go through a whole day in costume. As you know, I'm not the biggest fan of wigs. Good thing that day wasn't hot or too cold. We went straight to the Hot Topic Main Stage on the other side of the convention. The panel wasn't important; we just wanted to see
Stan Lee
. And we did! He was promoting
Arch Alien
which I say is pretty interesting. But for me, the day started with the beautiful face of
Yoshiki
from
X Japan
.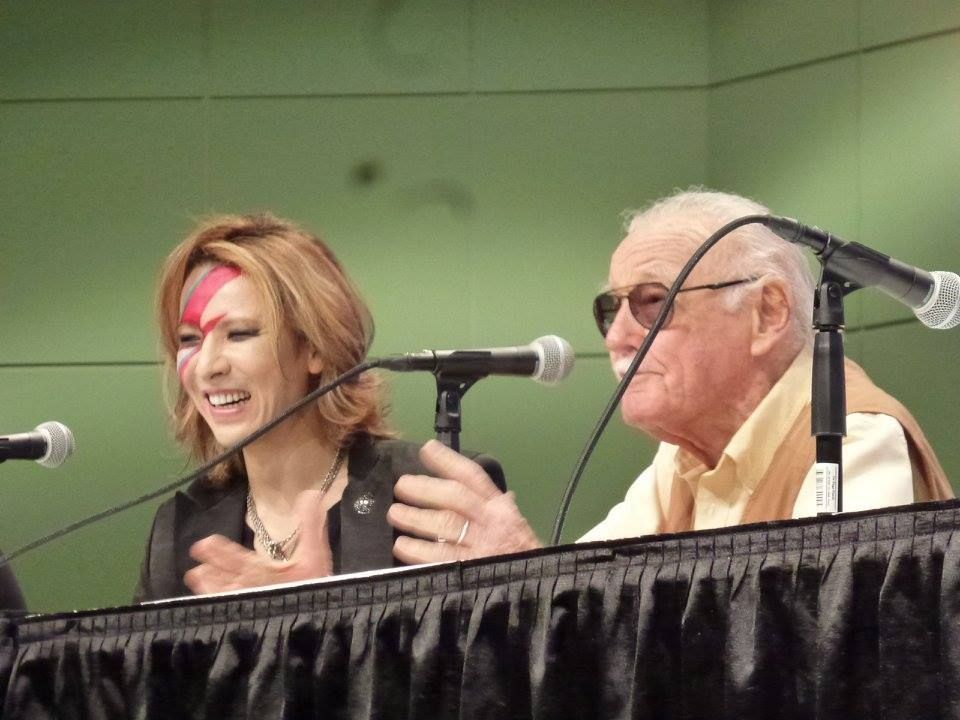 Yoshiki and Stan Lee
A little tidbit... one night about five-ish years ago, I randomly found myself at Hollywood & Highland. The streets were closed and there were tons of Japanese people on the street. There was a stage on one of the buildings were a visual kei band was playing, filming a music video. Back then, I had no idea what visual kei was or who the band was. All I heard was X Japan or Japan X. Later, I found out that it was X Japan. I looked up visual kei and that was that.
Fast forward to 31 October 2015. I've seen the light. (Yoshiki was last at least year's Comikaze but either I wasn't there that day or I was off somewhere else.) Guys, behold his beauty. In fact, I saw clips of that video that they shot five years ago in the intro video for this gorgeous man.
Color me impressed. I'm in love. I was so mesmerized at how enchantingly beautiful he is. And so freakin' talented too. Visual kei isn't really my type of music but the performances are awesome! I do read an occasional comic so I will definitely check out
Blood Red Dragon
. The premise sounds unique and Yoshiki, I mean... sigh. I'm in love. Check out the video above. Stan Lee does steal the show but if you can just stare at Yoshiki's epic smile. You're welcome.
And oh, the man turns 50 this Friday, November 20. Yes, I actually put a notice on my phone so I won't forget. ;-)
While there, I saw someone with a
LeeSsang
cap. I had to stare at him for a while. Yes, it was a LeeSsang cap. OMG oh you know I took a photo of that! I wanted to say something to him but he disappeared into the crowd after the Yoshiki panel.
Summer Glau
After that, we didn't move from our perfect spot because the next panel was for
Summer Glau
. Last year, we caught the
Jewel Staite
panel. I wonder who's next in the
Firefly
universe.
I notice with these shows that gain a cult following, you can never really shake it off. Like it or not, that one role will stick with you forever. I mean, I've seen some actors build their careers around the convention circuit. Keep their name out there, the character alive. Not all actors are like that. I've also seen some who are just so over it but they don't really have a choice. Fans love them
and
that character to the point that that's the only thing they know from an actor's body of work.
But I'm not saying that these actors are not thankful for that breakout role. I definitely felt from Summer (and Jewel) that they're thankful for the opportunity, the fans, and most of all, the friendships that came out of
Firefly
. I especially enjoyed the part where Summer talked about how she got her start in acting and how she got the part of River. And I also loved her response about rebooting
Firefly
. In an indirect way, she said she didn't want it remade to preserve what they had with the original. And I totally agree with that. Remakes are seldom successful and with something as iconic as
Firefly
, nothing can replace the original.
After that, we made rounds at the autograph alley. We saw some of the original
Star Trek
actors,
Spartacus
cast members,
Phil LaMarr
, the OG Red Ranger,
Austin St. John
and the 2nd Yellow Ranger,
Karan Ashley
, and
Greg Grunberg
. Cue the
Alias
theme lol. I never thought I would pay for a photo or autograph but my brother and I gave in because... we love voice actors.
Yuri Lowenthal and Tara Platt
As you know, we are huge fans of
Shin Megami Tensei: Persona
, specifically the 3rd and 4th games. The voice actors from the game/anime (and several other works) were there.
Yuri Lowenthal
(Yosuke,
Persona 4
) and
Tara Platt
(Mitsuru/Elizabeth,
Persona 3
) had a booth and my brother and I came prepared. (Later, we heard that
Erin Fitzgerald
and
Karen Strassman
, Chie and Nanako of
Persona 4
, were there but we missed them.) Like I said before, I'm not much for autographs unless it's on a super special item. We brought their characters' arcanas for them to sign. It was lovely to talk to them and see how enthusiastic they are with their work, with the fans. And they were so cute together. I was tempted to have them say a line in their character's voices but I settled with having them sign with their favorite line from the games. My brother, who is not as used to these kinds of encounters as I am... oh yes, his (and mine, too) con was made. So made!
Yosuke: Critical hit... to the nads!
Mitsuru: You will be executed...
While there, we also saw the voice actor for Kaz Miller from the
Metal Gear
games,
Robin Atkin Downes
. Not too long ago, my brother watched an epic - yearly - play through of all the MGS games leading up to MGS5. I watched bits of it too and never did we miss
the
Kaz Miller moment:
fiddle
.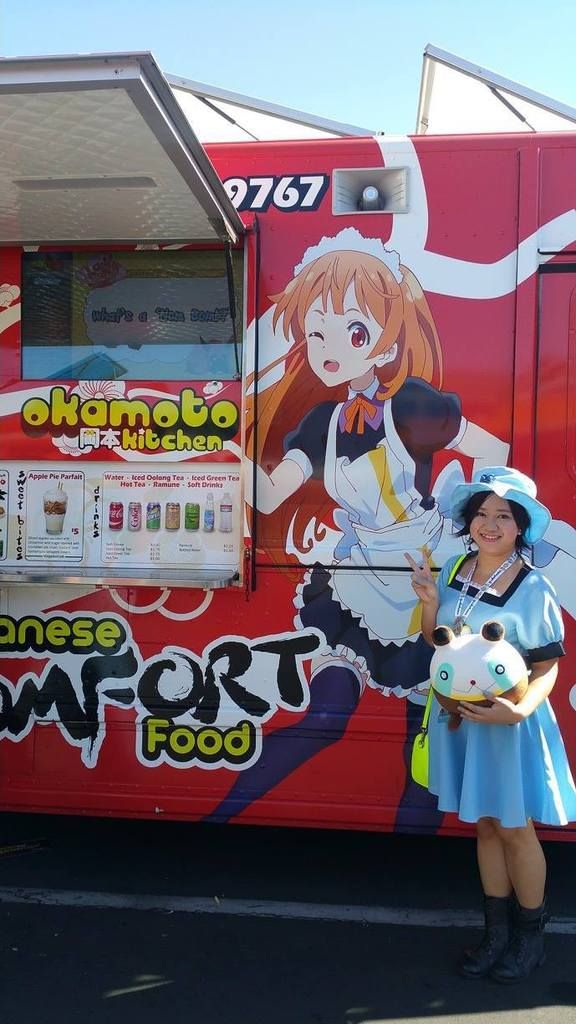 Day Two was shaping up to be awesome already.
For our Friday and Saturday lunch, we went to my new favorite food truck,
Okamoto Kitchen
. I first heard of them at 626 Night Market and I loved their food from the first bite. The people working there are so nice which adds to why I keep coming back. And their truck is so cute!
I recommend everything on their menu. But if you want the Okamoto Curry dish, be early. On Friday, we got the second to the last one. It's always the first one to sell out. If you still want the curry but they ran out of the dish with rice, go get the Katsu Curry Sandwich. I prefer the chicken but I know the pork is great too. I love all their small bites. I'm eyeing that Miso Chocolate Brownie Parfait dessert item. I seriously cannot wait to see them at Anime Expo. It's going to be special.
Towards the end of the day, we went to the video game writers panel. Karen Strassman (Nanako of
Persona 4
) was supposed to be there but she wasn't. But we still enjoyed the panel. It was interesting. You often hear of game developers talking about game play but this was one of the few times where it came from the story side of things. You get to enjoy the gameplay but what makes a game so much better is a good story. With all the games that I play or watch, I'm most interested in the character's backstory. Yes, even the fighting games. I may not play much but I can get in too deep.
Speaking of fighting games, Canada Cup 2015 was happening on the same weekend. I had Twitch on my phone so to kill time until our ride comes, we parked ourselves by a socket and watched the stream on my phone. My brother's
Persona 5
bag got a lot of attention too. The three-day quest at Anime Expo to get it was so worth it. And look, my upa was a convenient phone stand.
Day Two had more art. Look at that
Sherlock
print. The Mycroft print came with it for free. The
Street Fighter
print is a familiar sight. The artist is a frequent exhibitor at 626 Night Market. We have a
Studio Ghibli
print from the artist. We got this one in preparation for the Capcom Cup finals in San Francisco. Oh yeah, we have plans. I saw a
Steins;Gate
print and I just had to get it. A Mayuri with a Mayuri print. Those two were the only art book purchases this time around. But they are gorgeous.
DAY THREE
I was back in normal people clothes on Day Three. My
Iron Man
snapback still got asked about a lot. I should get a back up of that. XD On Day Two, my brother was wearing a
Day9TV
shirt and I was in a
Steins;Gate
costume. On Day Three, I was wearing my own
Day9TV
shirt and he was wearing a
Steins;Gate
shirt. Hah. And no, we didn't plan for it to happen. As an almost tradition, I was wearing tattoo tights of
Snow White
. (They ran badly towards the end of the day so I had to say bye to them. Will get another one for sure!)
Our first panel of that day was about fantastical worlds in literature. I was interested in that topic and also, I had a friend on the panel.
Tania del Rio
and I first met when we were both into
Adam Lambert
of
American Idol
. Now, she has a book to be released on 24 November 2015 called
Warren the 13th and the All-Seeing Eye
. I picked up an advanced copy - as well as the books from the other panelists - and had it signed. I read it already and loved it. The art is fantastic. It is a middle grade book so it's easy to read. But it's a great story with amazing illustrations. Go get it when it comes out!
After I got my books signed, my brother and I went straight to the Hot Topic main stage in preparation for
the
panel. The
All That
reunion panel. You guys. This was huge. I cried over a missed episode of this show. A missed
rerun
episode. Cried. Tears. My first ever "ship" was from the OG cast. I didn't even know what "ship" was and I already paired them up. I didn't follow the new generation cast but the OG cast... definitely a huge part of my childhood.
When we got to the main stage, we saw
William Shatner
. I mean. Captain Kirk.
And yes, Stan Lee was there too. They were promoting his new comic imprint,
Shatner Singularity
. It was the tail end of the panel but still, William Shatner! How cool is that?!
But the next panel... gave me life.
I was so freakin' excited. It was like we were back in the 90s. Almost all of them were there. The 90s references were glorious. All those 90s musical guests... geez, I lived for those. I may not get all the jokes but I knew all the characters. It was funny how the OG and new gen casts were sort of trying to one-up each other with their musical guests. OG had
TLC
and
LL Cool J
while the new get were dropping names like
NSync
and
Britney Spears
. OMG. Where did the time go?
I took so many pictures from that panel, it was crazy. I got so excited and there were so many of them and finally seeing this happen after being a fan since the beginning... I had to. The whole first row was basically my childhood, right there. I can't even think of anything else to say!
When they sang the
All That
theme... aaaaaaah! I posted a clip on Instagram and
Angelique Bates
reposted it on her account.
Josh Server
liked my post too. I mean... *hearts*
Is it normal to be like this over a childhood TV show? Yes? No? Okay.
After that, my brother and I went back to the exhibit hall to... yes, watch Canada Cup. I don't get why they didn't have food trucks for Day Three anymore. That area is not really good for on-the-go eating. You have to trek over to LA Live for eats and there are no fast foods. The LACC cafeteria was the most convenient but the lines were insane. But we got our food and settled down to watch the FGC do their thing.
Speaking of the fighting game community, we saw so many Ken and Chin-Li cosplayers. There were even a Makoto, and a family of Ryu, Chun-Li, and their little baby was Cammie. ADORABLE. You're doing something right, parents. Keep it up!
Closing time was early for the final day of the con. We were all bought out and we didn't have other panels to go to. Well, except the
Spartacus
reunion panel. As you know, I loved that TV show. I even went to two
red carpet
premieres. But it was originally planned before the
All That
reunion panel. For some reason, it was rescheduled for that afternoon. It was after the Prop-making Contest towards the closing of the expo. We were all conned out and we actually did plan to skip it. I'm glad we didn't though.
After one last go-around artist's alley where we scored this amazing Fran x Freya print and Alphonse Elric print, we made our way back to the Hot Topic main stage. We still got our same spots for the other main stage panels. I love that Comikaze has these. You don't have to make your way into an upstairs room, find a seat, and hope you get a good view. The audience have better energy out in the open vs cooped up in a room.More people can check it out, especially for a topic with a bigger fanbase. Last year, they did
Game of Thrones
and that was huge.
Also, I'm glad they separated the main stage from the din of the exhibit hall. That gets crowded and add the main stage audience to that... there was running, tripping, bumping into people in the rush to get good spots. Now that this basically had its own room, both spaces were more manageable.
Back to
Spartacus
. In attendance were
Liam McIntyre
(Spartacus),
Manu Bennett
(Crixus, Azog from
The Hobbit
), and
Ellen Hollman
(Saxa). All of them are working on sort of comic book related stuff now. I think Liam is in
Flash,
Manu is in
Arrow
, and Ellen is working on
Into the Badlands
and the next
Scorpion King
. The panel was so informal. They hijacked it from the moderator and that made it so much more fun.
Manu was super nice to invite cosplayers on stage, especially those for his
Arrow
character, Deathstroke/Slade. Liam invited kids in costume on stage. It was so sweet. I often hear celebrities praise the cosplayers on the effort they put into their craft but this was the first time that I've seen them do something like this.
Liam is just a huge nerd. Hahaha, I love that about him. I really do like him though. From that first time that I met him at the
Spartacus: Vengeance
premiere, his first showing as Spartacus replacing the late
Andy Whitfield
; he was full of energy with the contagious smile of his.
After that last panel... it's done. Comikaze 2015 was over. Well, we stuck around the hall where the main stage was for a while, charging the phones and stuff. And then we saw someone get married! Aww... :D
Here is our final loot. A lot of books and of course, art. That Crona bookmark is so cute!
Overall, it was a lot of fun. I can't say whether this was "bigger" or "better" than last year. Space-wise, yes. In terms of guests, I went to more panels this year but I do admit, the
Game of Thrones
panel last year was huge. Content, I actually think this year has less stuff but then again, it was spread out in a bigger space. I like that this year was more walkable and manageable even on the high traffic days/times. I would've wanted more food choices but whatever.
I'll definitely be back next year for more Stan Lee's Comikaze fun!
Now, are you ready for a picspam?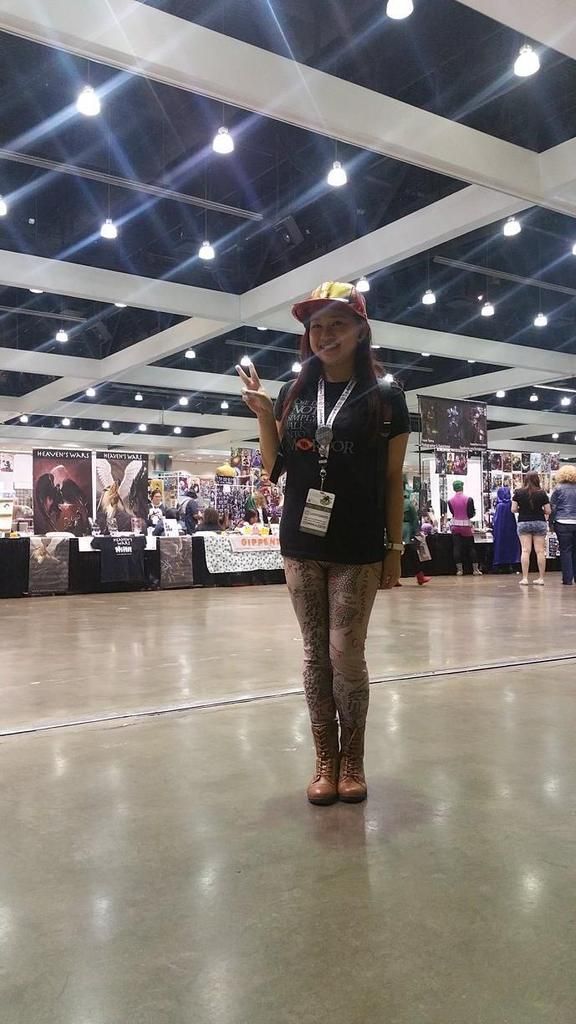 Day One OOTD
Stardust Handshake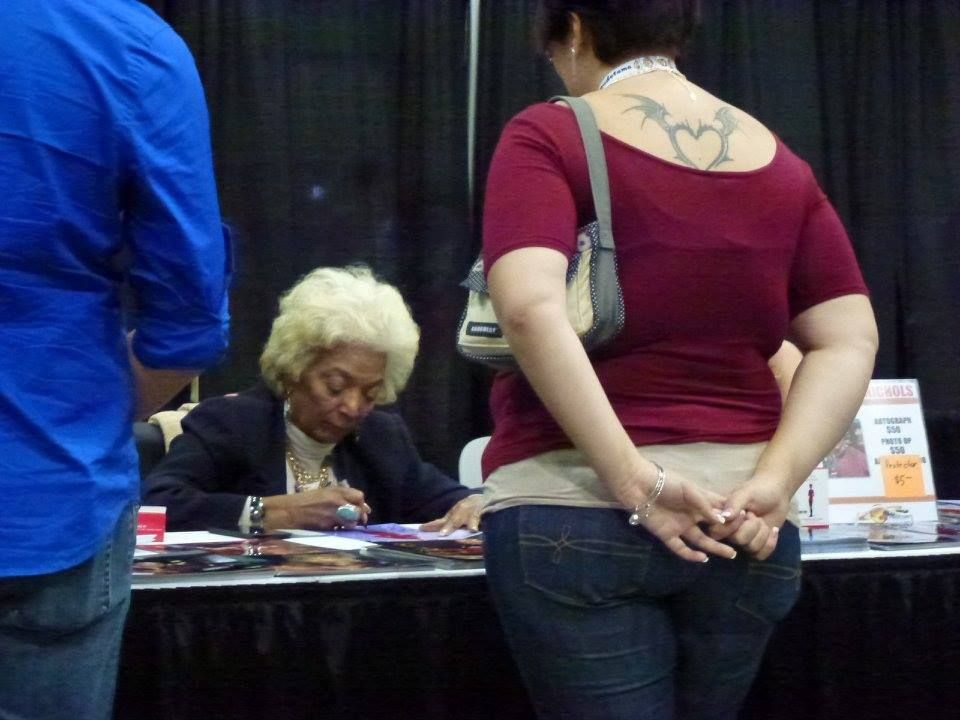 Nichelle Nichols aka Uhura of Star Trek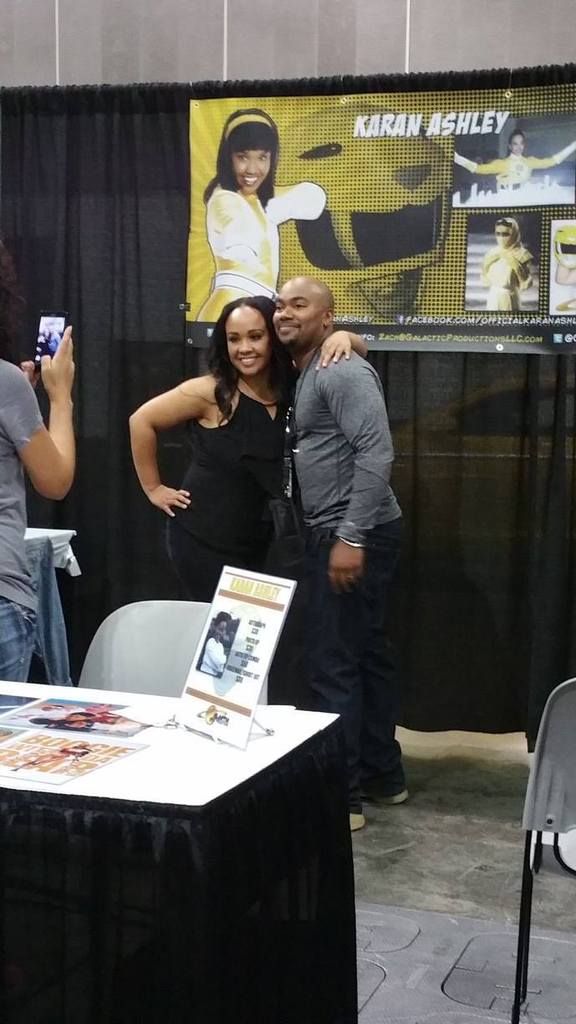 2nd gen Yellow Ranger
OG Red Ranger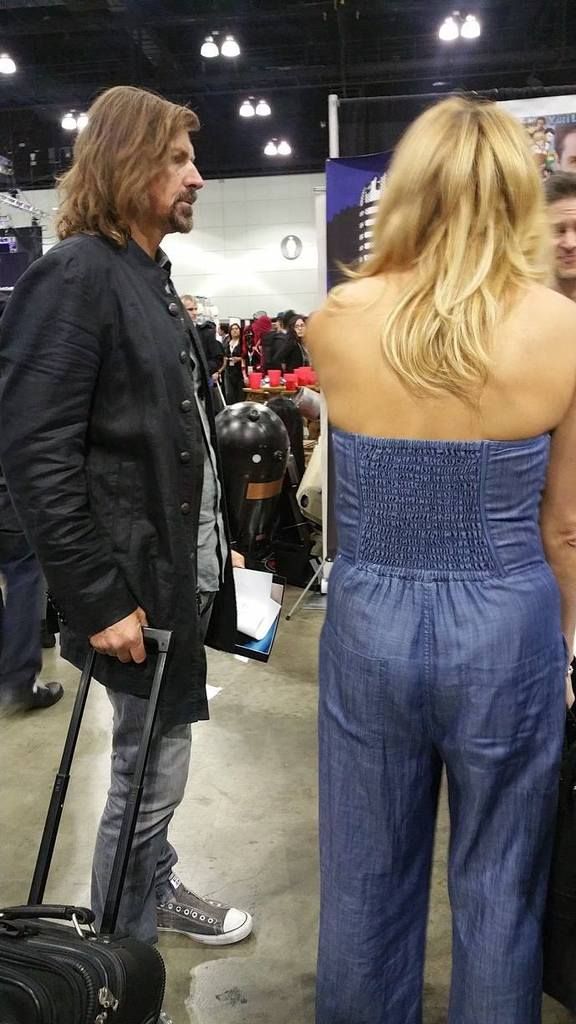 Rowan Atkin Downes
YRP!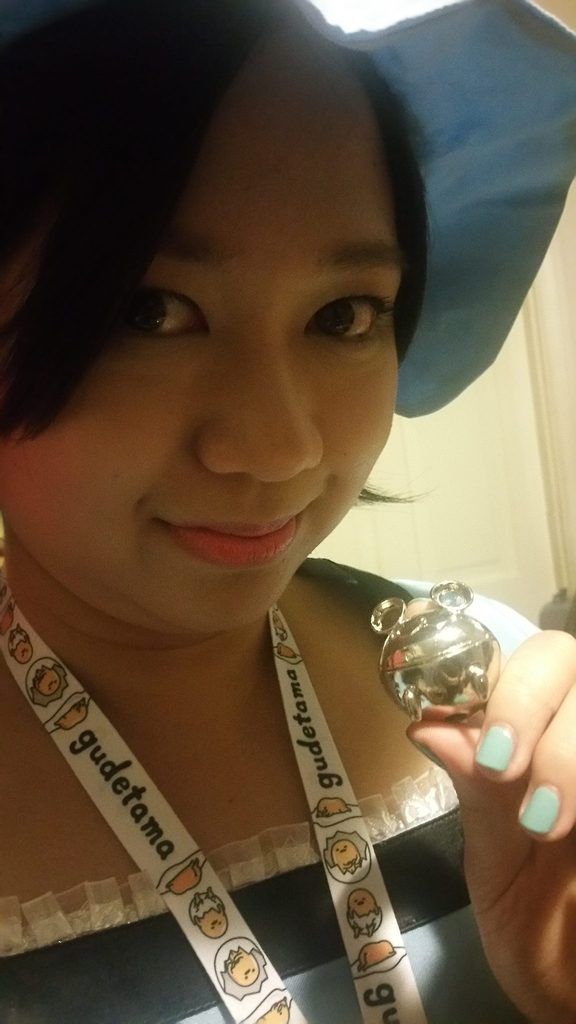 Metal Upa~