the KPOP tag
As I wait for my hair to dry before going out the door for my weekly Korean language class, let me kill time by answering this KPOP tag. I found this off Youtube and it's supposed to be on video but I get shy sometimes and this is one of those times. XD I also found other KPOP related tags. Some, I added to this original 10-count tag. The others are posted on my Tumblr which I will link below. So let's get started!
1. What was the first KPOP song that you've heard?
Answer the Phone
by Shim Mina.
Blame it on the Sex Bomb Dancers. Heh. I can't remember when exactly that was... around 2002, I think? The Sex Bomb Dancers are the "resident" dancers of the popular noon time variety show in the Philippines, Eat Bulaga. My family loved watching that when I was growing up and this was one of the signature songs of the said dance group. Back then, I had no idea that this was in Korean. I just thought the song sounded cool and yeah.
2. What was the first KPOP band that you liked and still do?
2NE1.
Photo by Cate, 20120824 NUEVO LA
Thanks in part to Sandara Park. I've been a fan of hers since her Star Circle Quest days so when I heard that she joined a girl group in Korea, I immediately looked in to it. Fortunately, 2NE1's music is something I'd listen to. KPOP didn't have a "good" reputation to me when I first became interested in Asian pop. It seemed to me very manufactured and irritating. A lot of them still do today but when I first heard
Fire
, I was instantly hooked.
3. Who was your first bias ever in the KPOP industry?
Sandara Park.
But like I said, I started liking her before 2NE1 came along. I guess you can say Bom was my bias for a short while. Specifically, her legs. XD
4. What is your current favorite KPOP boy band?
BIGBANG.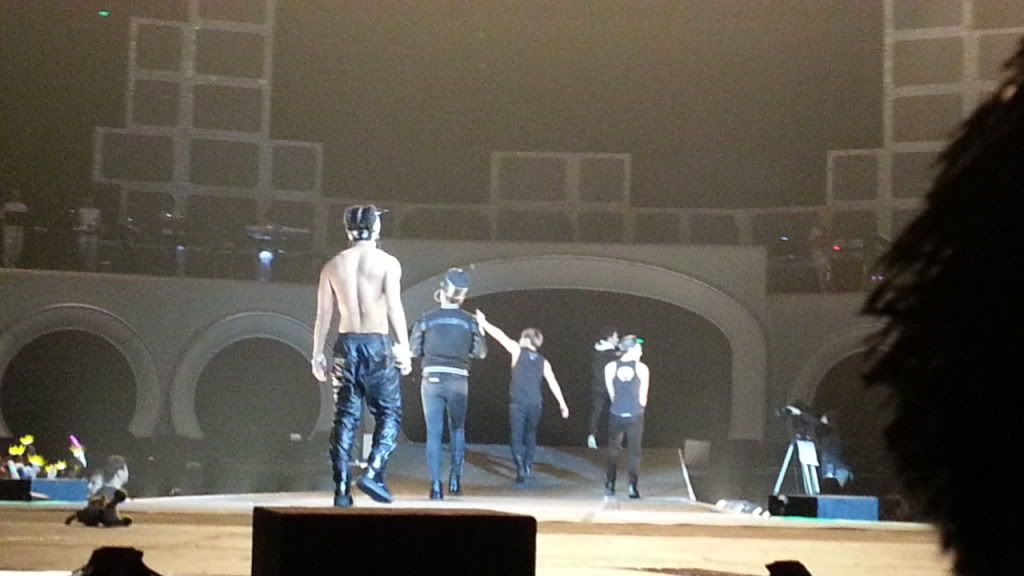 Photo by Cate, 20121102 ALIVE Tour LA
This came out of nowhere. I knew of BIGBANG in college but I was in my showtunes funk back then so no other genre existed for me. I liked
Tonight
but then again, I didn't jump on the bandwagon. Then after a loooong while, I heard a BIGBANG song.
Monster
. And oh boy, I fell madly in love. I was reminded why I would listen to them from time to time -
Haru Haru, Lies
- especially when 2NE1 covered
Last Farewell
. Their brand of KPOP is so different from the lot. I then paid more attention and now, I'm obsessed.
5. What is your current favorite KPOP girl band?
2NE1.
To be fair, I also like miss A. And I like some of f(x)'s songs. Believe me, I tried listening to other KPOP acts - male or female - and
most
of it, I cannot stand. DX I am open to new things but I think YG spoiled me. Hehe... I do like some of JYP stuff. SM? Very little. After all, I can listen to Super Junior.
6. 3 current favorite KPOP songs:
Fantastic Baby
by BIGBANG.
I dare you to find a cooler song. The first time I heard it, I put it on repeat until my work day ended. I was amazed at how fcking cool it is. And boom-shakalaka? Wow, you touched my 90s kid heart!
Bad Girl, Good Girl by miss A.
Another song that I instantly liked. I was interested in miss A because they had 2 Chinese members. This was the first song I heard from them and then I looked for live performances. I was very much impressed.
I'll Back Off So You Can Live by G.Na
I don't care for the video but this song is so beautiful. I wish G.Na did more songs like this. I tried listening to the rest of her stuff... eh, not for me.
7. All-time KPOP song for you? Haru Haru by BIGBANG.
While it is NOT my favorite BIGBANG song, I personally think that you cannot go through a KPOP phase without listening/loving/mentioning Haru Haru. It is one of the first KPOP songs that I sang along to without knowing what it meant. I love listening to it. I think I have 5-6 versions of it on my iPod.
8. 5 current biases?
GD&TOP is my ultimate bias. Yes, both of them.

Seungri, BIGBANG

Sandara Park, 2NE1

Jia, miss A

Tablo, Epik High
9. Who would you like as a boyfriend/girlfriend in the KPOP industry? (guh, I hate questions like these...)
Honestly? Any of the BIGBANG guys. I know my mom would want a piece of Taeyang. I don't mind that Seungri and Daesung are younger than me. GD and TOP? Need I say more?
10. What comes to mind when you hear the word KPOP? As I mentioned earlier, Haru Haru.
11. If you had a Korean name, what would it be?
Funny you'd ask. In my Korean language class, we were asked if we wanted Korean names. And we said, heck yeah! I chose the name
하루 - Haru - because I thought it was cute. I first heard
하루 used as a name from Tablo's adorable daughter. My teacher liked it also so it stuck. (Also, a Korean friend from college said every time he'd hear Haru Haru, it reminded him of me. Go figure.)
12. Who is your bias-ruiner? ...
Okay, so in BIGBANG, many say that Seungri is the bias-ruiner. What if Seungri already is your bias? In my case, Daesung is my bias-ruiner. Especially after the sound check party of the Nov 2 concert. OMG, and when I saw Wings live. Tears down my face. My heart grew ten times for Daesung.
13. Favorite KPOP lyrics. 겨울이 가고 봄이 찾아오죠 from Blue by BIGBANG.
In all honesty, I want that tattooed on me in the future. (Yes, I don't mind Bom's name tattooed on me lol.) Winter is gone, spring is coming... or something to that effect. I like it. And pair that with the sentiment behind that when GD wrote this song. Ah, so perfect!
14. Say something about a band/artist that is not yet mentioned in the above questions.
Gummy is so underrated. I think she's brilliant. More people should listen to her. And I think she should make an album of covers of popular KPOP songs and turn them in to sexy jazz numbers. Just look at what she did with G-Dragon's Heartbreaker:
I mean, it's pretty much orgasmic!
Also, Epik High. Man, I've loved them before and now that they're back and with YG... they are so amazing. I so love Don't Hate Me and all their performances. Tablo's solo stuff is just genius. I could not get enough of Bad and Tomorrow. Ah, I just love Tablo!
15. Have you covered a KPOP song?
Haha, I'm not brave enough to post it, if that's what you mean. ;-) Well, I do have a video fo me singing along to the chorus of Haru Haru during the BIGBANG concert. It's here somewhere, I think. ;-)
Other KPOP tag questions posts:
100 KPOP Questions
KPOP Quiz