Haulin' Outfit of the Day (20130213)
What is up with drugstores today? First, they surprise me with these coupons and then they go on a 40% to 75% off frenzy on my favorite brands! My savings weren't as impressive as my last one but it'll do. I got some pretty colors just in time for 봄... Spring. :)
Face:
Missha M 퍼펙트 커버 비비크림 in No. 23
Wet n Wild Ultimate Brow Kit
NYX Caviar and Bubbles palette
NYC Sunny bronzer
Milani Multitasker Powder in Light
Physicians Formula powder blush in Blushing Peach
Physicians Formula liner for Nude Eyes
Ulta Voluptuous Volume mascara in black
Revlon Lip Butter in Tutti Frutti
My outfit is nothing special. Haha, this is how I normally dress on an ordinary day. Jeans and tees. And look, sneakers!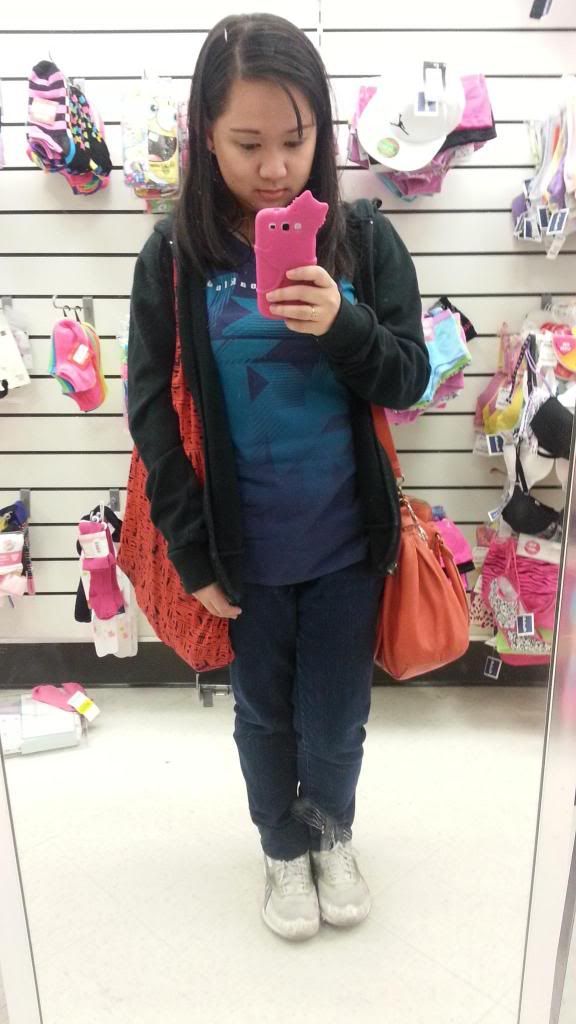 I look like a little kid...
shirt from Oakley
jacket from Oakley
Easy Tones from Reebok
Forever 21 denim
orange bag from The Sak
eco-friendly shopping bag from The Metropolitan Museum of Art
As for my haulin' damage... I swear, if I impose a "no buy" on to myself, I'll probably go crazy. O___o Here's the lowdown -- CVS: I need to spend less than $3 on a Maybelline product so I can get the $3 ExtraBucks coupon; Physicians Formula is still 50% off all face makeup; I have a "spend $20 get $4 off" coupon from the red box. RiteAid has some Wet n Wild items on 75% off and the rest are on 40% off.
Items pictured:
Wet n Wild Color Icon bronzer in 741A Princess / $0.74, Rite Aid
Wet n Wild Ultimate Minerals blush in 164 Purely Mauve / $0.99, Rite Aid
Wet n Wild Ultimate Minerals blush in 165 Barely Peach / $0.99, Rite Aid
Physicians Formula Conceal RX concealer in Fair Light / $4.75, CVS
Kate Moss for Rimmel in 06 / $5.29, CVS
Maybelline Vivids in 870 Shocking Coral / $7.79, CVS
Wet n Wild lipstick in 511B Nouveau Pink / $0.59, Rite Aid
Wet n Wild lipstick in 520E Hot Paris Pink / $0.59, Rite Aid
NYC Big Bold Plumping Lip Gloss in 472 Coral to the Max / $4.19, CVS
Now that I have two of those new NYC plumping lip glosses, I think I can do a mini review on them in the future. I'm not really interested in the other shades so I think I'm good. Bleah, I'll be needing another lipstick caddy with all these lovelies I'm acquiring lately.
PS: Who knew those dollar lipsticks from Wet n Wild could be so good? Man, those two shades I got are amazing.