Review: New goodies from Wet n Wild!
At least, they're new to me. :) If you've seen my previous haul post, you got a sneak peek at the products that I'll be reviewing for you today. I picked colors from the opposite ends of the spectrum... two brights and two neutrals.
First up are two lipsticks from the Fergie Centerstage Collection for Wet n Wild, the Perfect Pout Lip Colors. They are available at Walgreens for $3.49 and they come 10 colors from nudes to black. Yes,
black.
They come in a silver and black tube with an F stylishly embossed on the top of the cap. The shape of the product itself reminds me of another Wet n Wild collection, the Mega Last ones but with a different consistency. While the Mega Last colors are matte to semi-matte, the Perfect Pout lip colors, at least the ones that I have, are creamy.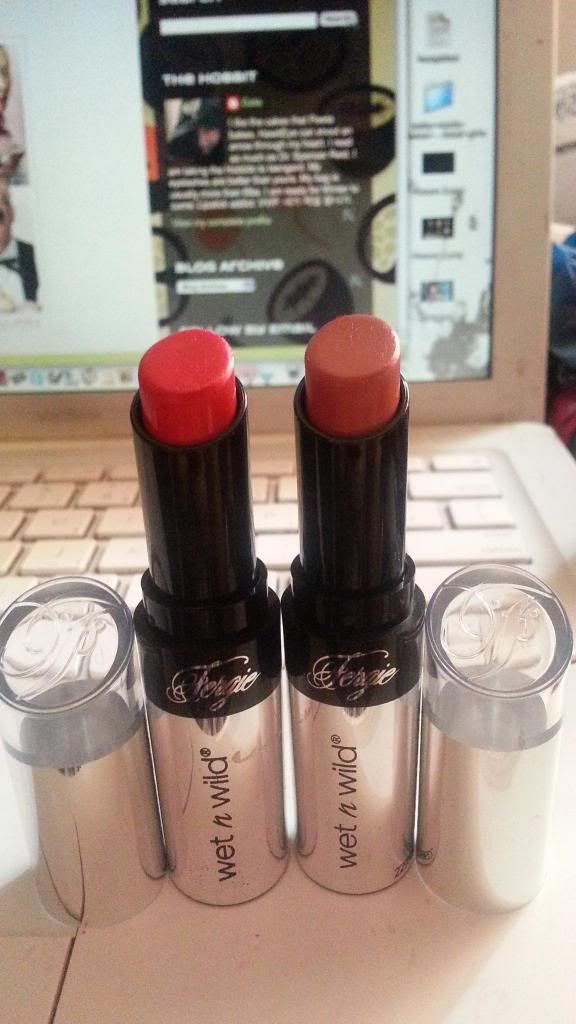 Old School Glam and Bebot Love
On the left is Old School Glam and on the right is Bebot Love. Old School Glam shows up either orange-y red or pinky red depending on skin tone. On me, it leans a bit towards the orange which is perfect for my current lip color obsession. Bebot Love is a neutral with a pink undertone. I must admit, I initially got this color because of the name. Bebot -
beh-bot
- is a Tagalog slang term for "young woman". And I ended up loving this color! It is similar to the Mega Last color called Bare It All which is one of my favorite neutrals. It is just perfect that Bebot Love looks good on the bebot! XD
Here are the lipsticks swatched... they are the ones in the middle. One swipe, people. They are very pigmented and creamy. When I went to wipe it off, Old School Glam stained my skin. Bebot Love did not wipe off easily but it did not stain. They are not the most moisturizing formulas but that's why we have lip balms, right? And I also prefer the look of my lips with gloss on top of these lipsticks.
As for those other colors in the swatch photo above, those are the Wet n Wild Mega Last Liquid Lip Color. Basically, they are those matte lipsticks in liquid form. They are extremely -
extremely -
pigmented and dries matte. When those hand swatches dried, they did not move. Even after I used my makeup removing cream, it took quite the rubbing to get them all off. But on the lips... well, I haven't tried to put them on bare lips but when applied on top of a lip balm, they wiped off easily even after they've dried.
I Can Bare It and Red My Mind
I love that the tube shows the name of the product in two languages, English and French. The applicator reminds me of the ones in the Revlon Colorburst lip gloss; the ones that are flat like a paddle. As you can see in the shadows, it is flattened and wide. I'm not a fan of these kinds of applicators but it does the job. I Can Bare It is a neutral brown, slightly deeper than Bebot Love for comparison. I picked up Red My Mind because that was the shade Fergie was wearing on the ad and I liked the way it looked. It is a vampy red.
The consistency of this lip color is thick, almost like a cream. And because it is so pigmented, you literally paint it on your lips. It reminds me of the OCC lip tars at how pigmented they are. However, I do not like how these look on my lips when dry. They settle into all the creases and they look like they would crack and flake off. Especially with I Can Bare It. As for Red My Mind, it wasn't as bad as the other one but it looked fabulous topped with a red gloss. I can imagine if you plan to wear this for a party, you can apply it once and just reapply the gloss on top. I Can Bare It felt so drying that I wasn't comfortable wearing it for an extended period of time. I should be the same feeling for Red My Mind but the color is so beautiful, I can overlook the comfort problem.
Here they are swatched on my lips...
Red My Mind is such a gorgeous red. It is so bright and vampy at the same time. See what I mean with I Can Bare It? It emphasized the dryness of my lips. And it is just too brown for me. Unlike Bebot Love with the pink undertone. It's not a "my lips but better" shade for me but it is nice for a nude lip look. Old School Glam, you will see it again in my orange lip color post.
Overall, I will definitely get more colors from the Fergie collection. I'm eying a couple more shades. As for the Mega Last liquid lip color, I might hold off on it for now. I'm not much for matte colors and the fact that it is so drying bugs me. I'm happy with the red shade for now.