Face of the Day (20130413) | I'm singin' my blueees...
Blue lashes, I mean.
Earlier this week, I picked up colored mascara. I've always wanted to try colored mascara. I'm pretty proud of my lashes; they're long and lush (with the right product and application) and they complete any look I may have that day. I've tried so many lengthening, volumizing, defining, lash growing, waterproof, and clear mascaras that I decided to just go for the colored ones.
Face:
Missha M Perfect Cover BB Cream, No. 23
ELF baked blush in Rich Rose
Lips:
Skinfood Tomato Smoothie tint in No. 1 Red Tomato (review)
Revlon Lipbutter in Juicy Papaya
Eyes:
Victoria's Secret eyeshadow palette in Envy
ELF brow kit in Medium
Wet'n'Wild Color Up! mascara in blue
Ah, blue. I've done my research, of course, and a lot say that blue works well with brown eyes. I personally do not like blue eyeshadow but I like dark blue eyeliner. Some suggested using a blue mascara as a top coat over the black but that didn't make sense to me. I tried that, laying the color over the black mascara I already had on, and it didn't show up at all.
The star of the show is this:
I saw it in a special display at Walgreens for $3.99, I think...? It was less expensive than the Maybelline one. I'm not a fan of Wet'n'Wild mascara but for the price, no biggie. When I saw my lashes in natural light, I was shocked. Would I be able to rock these blue lashes all day? The girl at the Jamba Juice I went to was staring at them for sure. If my Korean teacher noticed, she didn't say anything. LOL. I admit, I was a bit self-conscious but hey, unless you look really, really close, they're not that obvious.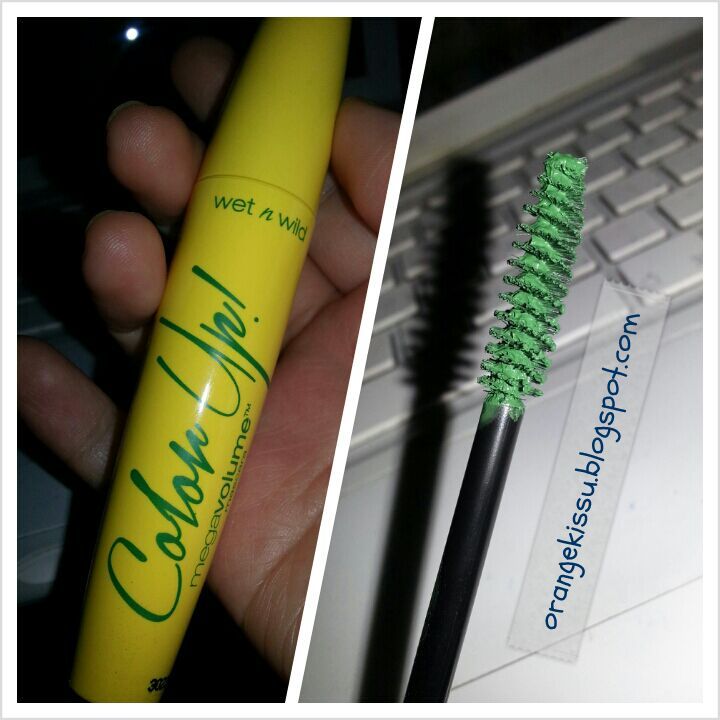 I also picked up the green. As you know, green is the color of the season. I was thinking that this could be my way of incorporating that color into my makeup. I mean, you can't wear green lipstick or blush and call that normal, right? XD I haven't tried this yet but maybe next Saturday, I might give this a go. I can't wear crazy stuff at work. Unfortunately.
The Megavolume formula does give a bit of volume. I did not curl my lashes for this look and it did not weigh my lashes down. My biggest complaint is that it gives you that "ring" of fallout under the eye after a few hours. It's nothing that I can't wipe away easily but it's annoying. What if you don't have a mirror to check yourself? Will you go about your day with a blue ring around your eye as if you got punched? Not cool.
Also, this ran like cray-zee. I rarely use waterproof mascaras and those non-waterproof formulas that I have don't wash off with a drop of water. I still have to scrub a bit to get everything off. This? I teared up when I sneezed and oh yeah, when I dabbed the inner corner of my eye, it was royal blue. Reminds me of Shania Twain's song
Black Eyes, Blue Tears
, yeah? I read somewhere that it can stain blonde lashes but with these brunette ones, they washed right off.
But again, for less than $5? No big deal. You just have to be careful. Or don't wear it for the whole day. I went to the beach with it and it stood up well enough. If you want to try out colored mascara, this is a good choice. I'm thinking of picking up the other two colors... well maybe just the purple. Pink lashes might be a little too crazy. ;-)