More Than 10 Years in the Making.
They finally did a red carpet premiere in Los Angeles. Well,
black
carpet.
December 2 was also my brother's birthday. Had he been here with me, this would've been the ultimate birthday gift. Both of us are huge LOTR fans and we loved
The Hobbit
book. We even got our mom to read it.
My day started off at around 8:30AM after dropping the key off at the office. My awesome premiere-going friends were troopers and stayed there since the night before. The crowd wasn't as awful as the ones at the
Thor
premiere but then again, this crown occupied the whole Hollywood/Highland block. It's been a while since I went to a Kodak Theatre (Dolby now, lol) or Grauman's (TCL) Chinese Theatre premiere. It's less predictable than the ones held at El Capitan... which end of the street will they get off at, which direction will they go to once they cross the street to the fans, are they stopping traffic. It was guesswork until the first car arrived.
Gofobo was giving away tickets to watch the movie at the premiere. I would've gone if it were a weekend the next day and not a workday Tuesday. It was bad enough that I lied my way out of a busy Monday; to skip Tuesday too would be too much. And yes, you get to watch it with the cast in the place where they do the Oscars but that's not the thing that made me so sad missing.
Kimmel
taping ends at around 5:30PM. The actors started arriving at 6:30PM. El Capitan was just there, right where we were waiting for arrivals. Getting standby tickets were easy enough, I was dressed appropriately, the crowds weren't awful and we had good spots. I wished I had the thought to check who the guest was that night. It was
Orlando Bloom
. Oh vey. I mean, I did see him at the premiere eventually but to be sitting there for 15 minutes just looking at and listening to him? Why are you so elusive, Bloom? First, my New York trip gets scrapped then this. So close but so far away.
But that's for later.
This was 10+ years in the making. Guys, you know that I love a LOT of things but I will drop - have dropped - almost everything for
The Lord of the Rings
. The exception was that
Thor 2
premiere. I was tempted to go to the fan event but at the
Thor
premiere, I had my mom with me and it was guaranteed that we'll see the cast. I've been to my share of big premieres but nothing means as much as this. I read a LOTR book once every year, usually
The Hobbit
, and I've watched the movies more than I can count (I can mime to the entirety of FOTR's theatrical version). I have most of the DVD versions, double for some, and I don't think twice about picking up other merch. In short, in my scale of fandoms,
The Lord of the Rings
is number one.
I was so honored to share breathing space with the likes of
Peter Jackson, Howard Shore
, and the rest of the cast of LOTR and
The Hobbit
.
TCL Chinese Theatre has a special exhibit for
The Hobbit
. The premiere was supposed to be held there but they changed it to Dolby at the last minute. They even had Thror's throne. I originally went on a food run but I got sidetracked by this display as well as watching the crew set up the black carpet. It was an amazing set. Black carpet, poster panels, fake Mirkwood trees. I actually called it the Mirkwood carpet. As I was watching everything unfold, I just couldn't believe that it was finally happening. Living in LA meant that I didn't have to work too hard to see my favorites in person but LOTR being a hardcore New Zealand production, the distance seemed too far. But if
Spartacus
happened, this was so on!
Speaking of
Spartacus,
Manu Bennett
(Azog, the Defiler) was the first one who arrived. And I think I was the first one to realize that. Days ago, he sent a tweet of a yellow Lamboghini with the caption, "
My warg for the LA premiere
" or something to that effect. Well, I recognized that "warg" when it pulled up. And a little peek into the driver's side confirmed it. I told the people around me that I was 1000% sure it was Manu and we started calling out to him. Then the rest of the crowd followed. He didn't sign but he did a hi-touch (if you're a K-pop fan, you'd know what this is) with the fan line. Dude, I'm a
Spartacus
fan. Of course, I'm sure that's Manu Bennett. Oh Crixus! XD
And then from afar, we saw
Sean Astin
. OMG, he's one of my LOTR people! I remember losing it when I saw
Dominic Monaghan
at
The Avengers
premiere. I didn't do that there because
Luke Evans
(Bard the Bowman) went over to the fan line. I wanted to ask him what he thought of
The Philippines
, a la
Jeremy Renner
, but the crowd was too much and I was just tongue tied. He's actually pretty awesome. :) And that Welsh accent? Yes, please.
And then things became mad crazy.
Martin Freeman
(Bilbo Baggins) has arrived with partner
Amanda Abbington
. Needless to say, the
Sherlock
fans went insane! The autograph hounds didn't hesitate to push the actual fans and it was just madness. I managed to have Martin sign my Thorin's map but that was the end of it for me. Luke and Martin. It was too much to have something signed, take photos, and try not to get squished all at the same time. There was this little kid in front of me that reminded me of Rue. If I'm small, she was smaller than I was. Good thing I'm used to elbowing and pushing back.
The elves arrived next.
Evangeline Lilly
did go to the fan line but went the opposite direction from us. Same with Orlando Bloom (if you don't know, get off this page). Pfft. But you can bet that I screamed myself hoarse at my first glimpse of him. Many of you will never understand and frankly, I can't explain it either. ;-) I love him. End of story.
I don't have a ~good picture of Evangeline. It was funny that some of the
Lost
fans were egging her on with "
Kate, dammit, RUN!
" I know some celebrities don't want to be associated with previous work while promoting a new one but it amuses me how diverse fanbases are and it really does draw a crowd. Sort of like a free pre-promotion to the new stuff an actor puts out.
I have a fangirly rule that I will never ever chase down a celebrity just to get an autograph or picture or just to look at him/her. Guys, I broke that rule for Orlando Bloom. And I'd do it again if I have to. Like Evangeline, he went to the direction away from us. I was pissed and ready to cry kind of defeated but when people started to dart to where he's going, I left my purse with my group and did the same. He was so gracious, signing for so long and just smiling at everyone. [I may have my fangirl glasses on LMAO.] I did not get ~close enough to him but I saw him. I'm content. I could not contain my face-splitting grin.
While chasing after Orli, I missed Richard Armitage (Thorin). At least I avoided that madness. But I was just in time for Benedict Cumberbatch (Smaug) making his way to our line. Oh man, it was ON! The Sherlock fans, Star Trek fans, and the other people who are fans of BC... pushing and shoving and screaming with the autograph hounds. I legit got scared for a second there. Kinda like when the crowd started going insane for Leonardo di Caprio at The Inception premiere.
I admit, I never got the appeal for BC before. But after seeing the guy in person and hearing his voice up close? Yes. What ever it is, yes. *Right up there with the Hiddles*
Arrivals were done by then. We transferred across the street where press was doing interviews. I got better photos from that POV. Shout out to that Swedish tourist and hardcore Skarsgard family fan who said, "I'd do this for a Skarsgard but since I'm here anyway... so, OMG is that Bilbo Baggins?!" Being little allowed me to weave in and out of the assembled crowd. I'm glad that my trusty point-and-shoot could take good photos from a distance. I just had to keep my arm still and hope it focuses lol.
Stephen Fry.




Mr. Swedish tourist then goes, "BIFUR!"
Fans followed them on to the steps to Dolby Theatre. I squeezed myself in, of course.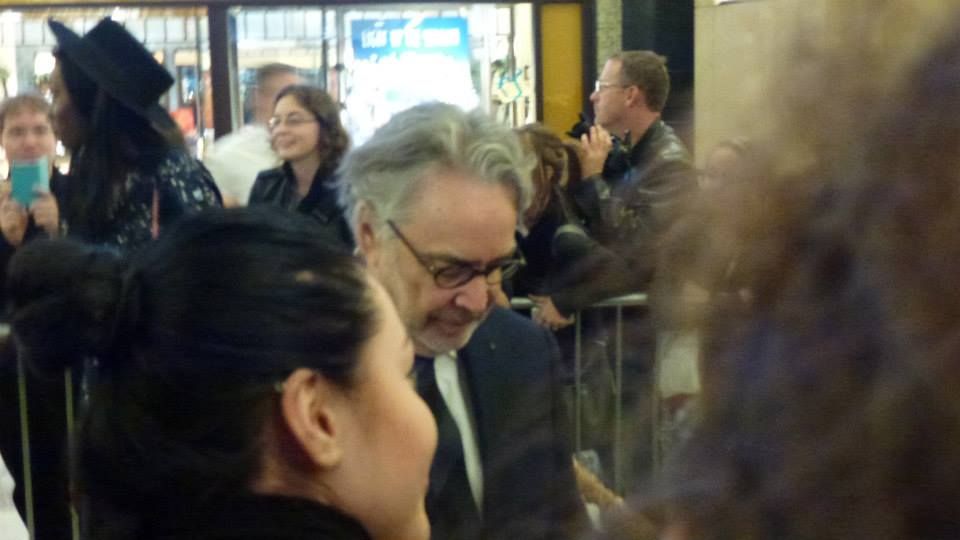 Howard Shore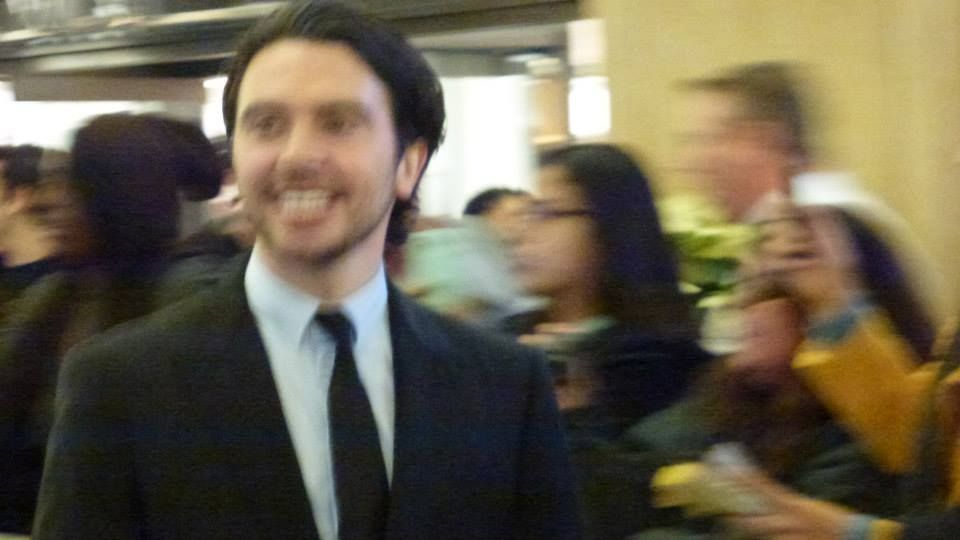 "Alfrid!"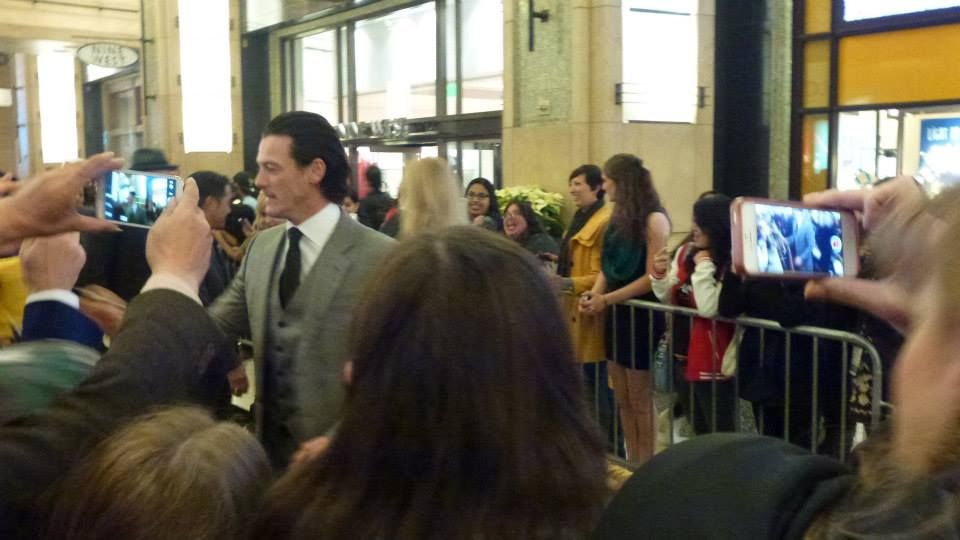 I may have seen this suit on him before.
Martin went through both sides of the fan line. Signing and taking pictures with anyone who asked. Seeing Peter Jackson up close was just a dream come true. The ten-plus years came down to this. Sure, it wasn't the original LOTR but it's all part of the family.
And I must say, this is the best photo of the night:
Hai Manu! You're part of the family too. :) It was a good day for LOTR and
Spartacus
fans. It was a good day for me.
Before leaving the venue, I managed to score a very unique merch-y item.
It's the emcee cards from the livestream event! No kidding. I saw them on the ground and asked the crew guy cleaning up what they were. He just handed them over to me. Some other fan girls were having their photos taken in front of the posters. When I realized what I had in my hand, I hightailed out of there. I wasn't in a sharing mood... *evillaugh*
And so there it was. An amalgamation of different fandoms. It's something that I never thought it'd experience. Sure, it was no
The Avengers
premiere level but half my life I waited for this. I hope for the very final one, they do it also in LA and rope in everyone in the family with them. What I would give to see Viggo Mortensen. <3