IMATS LA 2014! (Image-heavy)
Uh... can you spell "overwhelming"? I can. It's
I-M-A-T-S
. The International Makeup Artist Trade Show 2014 in Pasadena, CA. It's a Mecca for makeup artists and enthusiasts alike. Going to IMATS is in my bucket list and I'm so glad that this is my first major event for 2014.
IMATS "Los Angeles" is actually held in the Pasadena Convention Center, literally 10 minutes away from where I live. (Right beside it is the Pasadena Civic Center where the American Idol Hollywood rounds are held.) I was lounging outside last year. This year, I actually went. Originally, I wanted to just so I can experience it once but after this... I might see you again next year!
Thanks to the Youtube beauty community, this event is no longer just for professional makeup artists. Even simple makeup lovers like me can find something new and something we need/want in the many aisles of this convention. I was advised to come early, doors open at 8:30AM. We got there at around 7:30 and the line was already around the block. But the line was moving quite fast and I'm no stranger to lining up for hours lol.
My mom and I got in at around 9AM and really, it wasn't the m
aaaa
d rush some vloggers make it seem to be. (Maybe
they
were the ones rushing, at least in their video lol.) There were ladies (and men) from all parts of the country and they're dressed to the nines! This local resident dressed up too and it was one of the rarest of times when I curled my hair. (I cut off the ends and recolored the next day.)
From the moment we walked into the convention floor, I was overwhelmed. Right there was the Royal & Langnickel brush booth. I had no idea how big the discounts were at previous IMATS but dang, they weren't kidding here. To me, "inexpensive" brushes mean ELF and their $1-$3 brushes. This was another ball game all together. It's every brush you can think of from $1.50 to $15. Right then and there, I understood. I saw the light. Actually, just the super affordable brushes lol.
Mom and I didn't have a game plan. We came in blind, thinking we don't really need all that much. Uh, that's a good way to be overwhelmed right there. I did check out the map but I didn't really look further into the booths and companies and what they had to offer. And I guess that naivete and "freedom" made me enjoy my IMATS experience. I didn't know what the next booth had and finding that out is part of the adventure.
We didn't go crazy. We bought a lot of brushes and some makeup. I walked away with my very first Lime Crime lippies (obsessed, I want a couple more shades) and my first blush palette. I dropped by the NYX booth also. They had so much stuff, I just had to get something. The Lime Crime purchase is the only one that went over the $30 mark. I did good both with the stuff I picked up and how much I ended up spending. But the lines for the popular higher end brands were INSANE. There was a line to sample and purchase at Lime Crime, which is a part of Naimies. It stretched until almost the opposite end of the convention floor. After you get your stuff, there's another epic line to pay for your items. That's the only thing that ate up our time but even with that, we managed to finish at around 1PM. Of course, we stayed for longer than that but we were essentially done by lunchtime. I skipped the MAC, Sugarpill, and Sigma (except to meet Tiffany D.) booths because I could not handle another line. As much as I would like to own a Sigma brush, the other brush companies have similar brushes at a way lower price.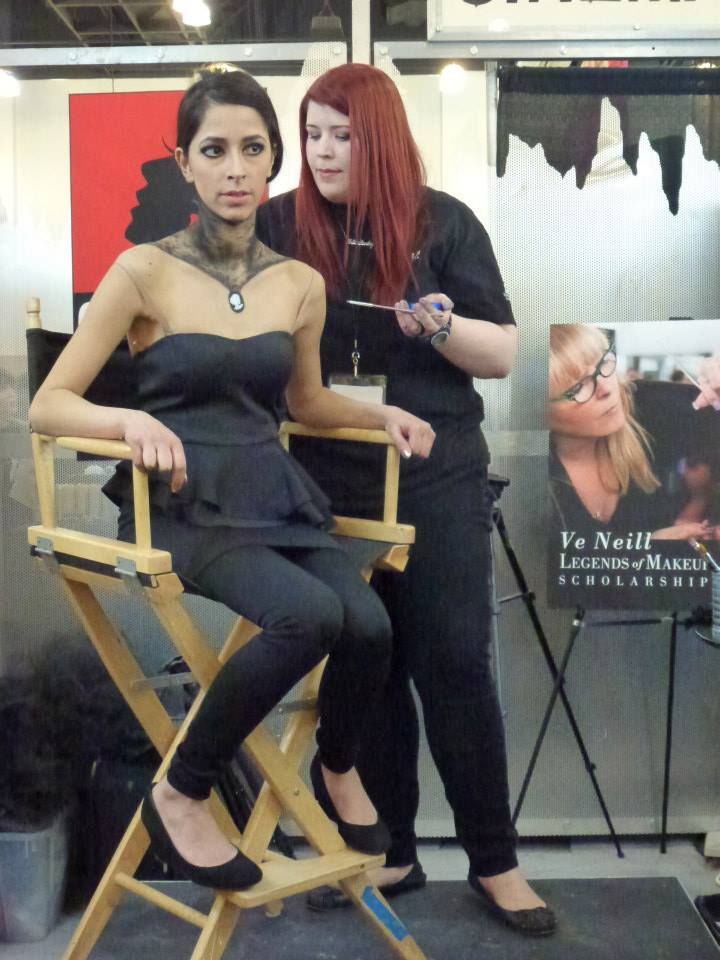 The special effects exhibit was awesome. And watching artists and students do what they do was equally amazing. The first gurus I saw were Angie (
goldiestarling
), who is currently attending Cinema Makeup School in LA, and her model Bethany (
iwanted2c1video
). And it was Bethany's birthday too! Everything was just so stunning. If it wasn't so awkward watching some of the half-naked models as they were being worked on... lol.
Speaking of gurus, one of the main reasons why I went to this year's IMATS was because Emily (
emilynoel83
) and Melissa (
melmphs
) confirmed their attendance. I love these ladies! Of course, I watch other gurus too but I know that Tiffany (
makeupbytiffanyd
), Marlena (
makeupgeektv
), and Tracy & Stefanie (
eleventhgorgeous
) are always there every year. I ended up meeting all of them and it was great. Some of them, I've been watching for yeeeears. Meeting them in person felt great, it's like meeting a friend. I know from meeting celebrities I've admired for most of my life... meeting them definitely made my day. Everyone I met was so friendly and humble and so sweet. I wish I weren't so awkward. XD
Meeting Emily was definitely a highlight. I've watched her for so long and continue to do so today. She's my favorite guru and was very helpful and encouraging back when I was starting to dabble into makeup. She taught me how to make drugstore makeup work. Not everyone can spend large sums on makeup especially when you're just trying it out and seeing someone like Emily - who used to appear on TV every morning - use affordable drugstore cosmetics inspired me to find out what my local CVS, Rite Aid, and Walgreens can do to me. More than half of my collection today is made up of recommendations from her. And my goodness, she is gorgeous!
Tiffany is one of the first gurus I watched. I remember looking for videos about blue mascara and hers is one of the first ones I found. Her lashes are amazing. I've been watching her for so long... no matter how many times she moved houses lol. I even take candle recommendations from her!
I started watching Angie after I watched her collaboration with KlairedeLys. And man, she's so creative! Makeup turns into art in her hands and her face is the ultimate canvas. I knew she was going to be at IMATS because she goes to Cinema Makeup School. She wasn't just a guru, she's part of the program. When she got accepted at CMS, I felt so proud of her. I don't know her personally but after watching so many of her videos, it was nice to see her dream coming true. She was so nice when I met her and I'm sorry I was so awkward lol.
"Hey guuuuuyysssss...!!!" Haha, Tracy and Stefanie are adorable in real life too! I love watching their hauls and I love their relationship with each other. I don't have a sister but my relationship with my mother sometimes blur into a sisterly bond as well. My mom and I were on our way outside to eat when we saw them having a sort of meet and greet at the lobby. Food forgotten, I lined up. Stefanie said she liked my outfit! :)
Not only have I watched Marlena's makeup videos, I've also watched her vlogs. And I've been doing that for years. She's so brave sharing her ups and downs with the world. She's one of the gurus who made something bigger out of her Youtube fame, launching her own makeup line, Makeup Geek. In a way, all of the people at IMATS are makeup geeks, right? She's not the only one with a cosmetics line but her stuff is one of the best, if peer reviews are to be taken into consideration. And t you can tell that she genuinely loves what she's doing and she's passionate about it.
And of course, Kandee Johnson. Who doesn't know who she is in the beauty community? She's like a celebrity in the Youtube world. I didn't meet her in the venue although I very much wanted to. But my mom and I already left and it was nearing the end of the day. We decided to have coffee at the Starbucks nearest the venue. And who did I end up seeing at that same Starbucks? Kandee Johnson. I didn't want to ask for a picture while we were in line so I waited until she's ordered. I was so nervous for some reason lol. She's one of the first gurus that I religiously followed and she is such a sweet soul. You cannot help but feel happy around her. And when I asked for a pic, I kind of started a chain reaction. Everybody asked for photos as well. Sorry if that caused any trouble but I'm just so happy that I met most of the gurus that I wanted to meet.
The other gurus that I saw were ThatsHeart (at the BH Cosmetics booth), sarabelle93x, Queen of Blending, Charisma Star, MissGlamorazzi... and I'm pretty sure a bunch more that I just didn't recognize. PurseBuzz was there too but my mom and I already left. And oh, I also saw Christina Milian!
I know that they are just ordinary people who happen to have a hobby that made them famous but after watching someone for hours, months, years... you feel like you know at least one part of them and feel a connection to that part. To some, it might be just makeup but their videos fill hours and hours that would otherwise be filled with loneliness and boredom. Plus they help people look and feel better about themselves. It's not hiding behind makeup, it's enhancing what's already there.
We also met Eve Pearl. And saw an actual Emmy Award statuette in person. I was so blinded by it that I started pointing and almost hyperventilating about it
right behind
Eve Pearl herself. But I recognized her just in time to avoid potential embarrassment. She demoed her famous concealers and I wonder if they work the same in other people's hands. She used ONE BRUSH for the whole face using different shades of concealer to contour and conceal. It was a masterclass in action.
Now that I've experienced IMATS, here's a few lessons learned and tips for next year:
Take wet wipes with you. Or better yet, take a free sample from booths who sell wet wipes. They come in handy when you're swatching away and we all know that facial tissues don't do a good enough job.
Always wear sensible shoes. Some LA locals say that they can pick out the tourist by how high their heels are. Just because this is "Los Angeles" or "Pasadena", it doesn't mean you have to dress up like the papz are after you. Sure, dress up nicer than how you do everyday but leave the skyscraper heels at your hotel room. Save it for the afterparty.
Bring a small purse. They provide HUGE tote/shopping bags and it gets in everyone's way. Your huge purse will further complicate things.
Bring cash. It's faster. Some booths accept only plastic so bring that too. But do most of your purchases on a cash basis. I found that I could control myself better when I paid in cash.
It helps to have a plan but it's not necessary. What I recommend is to check out each company beforehand. Know if their products are something that you might be interested in.
Have a friend with you. I brought my mom and it was an awesome bonding experience and the other can stand in line while the other shops and vice versa lol.
Try to make friends while you're in line, at least. You'll be there a while and you're there for the same reasons anyway.
So yeah. That's my IMATS. I'm glad that I live in Pasadena. Not only because IMATS LA is here. I love seeing other people admire it. The area where this is held is especially attractive; Old Town Pasadena is a quaint and classy locale. I feel very fortunate to be living there.
Picture time!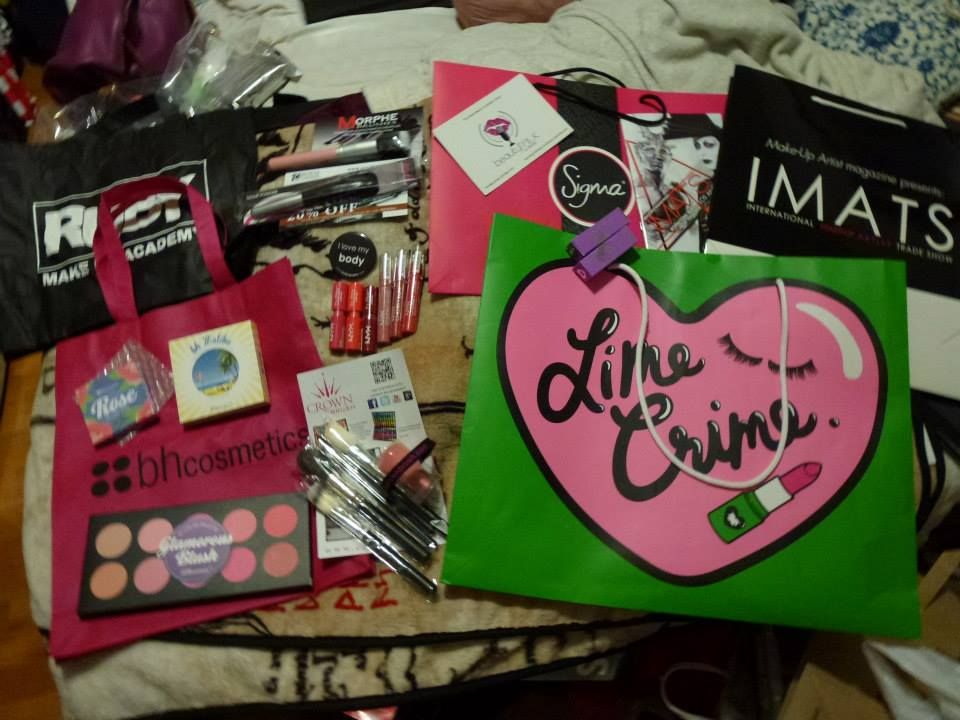 The Damage