Review: ELF Studio Lipsticks and Lip Balm Tints (and the best time to make an ELF order).
In 2012, I made a huge ELF haul and paid only $10
. It was worth $35 and I got a $25 gift card with my order, hence, the $10 price tag. I waited for the right time to use it. Since ELF's decision to offer free shipping for orders $35 and up, I figured I only had to pay $10 to avail of it.
Towards the end of 2013, I wasn't feeling up to buying makeup. I felt like I already have all I needed and none of the new stuff appealed to me. I skipped the Black Friday and Cyber Monday deals. Until... deja vu. ELF offered yet another $25 gift card with a $35 purchase. With using my existing gift card, the whole order ended up being technically free. And I had $15 back!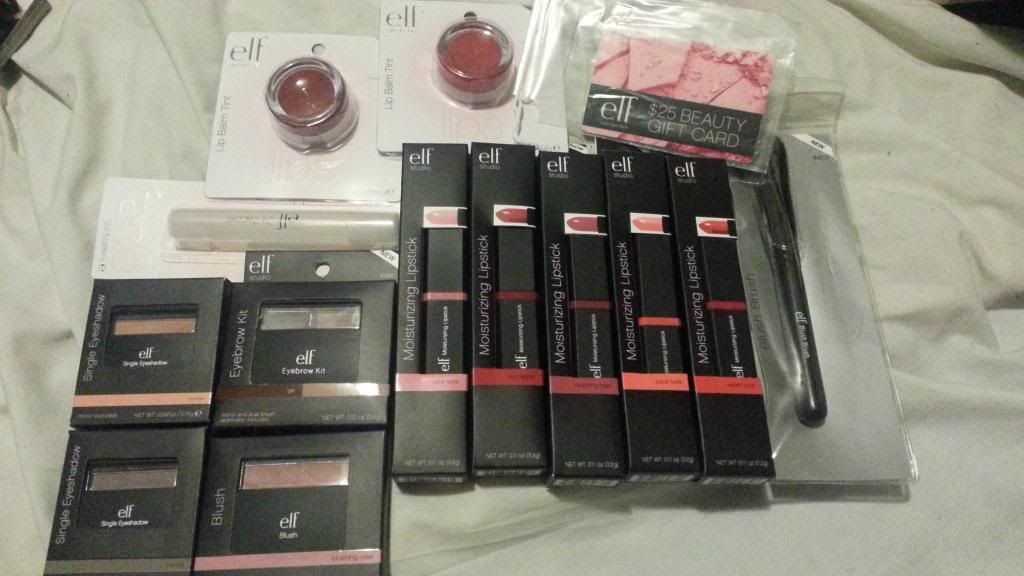 There are some repurchases and some new products. I've been eying those lip balm tints for a while now and I had to include them in a big enough order. Those studio lipsticks are new and I just had to. Lawd know how many lippies I already have lol.
Again, it was exactly $35, free shipping, paid by gift card so my out of pocket expense was $10. I picked up a single eyeshadow (Pebble) and a brush (studio blush brush) for my mom also. I always include a zit zapper in every ELF order. I picked up a single eyeshadow (Sunset) for myself as well. My brow kit in Medium is nearing its last legs so I got a backup. And I finally repurchased my favorite blush of all time, ELF Studio Blush in Blushing Rose. I broke my previous one while in the Philippines. This color is not available in any Target near me so I had to wait until I had enough for an online order to pick it up again.
I've enjoyed the lip products from ELF. They are good quality no matter the price tag. I prefer their balms and sticks over their glosses though. I admit I gave some of the $1 lippies from my last ELF haul away but I'm really curious about this studio line lipsticks so I grabbed a bunch of them.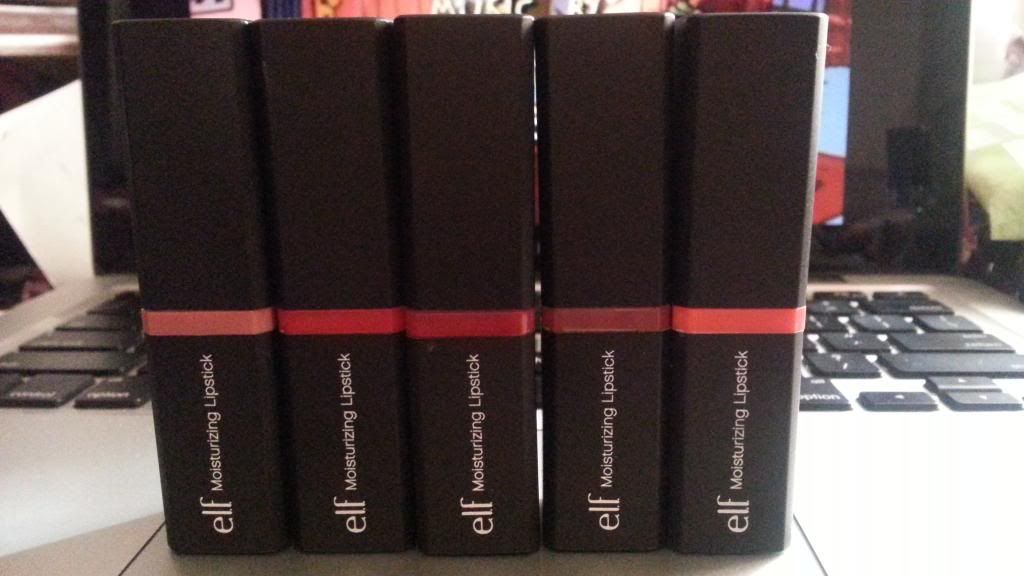 In the 10 shades available, I got 5. I'm pretty predictable with my lip colors so expect pinks and reds.
(Why yes, I recently acquired the whole Rugrats series and everything that comes with the franchise. I'm working through them now... currently at Season 7.)
The packaging is in the studio line's signature sleek matte black aluminum body. It kind of reminds me of the Lip Exfoliator. The shade of the lipstick is represented by a band of color in between the body and the lid. The color is quite close to the product's actual shade which is nice. (But the shades on the website vs reality is still inaccurate.) The product goes all the way down the tube so there's no danger of nicking it when you're putting the cap back on.
It feels creamy and smooth on the lips even without a balm underneath. It doesn't feel drying or overly soft like the dollar lipsticks. The pigmentation is very good. The staying power is good too. But at $3, I don't mind reapplying and repurchasing when I run out.
They really are good quality. Compared to the ELF Mineral Lipsticks, these are creamier and more pigmented. They go on smoother while the mineral ones tend to feel try and chalky. These studio lipsticks have a shiny finish to them. They don't settle into the fine lines of my lips. The mineral ones, especially the nude shades tend to accentuate the dry spots and without a gloss, they don't look that good. These ones are okay even without a gloss. I really enjoy them and I might get the rest of the shades... probably on the next promo that offers the gift card again lol.
Pink Minx is a cool toned pink. A Barbie-ish pink. I have another lipstick in a similar color but this one does not look chalky. It's not my favorite on my lips but with the right gloss, I can make this work.
Velvet Rope is a pretty orange-y red. It's one of my favorites from the bunch. I can definitely wear this everyday. Although the pigmentation is slightly lacking compared to its peers. I had a harder time doing an even layer on my lips but still, the color is pretty.
Red Carpet is a blue-based red. I always get a red from every lipstick line... ever. It's pretty basic but it's not an in-your-face red. It is slightly more wearable than your classic reds. I had the same pigmentation problem as the previous one but it's not a big deal.
Ravishing Rose is the most wearable. It's a classic pink, not really a "rose". I got this so that I'll have something to wear everyday or to work. When I looked at my collection, I didn't really have an honest-to-goodness wearable shade lol. And for a valid reason... I'm not attracted to "safe" lip colors. But to be fair, this is a very beautiful shade. A no-brainer color.
Coral Cutie is my favorite. Oranges and corals have a special place in my cosmetic heart and this one fits right in. It's a subtle orange-y coral and it's one of the more wearable shades of orange in my collection. The swatches I have don't do it any justice. It works so well with my skin tone.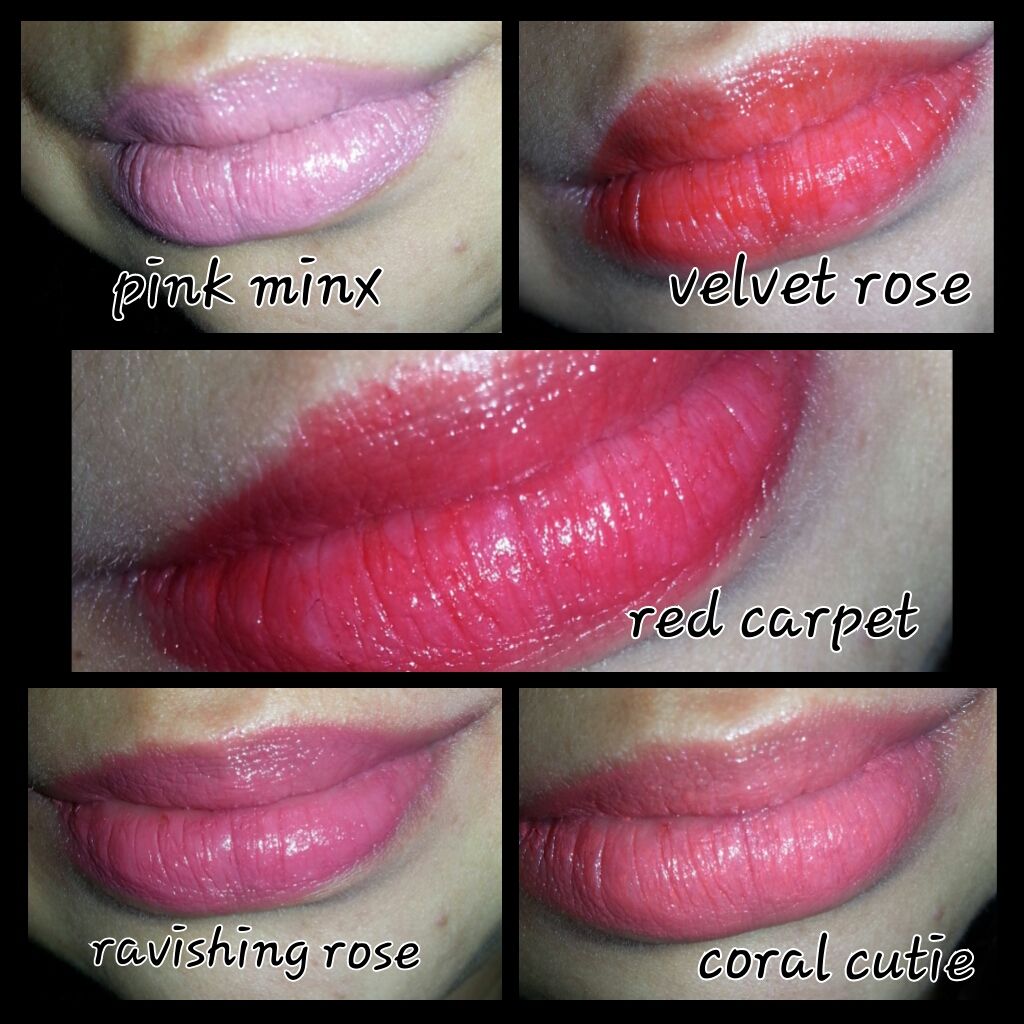 (I swear, one day I will do better on these damn lip swatches.)
I know they're new but I can say that these are my favorite ELF lip products. The dollar lipsticks are good also but I'm constantly in fear of them breaking or being nicked. The packaging for those things aren't the best and they are very soft. The quality of the mineral lipsticks aren't worth the $5 price, in my opinion. These studio ones are just right.
Since we are in the topic of lip products, here's a quick one for the ELF Essential Lip Balm Tints.
Grapefruit and Berry
These little things are just the cutest. If you think the ELF Conditioning Lip Balms are packaged inconveniently, these are quite the opposite. You can easily slip this in (and lose them) in your pocket or travel makeup kit. These were the only colors available when I was composing my order so that's what I got.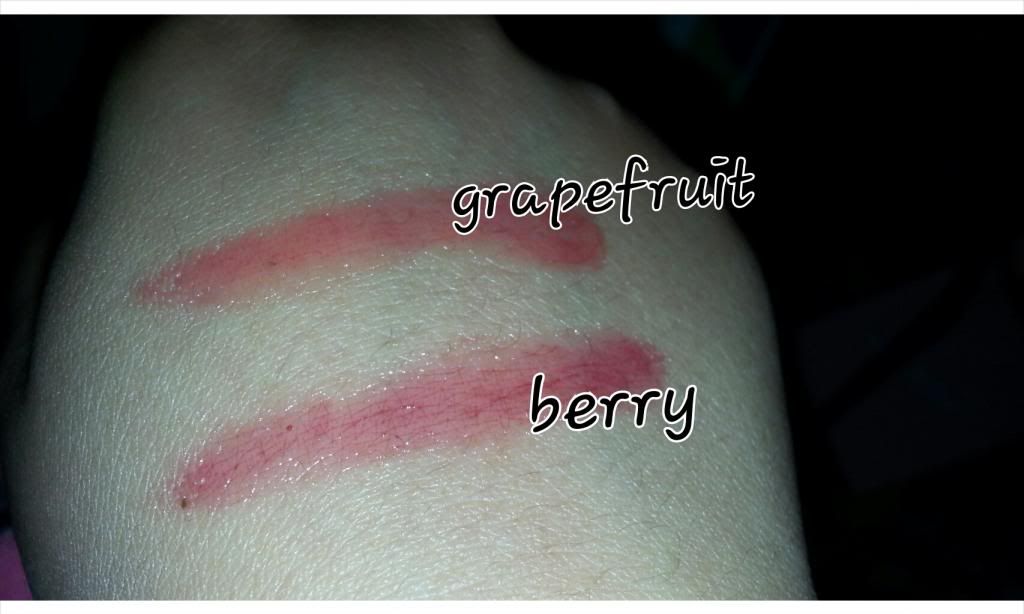 Grapefruit shows up a little orange-y on my skin. It has a watermelon-y shade in the pot. It's universally flattering because it tends to match so many natural lip colors. Berry is a deeper shade, a little bit cherry colored.
These colors are buildable to a point. On my lips, they don't really show up true to color in the pot but there's a hint of it there. It's pointless for me to show lip swatches because they're barely picked up on camera. I don't think I can get away with just this on my lips; I have to top it off with either a colored gloss or a lipstick. Grapefruit would go well with Coral Cutie while Berry can work with either of the reds.
New lip products make me so excited. I'm glad these purchases worked for me. I hope you consider them when you make your next ELF order.