The Star Spangled Man with a Plan!
Who's strong and brave, here to save the American way?
It's been a while since I went solo on a red carpet premiere. But if there's anything I've learned from attending these kinds of events, it's that there is no shortage of like-minded individuals around you. Yes, even those who attend for "business purposes". This had been far from my first rodeo and the number of familiar faces had piled up over the years. While I still sometimes feel bad for the "real fans" when I see some "autograph hounds" around, I realized that not all of them are bad. Actually, some of them are kind of fun to be with. :)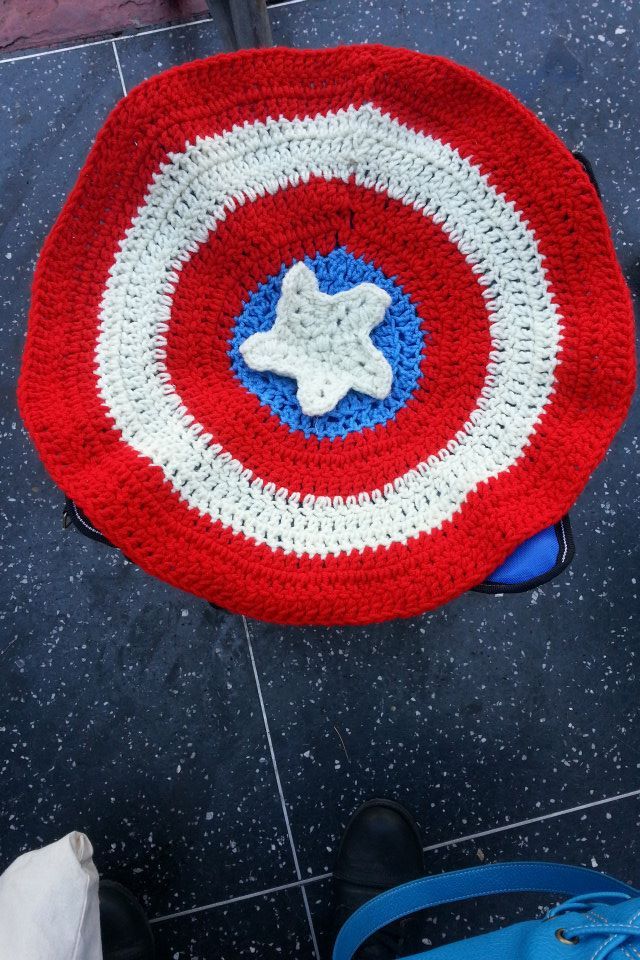 Anyway, if you've been around me long enough, you would know that my favorite Avenger is
Captain America
. Not just because of
Chris Evans
, mind you. It's his shield. For the last
The Avengers
premiere, I spent three days making Cap's shield from yarn. It's not perfect but I'm fcking proud of it. Some of the crew guys took photos of it. And same this time around. I haven't seen the streaming yet but the camera guy went over to me twice to film my shield. What became of that, I know not. But one of the will call guests commented on it too as she passed by our area going in the theater. And
Agents of SHIELD
's
Brett Dalton
took it from my hands to look at it. He said, "Did you knit this yourself? Man, that is awesome!" Crochet, actually, but thank you. (Why do I feel obligated to watch that show now? #guiltyfeels LOL.)
I got there at around 10AM which, in premiere times, is not early. I was concerned because El Capitan premieres have shorter fanlines than those done across the street. By the time I got there, the second row was filling up. But thanks to familiar faces from various
True Blood
premieres, I scored a good spot... ending up against the barricades.
I finished the book that I was reading,
Flowers in the Attic,
while waiting for the event to start. I swear, if I had $5 every time people asked me what was going on, I'd have enough to watch this movie in the theaters 5 times. And maybe an extra $5 whenever said tourist takes a picture of the TCL Chinese Theater thinking that that's where the premiere was held. A handful of people couldn't believe that the crowd across the street was different from us waiting at El Capitan.
Speaking of tourists, it was so easy to spot them. Apart from the fanny packs and large cameras and occasional cries of, "OMG the
Harlem Globetrotters
star," which was located behind my seat, the tourists were dressed for the beach. It was a crisp 72 degrees that day. The locals, those of us waiting on the sidewalk, were bundled up in hoodies and jackets. That's California for ya.
As usual, I wasn't there for autographs. I could but it's too much work for me to hold my stuff and take a picture of and with the celebrity. I tried that for
The Hobbit: The Desolation of Smaug
and I got crushed. No bueno. And I value my pictures more anyway. And this is a better time for premieres than the one for
Thor: The Dark World
. It started at around 6PM and it still was light as day. I definitely took better pictures.
The whole main cast of
Agents of SHIELD
was there. Surprisingly, I managed to get photos with most of them. And I don't even watch the show anymore!
True Blood
parallels, anyone? XD Dang, and they were so nice too... I feel kinda guilty about not being a fan of their show. Oh well. To strike up a conversation with
Chloe Benett
, I asked her about
Big Bang
's
Tonight
MV. She smiled and said they were nice guys.
I didn't get a lot of pictures
with
the actors but I did get one with the one I was most excited for...
Hayley Atwell
. I loved her as Peggy Carter but I have to thank
Pillars of the Earth
for introducing me to her, as well as
Eddie Redmayne
and
Sam Claflin
. Now, I am a part of that six-degrees chain too. XD She took her dad with her at the event. And really, I've never met a prouder parent.
As Hayley was making her way down the fan line, someone was taking video of her signing stuff and interacting with fans. I was scared that she might head to the carpet without getting to us so I said out loud, "Hayley! I've been a fan since
Pillars of the Earth
!" The man taking video heard it and headed over to us. The lady beside me asked, "Is that for Hayley?" He said yes and I repeated what I said about
Pillars
. She was getting close to us and I was visibly vibrating in excitement. Then the man said, "Actually, I'm her dad." She gave him the biggest smile. And we were all, "Awww..." Daddy taking video of his little girl's time in the spotlight.
After I took my photo with Hayley, Mr. Atwell was still filming and I just had to say it. "You must be so proud, sir," I said. He gave me the warmest smile and said, "It's more joy than pride, you know. Joy, you can share. You guys," pointing to us fans, "make it all worth it. So thank you." It just made my night. I love meeting celebrity parents. They either act as haughty as their progeny or so very humbled, it's touching.
Sebastian Stan
was making his way down to us also but stopped juuuuust before he got to our area. Bummer, I wanted a photo but at least I saw him. :) Other actors in attendance were
Samuel L. Jackson, JEREMY RENNER
(you bet your ass that I screamed my head all the way off again),
Dominic Monaghan
(a pleasant surprise),
Claudia Kim Soohyun
(I wanted to call out
언니 but I was struck dumb... she's so pretty), the guys from Baby Daddy, Cobie Smulders, Anthony Mackie (The Hurt Locker reunion, anyone?), Michael Rooker aka Merle Dixon of The Walking Dead, George St. Pierre, Teen Wolf's Tyler Posey, and of course, Scarlett Johansson.
At The Avengers premiere, Chris Evans didn't even sign all the way to our spot. This time around, he did. And look at us being such dorks!
I was so stunned that all I did was smile like a loon while waving my crocheted shield at him. OMG, I couldn't find the words apart from "thank you". His voice rumbling by my ear... oh dear lord, yes.
The rest of the premiere went by without a hitch. Our spot was okay but I think we got the least number of people to sign and take pics. But hey, at least we got Chris.
More photos after the cut....
Iain De Caestecker
Brett Dalton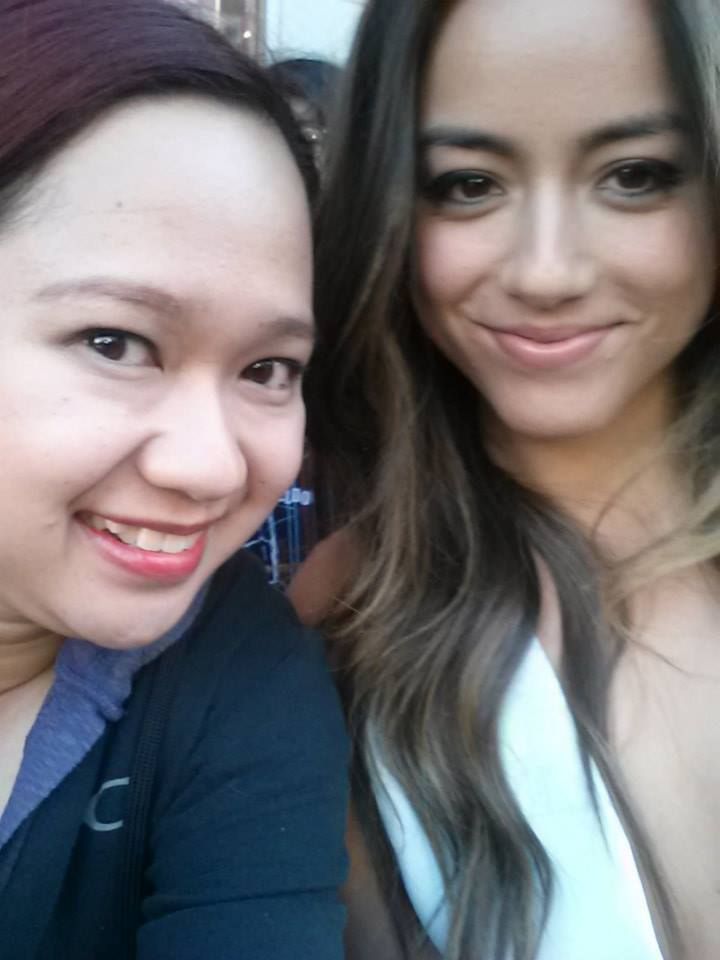 Chloe Benett.
Lucas Grabeel
Hayley Atwell smiling at her dad
Elizabeth Henstridge
Samuel L. Jackson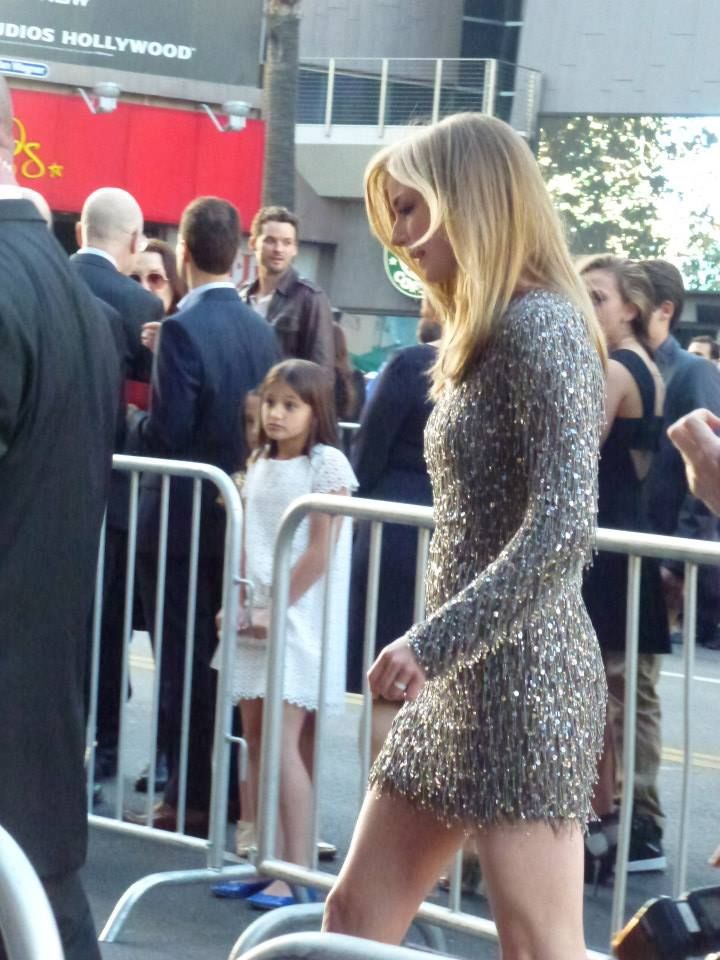 Emily VanCamp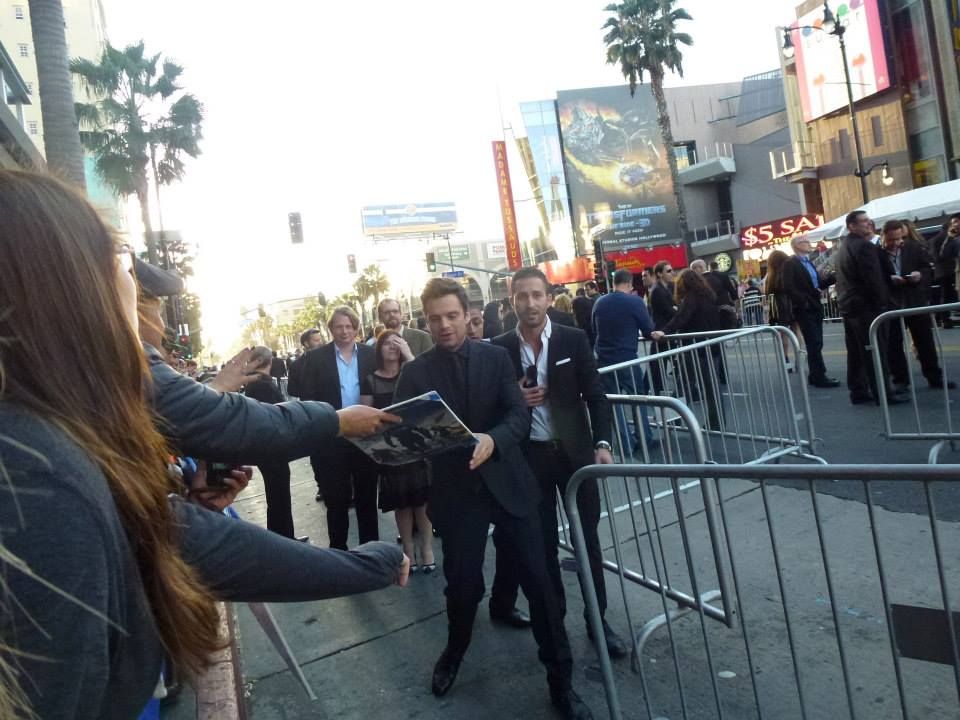 The Winter Soldier himself, Sebastian Stan
Clark Gregg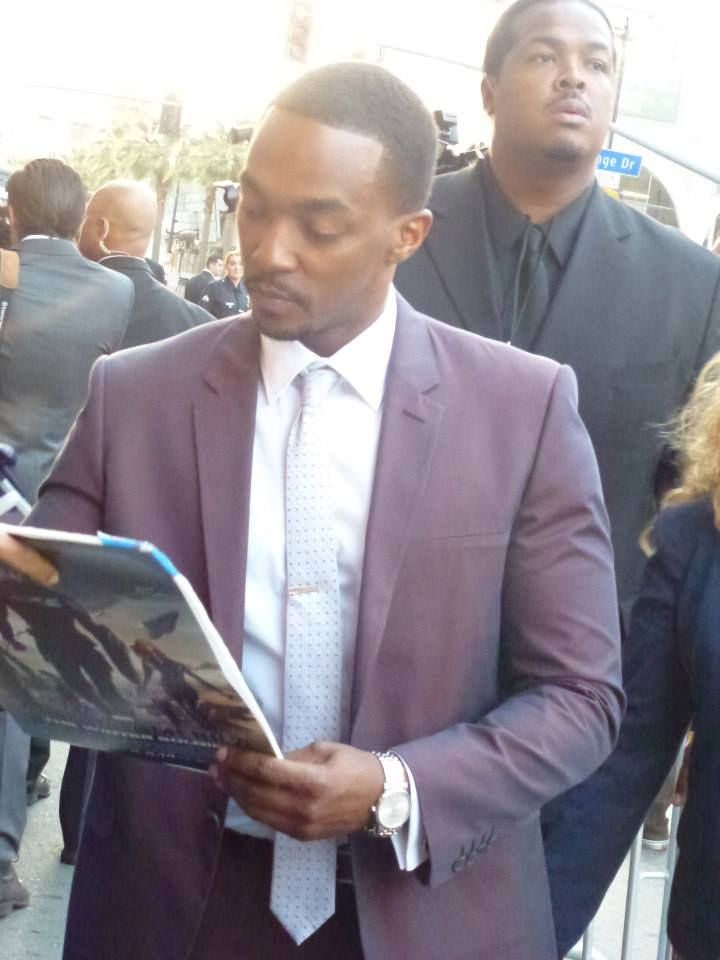 Anthony Mackie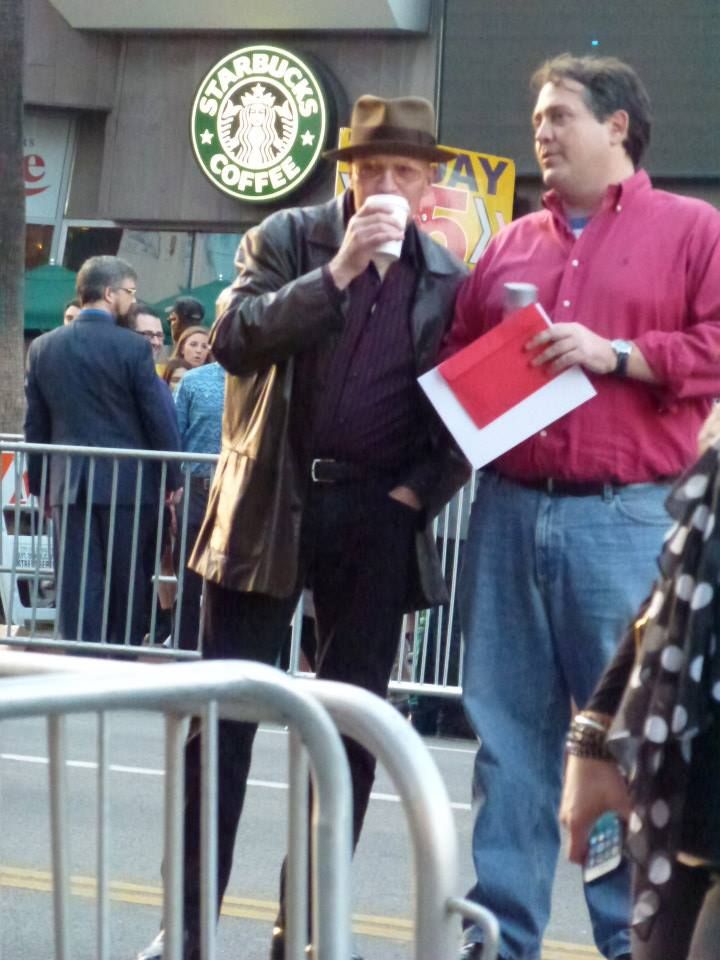 It's Merle, yo! Michael Rooker.
Scarlett Johansson
Adewale Akinnuoye-Agbaje
Cobie Smulders
Dominic Monaghan!