REVIEW: 2nd Love Cosmetics Luxe Lace Lipsticks
On my 2nd year at IMATS, majority of what I bought are brushes and tools. I only bought makeup from one company.
2nd Love Cosmetics
. And guess what I bought...
lipsticks
.
(My IMATS recap is coming up. I'm just not feeling it yet.)
I love finding diamonds in the rough and 2nd Love Cosmetics is definitely one of them. They're a relatively young company that mostly sells their stuff online on their website. I've also seen them at the Maneki Neko at Little Tokyo. I only have lip products from them though. That is the one makeup item that I can't get enough of. I reviewed their signature lipsticks
here
.
This time, I checked out their new line of lip color, the
Luxe Lace Lipsticks
. On the site, they go for $5.59 but at IMATS, they went for 2 for $5. Now that I've swatched them, I'm kicking myself for not getting a bunch more. But here's a 20% coupon code:
IMATSLA2015
. This is good until the 31st, I think. (Not sponsored; I'm just a good soul sharing the love.)
Let's dig in, shall we? :)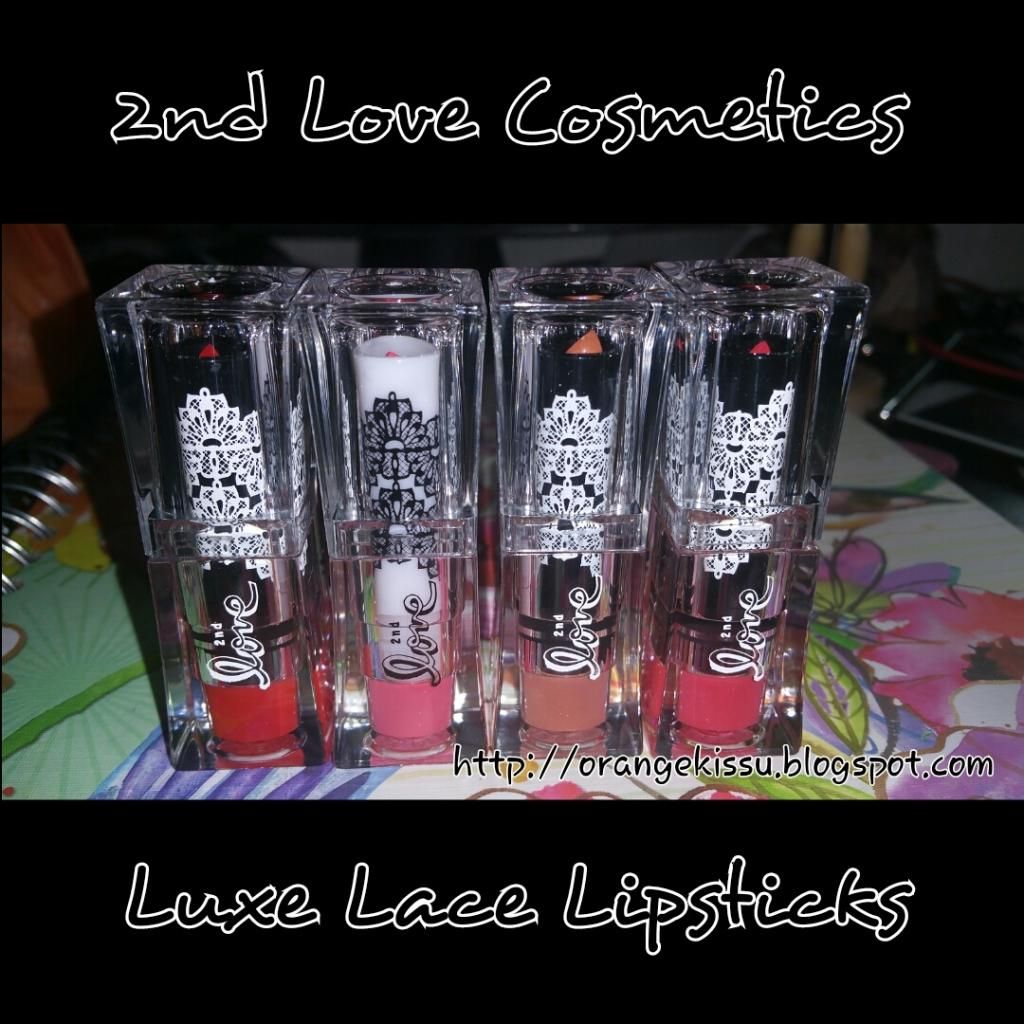 Here's the description from the website:
Luxurious high-impact lipstick with gorgeous rich color for voluptuous and smooth lips. Formulated with Vitamin E and jojoba to hydrate lips.
I agree on all counts. When I first swatched them on my arm, I was surprised at how soft and creamy the formula is and how pigmented it went on after it warmed up a little bit. The Signature Lipsticks were a little bit harder and grittier but no less pigmented. These glided on so smooth and built up nicely.
As you can see, the packaging is pretty. It comes in a clear outer tube while the inner compartment that held the product has a lace design. I don't know why some are in white and the others in black though. Like the Signature line, you can see the true color of the product on the bottom. The packaging feels really solid and it's not going to pop open in your bag.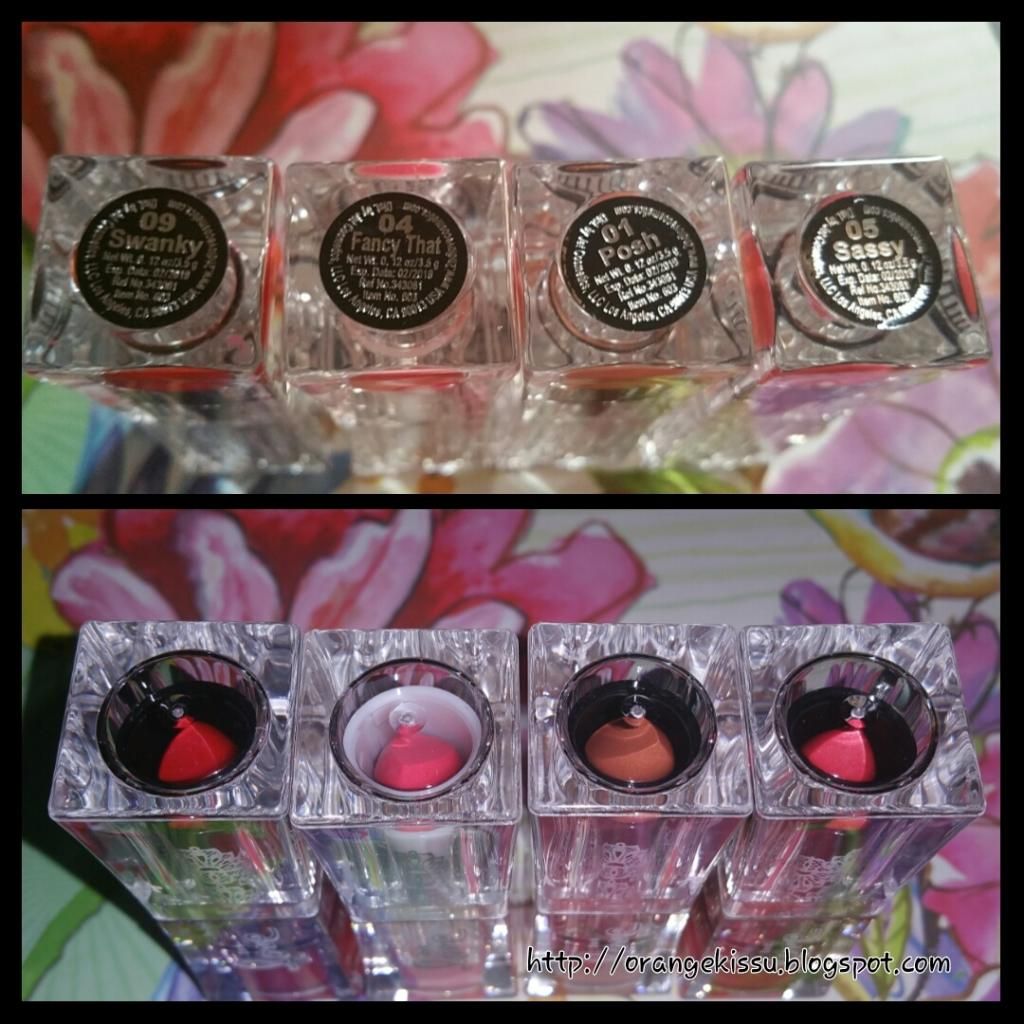 You can also see the product itself from the top. It fits nicely in any lipstick caddy so it's up to you how to store it. And because they're so pretty, you can line them up on your vanity as well.
They smell slightly vanilla-y but it's not overwhelming. Unless you place it under your nose and give a huge sniff, you're not going to smell it.
Staying power is standard... up to 4 hours if you don't drink or eat much. They do feel moisturizing although if you pile it on, it can feel a bit heavy and greasy. Like if you slathered on a gob of Vaseline Lip Therapy after a very dry lip day. And since they have that very moisturizing feel, they give a very glossy finish. Not glitter or shimmer... the ones I have have a creamy finish. My lips went through a dry patch this past week so they aren't the best. But these don't skip or drag my less-than-perfect lips so I'm okay with that.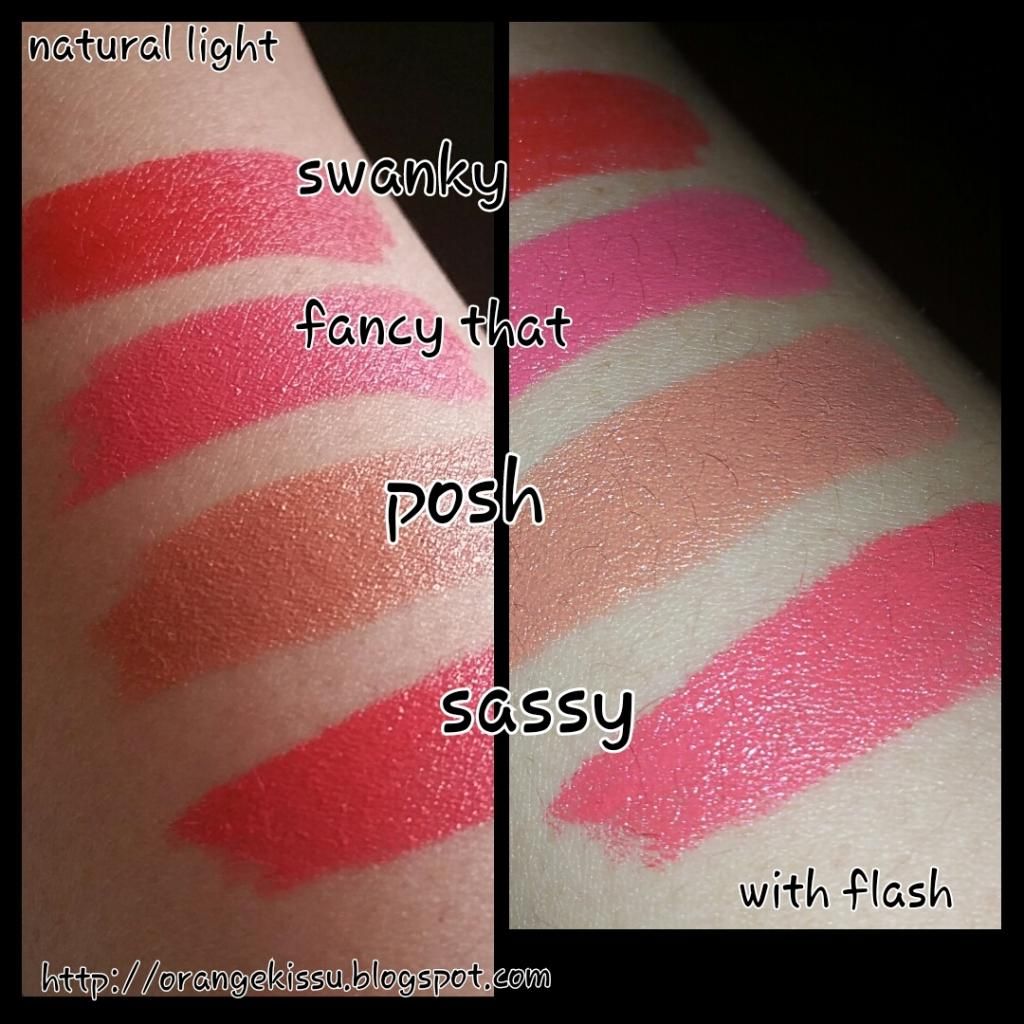 As you can see, these swatch beautifully. These are 2-3 swipes on my arm. Once it warms up a bit, they go on smoothly. They're so very creamy, I can't get over it! My favorite is the color called Sassy. It's a candy pink that neutralizes when I put it on my lips. It then becomes like an everyday color perfect for Spring.
My least favorite is Posh. It looks dead against my skin tone. It has a bit of a golden sheen that I like in an eye shadow but not in a lip color. It's the wrong kind of nude for me. As it looks on the photo, it goes on a bit patchy and accentuates the lines on my lips. I might play around with a gloss to remedy that.
Fancy That is a pinky purple pastel color. It's too bright for everyday and for the current season but wait until Summer comes along. And Swanky is a bright red. You cannot go wrong with a red. Although I find that it swatched on my arm well but went on a bit patchy on the lips. But I do love the color. Again, it can be helped with gloss.
Overall, I really like these lipsticks. In fact, I'm thinking of ordering some more before the coupon code expires. There are not a lot of swatch posts of 2nd Love Cosmetics lip products so I hope this post helps.