A Dream Comes True. Meeting Viggo Mortensen.
I've been a bad blogger lately. On this blog, anyway. I've been to a handful of events these past THREE months but not a peep. I have awesome pictures too.
But I've come out of that hole to share one of the more important days of my fangirling life. If you've known me for any length of time, you would know that I
LOVE
The Lord of the Rings
. Books, movies... everything. The movies were the first 'verse that I actively participated in and was my first serious collection. I followed most, if not all, the actors and talents that were involved in the whole adventure and never regretted one bit.
Back when I lived in the Philippines, meeting these people seemed like a dream. I would ~dream about meeting them and that's about it. All of that changed in the past few years. I met/saw in person the cast and crew, some one by one... and just December of
2013
and
2014
, a lot of them in one go. When I met
Orlando Bloom
at his Hollywood Walk of Fame ceremony, it felt awesome. My life felt awesome lol. It only really left one more man to complete my life.
Viggo Mortensen
.
I looked back in some of my posts and I found this:
When asked the question, "Who is that one celebrity that will make you lose your shit?" I have two answers: Viggo Mortensen and Orlando Bloom. And yes, you can blame Lord of the Rings. That movie trilogy made such an impact on me that more than ten years later, I still love it as if I've just seen it for the first time.
And I've said it time and time again... if I were to meet Viggo, I'd die. Obviously, that didn't happen but on that moment when I first saw him in the flesh, my hands started shaking so bad. I thought that my heart was going to leap out of my chest. I had my brother there to ground me. Having him there made it so special because he has been on this LOTR journey with me since day one. And oh, my mom saw him too. Not in the theater but at the curb near the cinema as she picked us up. ;-)
Guys, this was huge. I mean... I've missed the opportunity to meet him three times in the past. I pretty much gave up on it when he sort of shied away from the whole Hollywood thing and... when he said some things about LOTR. I thought the Dennis Hopper Walk of Fame ceremony was my best chance and it just wasn't in the cards. I've been a fan since G.I. Jane... almost 20 years in the making.
Until I saw a FB update from my friend, Taffy. She said she was going to see Viggo on Friday, March 27th. I was like, "Wait... whut?" This was on a Thursday night. I even saw a bit of A History of Violence on Starz over dinner. My hands started to shake and I practically begged my mom if she can swing by and drop me off. I offered to pay for her ticket, and my brother's, if they wanted to come. My brother brushed it off, acting as if he didn't want to go but said yes anyway. (I think he wanted to meet Viggo too lol.) I had the Friday off anyway and everything fit together like a puzzle. $24 later, I was going to see Viggo Mortensen the following night as well.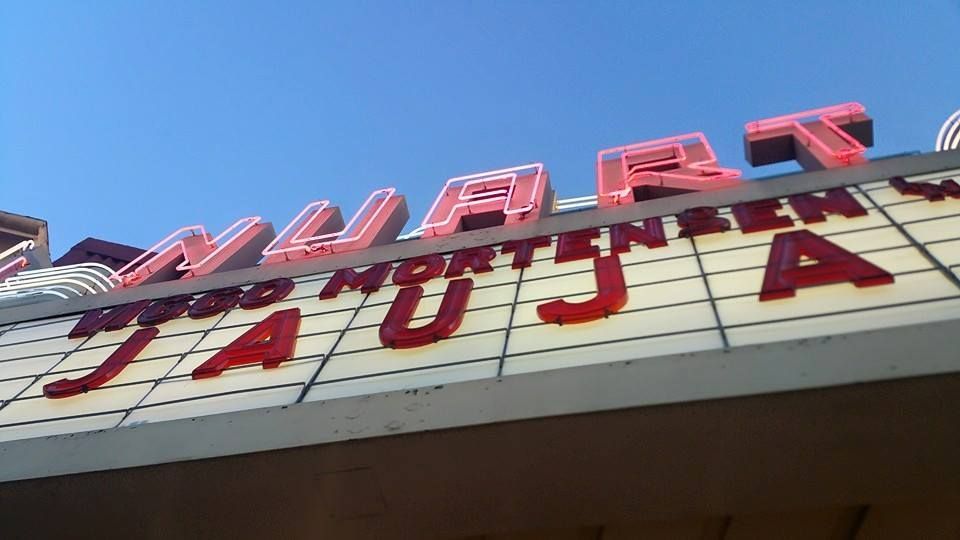 It was for the movie Jauja. Please don't ask me what it is about; Google is your friend. All I can say it that it's a strange, existential movie of the mind. Viggo speaks both Spanish and Danish in this, the first time he's ever done that in one movie. That was... well, pretty hot. ;-)
Nothing could have prepared me for it. Seeing him in person had been a dream. And it finally came true. Those of you who have met someone you idolize so much can relate. I was speechless in his presence. Being THAT CLOSE to him. I think I did stop breathing. My smile could've broken my face in two. Only a handful of celebrities have done that to me. It was such a wonderful feeling.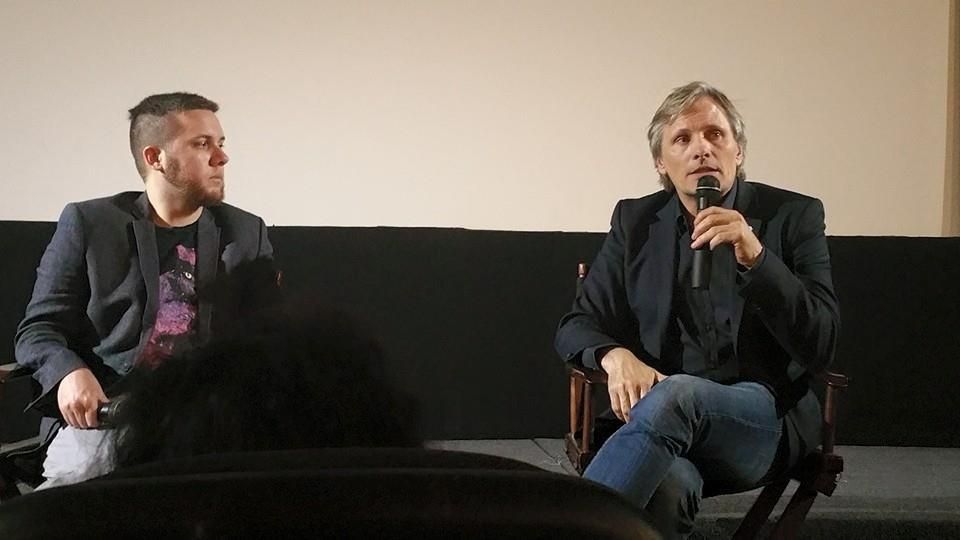 He talked about the film, locations, doing music, casting, how the whole language thing worked out. He had a funny anecdote about the Danish in the film. Viggo is multilingual (like meself, lol) and he's fluent in both Spanish and Danish, behind part-Danish who grew up in Argentina. The director didn't speak Danish so he had no idea what Viggo and the other Danish actors were saying. Viggo finished a scene only to find the director upset because he couldn't make sense of the dialogue he just shot. "Well," the director said, "just as long as you're sure you said those things in the script".
Another funny part was about being a Spanish-speaking Dane. I noticed when I saw the trailer at home that his character had this funny, fake-sounding Spanish accent. Well, Viggo said he just was mimicking how his own dad spoke Spanish. For those who say Viggo can't be funny in interviews, I'm proving you wrong right here.
Watching him talk is... I can't explain it. He has his low rumble that I find so sexy (please, fangirl here), almost as if he's eating his words. It's like he's whispering to the microphone. I was close enough to him that I could hear his voice even without the microphone. I didn't know where my focus was... on his face, his voice, what he was saying... I was all over the place. How I managed to keep it together, I had no idea.
After the Q&A, he was gracious enough to sign stuff for the fans. No selfies because he said that if he does one, he'd have to do everyone else. Fair enough. I just want my Coincidence of Memory signed. And he did! With my purple Sharpie!
I always have a Sharpie with me at all times. It just so happens that the one I picked up was purple. Hell, it made it much more special. ;-)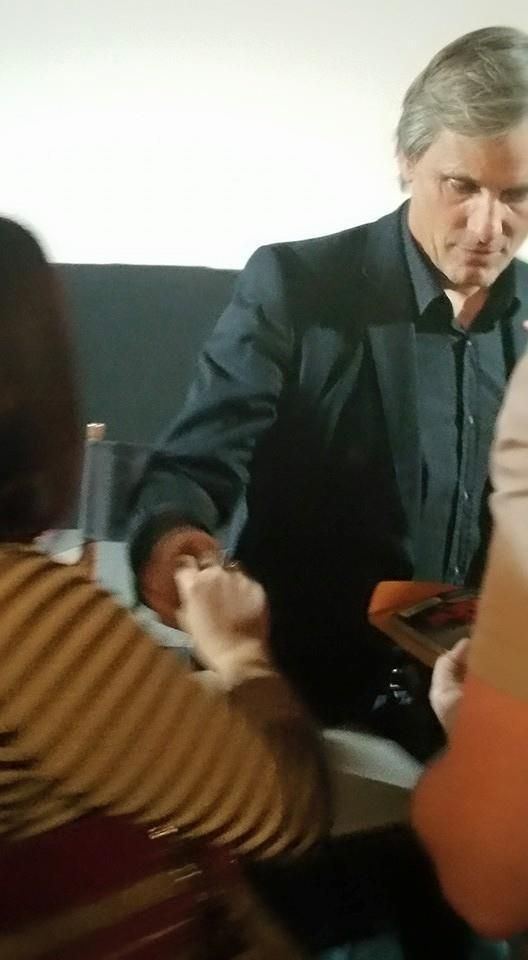 Okay, that's me in the striped sleeve. And that's Viggo right in front of me. Lawd, I still get the shakes when I remember it.
Like I said, he wasn't taking selfies. So this was the next best thing. As if my photos aren't proof enough that I met him lol.
Anyway, that was my Friday night, almost 20 years in the making. Something that I never, in my wildest dreams, would happen... happened. It was an amazing experience.