TOP TEN TUESDAYS | Binge Watching
Something new, eh? ;-) This is why I keep two blogs. One is solely for book-related topics. If you came by via Broke & Bookish, welcome! I have to tell you, this is not a book blog per se. It's more of an events blog kind of thing. Head on over to Reading Good Books for all the literary goodness.
This week, however, B&B gave us a freebie. The topic can be anything under the sun! It didn't say it has to be book-related. But I did start out over on RGB with a sort of a bookish topic. Book GIRLfriends. Yeah, we talk about the guys and blame them for our high standards but what about for the guys? What if we turn the tables around? How do we measure up to say... a Hermione Granger? I was doing well with the list but then I realized that I have a similar TTT entry to that already. I'm not very creative so I decided to just scrap that idea.
This week's Top Ten Tuesday , we're listing down... A FREEBIE!
Here is where the second blog comes in handy. I figured I haven't been around here much so why not apply a bookish meme here. After all, memes pretty much comprise 80% of my book blog's content. XD I know, I'm lazy.
So what are we talking about today? I noticed that I've been binge watching TV shows and anime for the past year. On and off, I get to these phases and just sit in front of the TV and AppleTV watching whole anime series in one go. I did this with Criminal Minds from Seasons 1 to 6 and to Rurouni Kenshin, subbed not dubbed. Since then, I've marathon'd Fullmetal Alchemist (and Brotherhood immediately after), Persona 4 (and more recently, P4GA), Steins;Gate, Welcome to the NHK, Heaven's Memo Pad, Anohana, Toradora!, Eden of the East, Baccano!, Sound of the Sky, and Eden of the East. But my most recent "obsession" is...
1. American Horror Story. Where. Have. I. BEEN?! The best and craziest acting on the small screen ever! The gems of the show are Lily Rabe, Evan Peters, Frances Conroy, and the amazing Jessica Lange. Not to mention they play different roles every season and sometimes, multiple roles in one season. It's risque, scary, new, and just so engaging. I'm finishing season 2 as soon as I get home; moving on to the 3rd one right away!
2. Elfen Lied. Another indirect recommendation from Day[9]. I mean, I already know of this weird and crazy anime but it's waaaay down my list. I bumped it up when Day9 tried to explain the first episode in this video. I'm taking it easy with the anime but with 13 episodes, that's easy-peasy.
3. Daredevil. I heard nothing but good things about this show. With Steven S. DeKnight as season 1 showrunner? Yes, please. I didn't get to write about The Avengers: Age of Ultron red carpet but I did see him there and I was able to tell him that I'm a huge Spartacus fan. I've met him a couple of times but I've never told him how much I loved that gem of a show.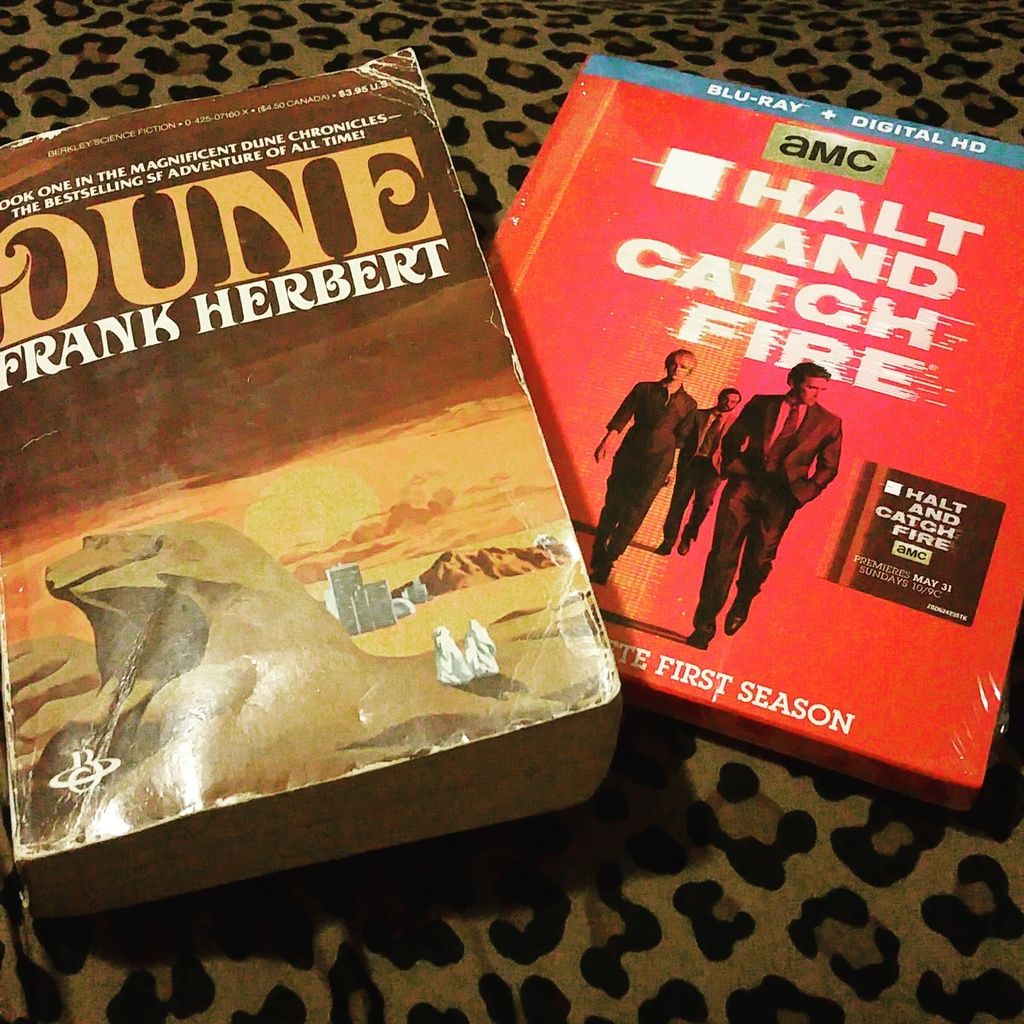 4.
Halt and Catch Fire.
I just bought the DVD, pictured above with Frank Herbert's Dune. It stars Lee Pace. It's about computers. Season 2 is premiering on May 31. I've watch about half of the first season months ago. I might do an emergency binge watch so I can catch up.
5. Game of Thrones. I have all the DVD/Blu-Ray that's currently released but I haven't even touched Season 4. Yeah, the show has caught up with what I've read but I'm in no rush to watch or read more. There's just so many things going on, so many stuff to rediscover.
6.
A Korean drama.
Any suggestions? I know that there's a lot of good ones lately. But the last one that I sat down and watched was
Dr. Frost
and that had 10 episodes. Most of the shows I've mentioned so far have 16 episodes at the most. I don't think I have the time or patience to plow through a full 24-episode season. But what's good? I love me my
Superman Is Back
babies but I would love to dip into K-drama again.
7. CSI. LOL I know I just mentioned not wanting to watch a show with 20+ episodes but alas, I make an exception. CSI is finally wrapping up next season with a 2-hour movie. It's the end of an era. It's time to resume my quest of completing all the DVDs.
8. Hannibal. Specifically, season 2. I finished the first season on my Samsung Galaxy Tab 4 Nook and I have the 2nd season just waiting for me. Such an awesome show!
9. The Strain. I haven't finished the 1st season yet. I think I have 3-4 episodes to go. Same story with Hannibal. I watched it on my SGT4N.
10. I'll throw one bookish entry... I'm planning to binge read Phedre's Trilogy by Jacqueline Carey. They're Kushiel's Dart, Kushiel's Chosen, and Kushiel's Avatar. I recently bought all three books. I like reading bigger books in print format vs digital. I like feeling how many pages I have left to read. My brother had read this and the trilogy next to it so if he likes it, I might like it too.
So while I was writing this out, I was inspired by other bloggers to do an actual book-related entry. Maybe when I get home later? We'll see.