KCON LA 2015, DAY 2
I'm no stranger to lining up and waiting. I've waited 8+ hours just to see actors. I was interested in two panels from the Day 2 schedule, one of them was Ki Hong Lee's panel. The other one was the Hallyu Culture Shock Q&A hosted by
KWOW's Professor Oh
. In past conventions, people have started to line up hours before a panel. I knew that Ki Hong Lee's panel is going to be a big one so I timed my schedule around that.
I got to LACC early to have lunch from one of the food trucks. I love Bibigo and since there wasn't a
The Return of Superman
representation, I had bulgogi 비빔밥 and 식혜. My bbs 대한, 민국, 만세 love 고기 and 밥, and in a recent episode, 민국이 cried over spilled 식혜. Yep, I'm overthinking things. At least, my ringtone is the triplets' theme song. (No joke!)
After a quick lunch, I went straight to the assigned room. I was one of the first 10 people in line. Kudos to those who had the same idea as me. XD A Soompi panel was still going on. The staff lady kept saying "Sohm-pi" instead of "Soom-pi", I thought she was saying
zombie
panel that first time. Anyway, I did some reading while I was waiting. The line started to get longer and longer until, the last I heard before going in, that it was almost all the way across the building. Yes, he might not be as huge as the other K-pop acts but he's got Hollywood creds. And I'm sure a lot of those who wanted to see him were
The Maze Runner
fans.
I definitely am a fan of that series. I met
James Dashner
when he was doing promos for the first movie. The 2nd movie,
The Scorch Trials
, will come out September 18th, a day after my birthday. And I told him that! Oh you know me, I won't pass up a chance to talk to a famous person. ;-)
I enjoyed the panel a lot. He shared a lot about himself and his projects. He seemed like a chill guy.
The Maze Runner
fans, his English name is Thomas. Let that sink in lol. In both the books and movie, my favorite character is Minho. Not because he's Korean or anything. He's a strong personality, a leader, and a voice of reason. In the movie, Ki Hong's portrayal of the character was so cool and just the exact image of Minho in my head while I was reading the book.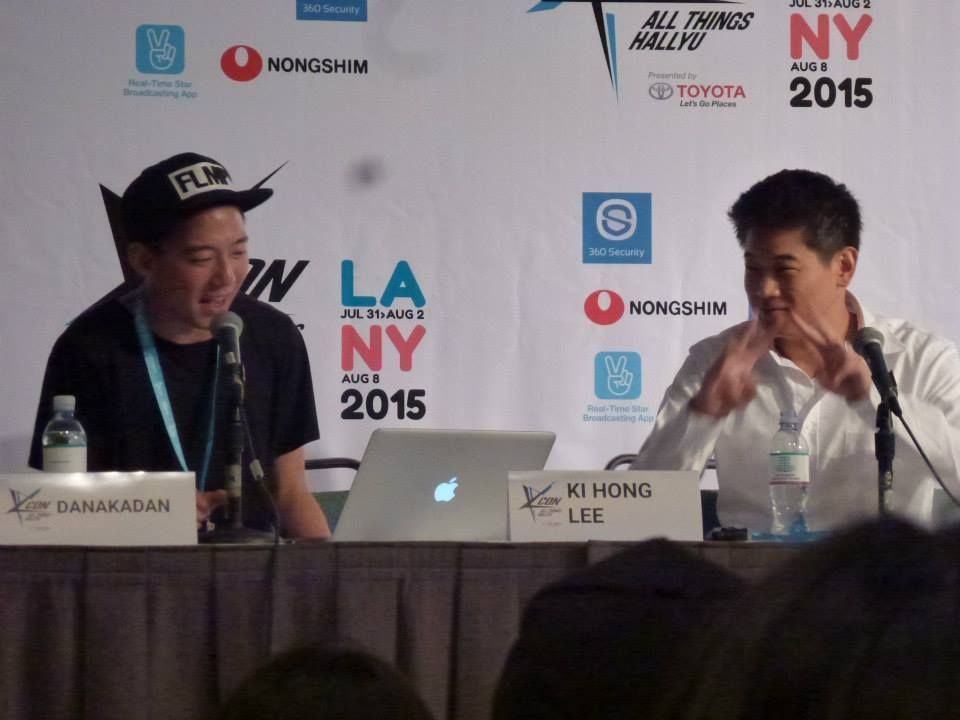 Hosted by Dan Matthews, "DANakaDAN"
One thing that he said that hit the nail on the head is about "Asian parents wanting their kids to go into a good college/school." It's one of the Asian cliches here in the US but why does it have to be just the Asian parents? It should be ALL parents. I love what he said about that. Having lived in different places, his views on culture and society struck a cord. I'm always a bit jaded when "Western people" try to relate, analyze, and ultimately judge Asian concepts. But hearing him talk about those things without constantly justifying himself, it was refreshing.
The panel was hosted by
DANakaDAN
. He's one of the many Youtubers that I met during this crazy weekend.
JeffreyFever
and the guys of
Off The Great Wall
were there too. The OTGW guys hosted the meet and greet that happened after the panel. That featured another Youtuber,
David Choi
. I love his song covers, go check him out.
The photo op for the meet and greet was sort of like what happened with
Epik High
's Meet & Greet. Dan, Ki Hong, and David sit while a groups of 10 people stand behind them and a professional photographer snaps the photo. As of this posting, I'm still waiting for those pics. Get at 'em, KCON! I might have been making a stupid face again. I hope it comes out cute like my Epik High photo.
I made my way back to the expo floor after this panel. I know nothing changed from yesterday but I still wanted free stuff and probably some shopping. But I was pretty much done with shopping from Day 1. Plus, I didn't want to tote around stuff at the concert. I don't know what it is with me and famous people but I seem to be at the right place at the right time whenever they're around. Yesterday, it was
Roy Kim.
This time, it was
Irene Kim
. Please excuse the awkwardness of this photo and just marvel at her beauty.
She was making the rounds, visiting booths and graciously taking selfies with fans. Meanwhile,
Got7
was at the main stage doing some runway modeling. Irene was so cute telling the smaller crowd around her, "Got7 is on stage and you're here with me? You love me!" So cute! I did eventually make my way to the Got7 thing. I'm surprised they risked that. I mentioned in the previous post that the area of the main stage is crowded as it is. Add a horde of Got7 fans and you pretty much have chaos.
I apologize. I know some of their songs but I don't know the individual member names. Don't shoot me! XD But they did look cool. Their song
Just Right
played over and over that I actually developed an earworm lol.
After that, I was sucked into a group of fans at the TVN booth. Actor
Son Hojun
made an appearance. I remember him from
Reply 1994
. He looked pretty overwhelmed lol. I would too... he was sitting down and there was this huge group of mostly girls crowded around him. But he was all smiles.
While this was going on, another crowd was forming near the main stage. Mind you, the TVN booth and the main stage were in the same 10-foot radius. I managed to worm through the crowd to a reasonable spot to witness the adorable perfection that is... ROY KIM.
The stage lights gave him that ethereal glow. Guys, I'm smitten. I knew I liked his songs before but to see him sing it live... JFC, if he did any bit of
Creep
, I would've died. Honestly, thank you, Roy, for sharing your talent with us. And he was so humble too. He kept on saying that he wasn't sure if we knew his songs. I mean...
Superstar K
has more talent in one season than
American Idol
. Your songs make my life happy, just like with
Akdong Musician
songs. He actually even apologized because his songs "aren't as high energy as the other". Roy, stop it. We love you. I love you.
Unfortunately, I wasn't able to finish his stage. I had to attend the Hallyu Culture Q&A panel hosted by Professor Oh. Joining her were
Heeyoung Ahn, Woojung Yi,
and
Talk to Me in Korean
's
Hyunwoo
.
One tidbit. If you've heard Hyunwoo talk in English, you'd think he studied in America. But... not only was he self-taught... this was also his FIRST TIME in the USA. I mean, I would not believe it if I didn't hear it from the man himself.
I've been a fan of KWOW since I started learning Korean. Her videos were a huge part of my "successful" class room learning. I would practice writing and pronunciation in between classes. And then I got sucked in with her fun characters and culture videos. In fact, I ended up in one of them! 3:48 mark!
Side note: Woojung's smile is the most contagious thing in the world. :D
I took a quick dinner before lining up for the concert. What I love about "normal" fans is that they're not crazy lol. I paired up with a fellow fan at dinner and we ended up sort of cutting in the line with other random- yet fun - people. On top of that, we saw Papa Tuan pass by. He's the cool dad to
Mark Tuan
and the rest of Got7.
My boy
Dumbfoundead
hosted the pre-show. MNET, please let him rap. If not now, at the SMTM4 show. Since you're fcking up that show anyway, have DFD as a shining light. The pre-show kicked off with the incredible
Xplore Taekwondo Demonstration Team
. Obviously, they were YG fans because they not only did a routine to
Bang, Bang, Bang
but also to
High, High
. Hee! That definitely got me going. They were followed by a traditional Korean music group. It was so mesmerizing.
Then finally, it was time to "ignite your feelz". And it fell to the hotness that is Daniel Henney to say that to the crowd.
You, sir. Perfection.
The crowd was pretty much a sea of blue for Super Junior. It was so heartwarming to see that. I know that we can do the same for
BIGBANG
when it's their turn to light up the Staples Center. A sea of yellow. (I heard they removed
Blue
from the MADE tour setlist.)
I'm telling you right now, I don't know member names. I know songs and group names. Bear with me. I'm a YG stan (but I don't know some of the
iKon
member names lol.)
I went a little trigger happy when
Monsta X
came on. Part of it was testing out my camera settings. The other reason was I was really impressed by them. I tried to get into the KCON mood by listening to the lineup songs prior to concert night but
Trespass
didn't leave much of an impression. UNTIL I SAW THEM LIVE. They are rookies but this was a solid first US performance. Remember how much I liked their intro video? Their English was pretty good. I hope they had the chance to sight-see.
It's not KCON without my forever oppa,
Danny Im
. He went on to introduce Got7. As expected, the crowd went wild! The best part of their stage was as they were making their way off the stage, the spotlight was placed on the area where the Tuan family was seated. I thought that was sweet. I'm sure Papa Tuan was beaming with pride seeing his sons conquer the Staples Center stage.
Then
Siwon
and
Leeteuk
from Super Junior went on to introduce
Sistar
.
I know them! I love them!
Hyorin
is queen! And their song
Shake It
is an earworm. I actually like their non-singles songs more than those that they release. And
Sistar19
...
uh, hawt. They have legs for DAYS.
Then bb Roy Kim went next. He looks so innocent and pure! XD He sounded so grateful and kind of overwhelmed that he's playing at the Staples Center. He said that he didn't even know that he had fans in the US. OMG, boy! Well, you just added a few thousand to that. ;-) He did a special stage with Soyou, singing
Jason Mraz
and
Colbie Caillat
's
Lucky.
Needless to say, it was beautiful.
Speaking of special stages, Monsta X and Got7 came back for a dance off. Monsta7 or GotX they called themselves. It was honestly heaps better than that
Super Rookies
stage at Gayo Daejun. Just look at
Song Minho
's face during that whole hotmess, it says it all.
After that, the crowd was definitely in the mood for the final act... SUPER JUNIOR.
I'm sure 50% of the people in attendance were there for them. Like I said earlier,
Mr. Simple
is my forever guilty pleasure. And man, if you've been into K-pop for any length of time, you would want to experience Super Junior.
Hallyu gods, please have Siwon dressed like this all the fcking time. Say what you want but I just could not take my eyes away from him the whole time. Man, these boys - MEN - were hilarious. I mean, they spew just the funniest and most random English.
Amazing! Surprise! Lakers! Clippers! Staple!
OMG, they were hilarious.
And then it was done. Adrenaline was coursing through me... I didn't even feel that tired, having screamed the whole night. I had one more night of this. Bring it!
(Wow, I actually made it through a concert recap. I'll flood you with pictures now.)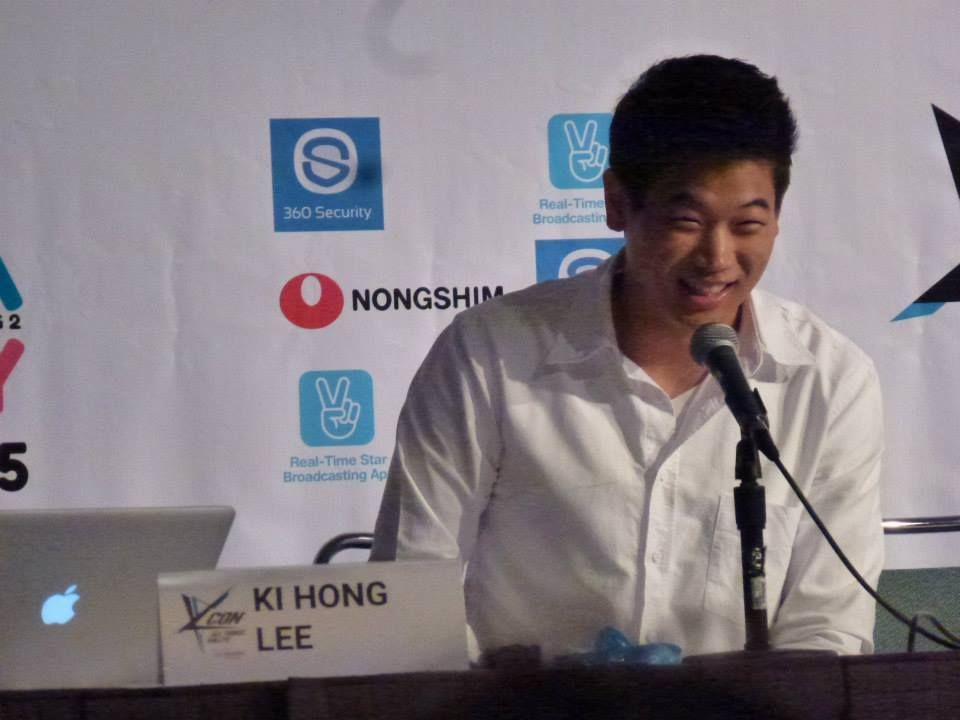 *eyesmile*
David Choi
DANakaDAN
Irene Kim
Professor Oh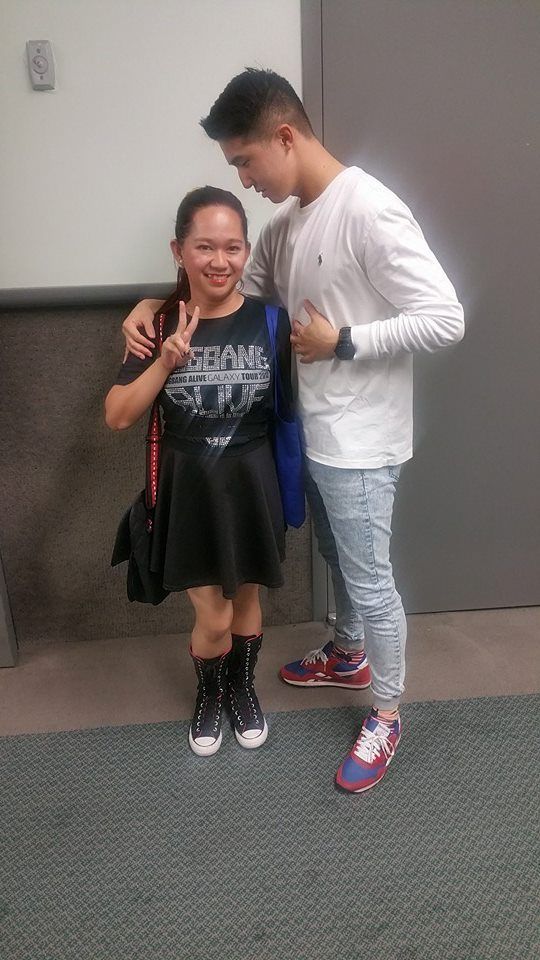 Yep, I didn't know... XD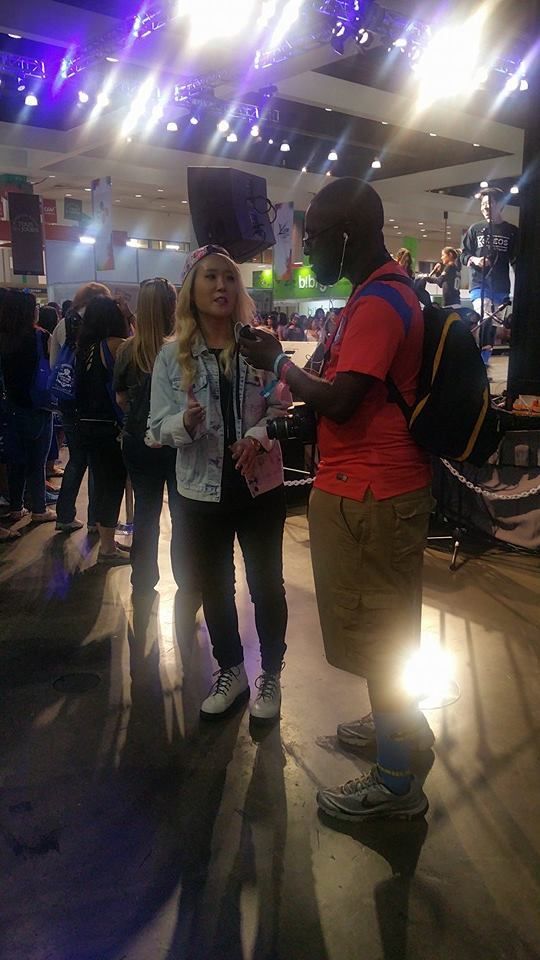 Shin B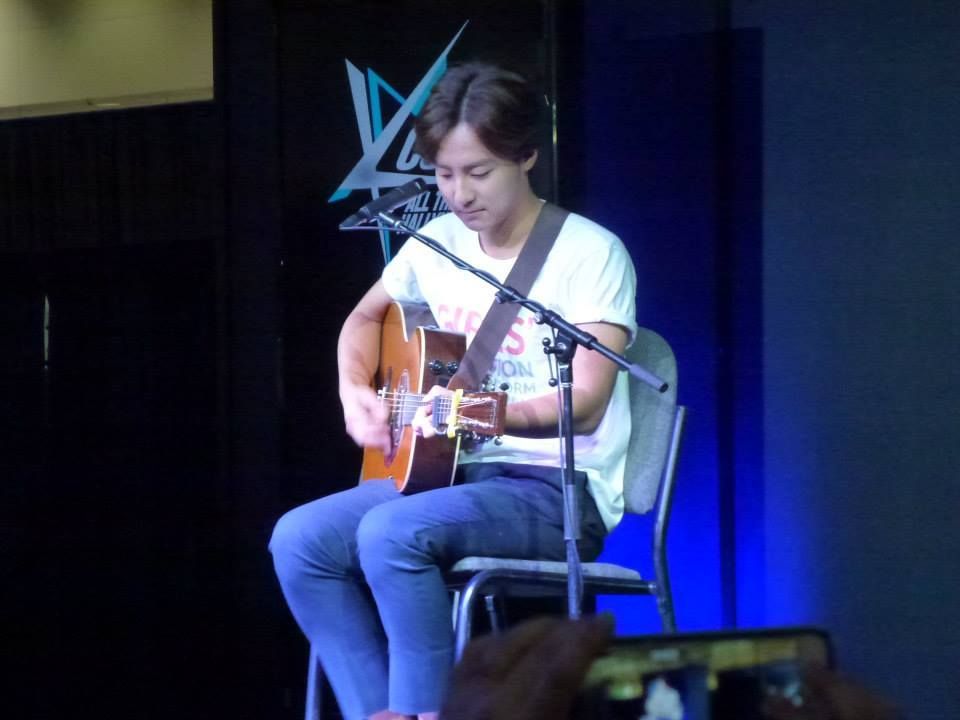 Love.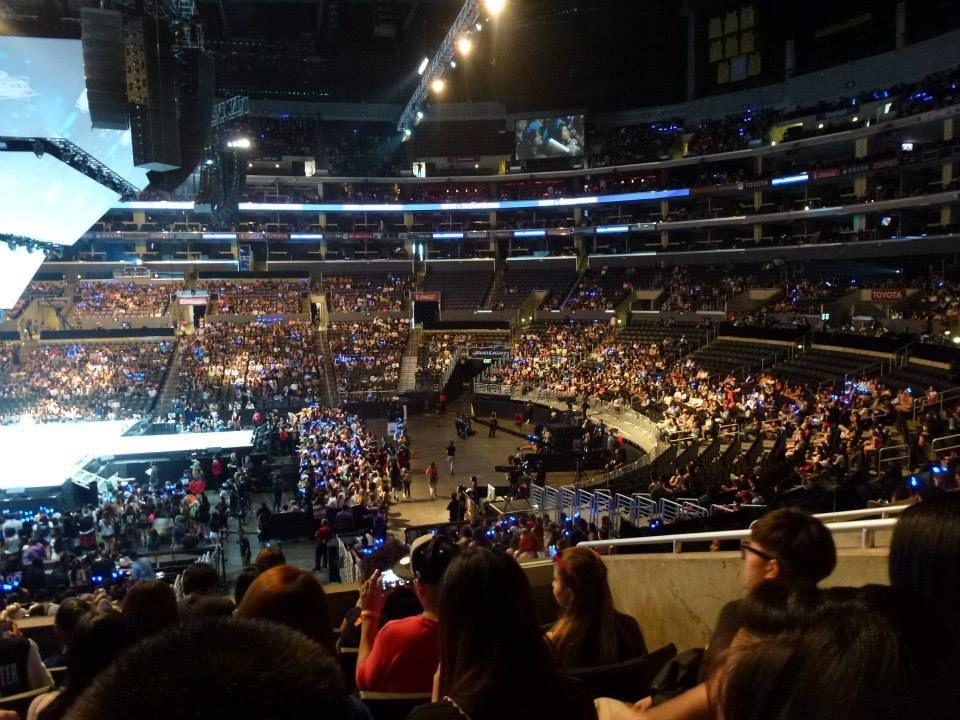 I took this photo to show my mom where we're sitting at the Big Bang concert.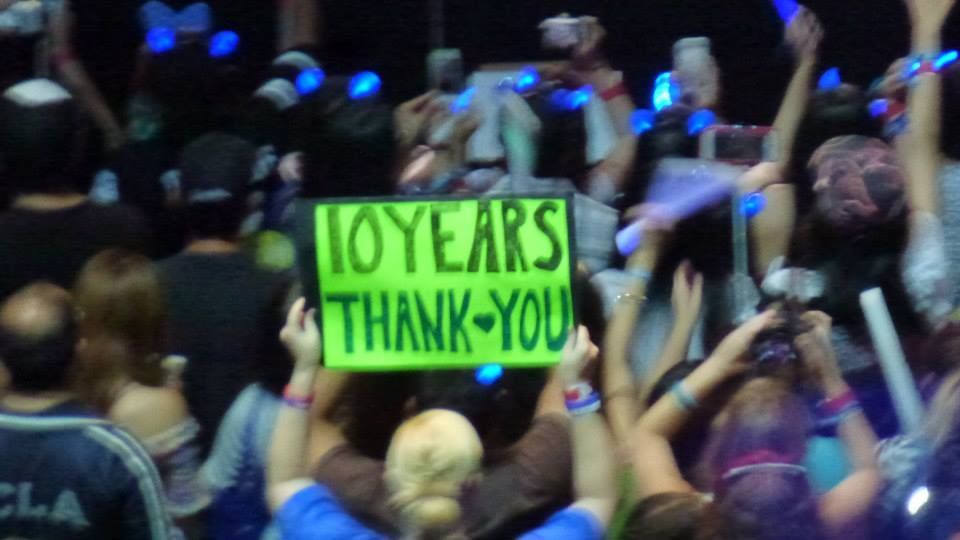 Indeed.