KCON LA 2015, Day 3
I know, I know. It's been more than a week after KCON NY/NJ which means even more weeks have passed since KCON LA but only now am I putting up my Day 3 recap. Whut... I'm busy and lazy at the same time, okay? Plus, after the monster recap of
Day 2
, I didn't have the energy to dive right in with the final day. But I'm here now. What else can you do? ;-)
Aaah, the calm before the cray. By Day 3, I really didn't have any more plans at the Expo Hall. I was all bought out and I mean, how many times does one go around a small-ish convention floor? (Although I did regret not buying the TOP bear, Japan version. Oh well.) Most of my day was spent sitting down next to an outlet. I've learned my lesson in Day 2... never trust a power bank. Mine failed on me at 47% battery and I had to turn it off and then put it on ultra battery saving so I can call my ride after the concert. Yes, I'm anal when it comes to my gadget's battery life. I flat out panic when I reach below 50% with no charger.
I didn't go to any panels anymore. I was interested in one, something about traveling to Seoul on a budget but I got lazy getting up and making my way to LACC that "early" when all I really had planned was the 7pm concert. I would've loved to put in my 2 cents about my "16 hours in Seoul" experience. Plus, it was moderated by
Professor Oh
again.
Day 3 meant
Block B
. The day before, my AliExpress order finally came in. Just in fcking time for the final day of KCON LA. Why was I so excited? Well, I was able to represent
Zico
's most precious dongsaeng...
Song Minho
of
WINNER
. The other one that I got is for
Kim Jinwoo
. I got to wear that about a week after KCON. (PS: In my head, it's always "Zico-hyung"... ala- Mino, but the funny thing is, he's not even an oppa to me LMAO.) But really, I was just too excited that there's
YG
on the front of the shirt. You bet that I went ahead and got the other 3 WINNER members. Hee!
And it was an awesome choice to wear this particular shirt. As I was sitting somewhere, charging my devices, minding my own business... and actually listening to
Verbal Jint
, I heard a familiar beat. (I was actually trying to tune out the events on the main stage because... well... let's just say that if you're not
BIGBANG
, please don't even try to cover
Bang, Bang, Bang
. The song, I mean. The dance is fine.) In between songs, I heard the first few bars of
I'm Him
. What are the fcking chances of this song being played at KCON while I'm wearing a Song Minho shirt?! The Hallyu gods love me.
Nomtom
and
Metoo
covering and freestyling to Hugeboy's solo. I mean, I can't tell you how fast I unplugged my devices and ran over to the main stage. I only got this snippet but it was hawt. They also did
Born Hater.
The rest of my day was spent just sitting around, doing one more sweep of the expo hall. Yeah, I wasn't looking for anything to buy but some booths have celebrity appearances. Just like with MNET (I think). They had the original oppas...
Shinhwa
!
I'm surprised that they risked that. Or did they underestimate the fans. It was chaos when they made their appearance. And yes, the MNET booth is located close to the main stage. But there wasn't anyone performing at that time. However, there was a crowd waiting around for the next performer. I didn't stay around much because I couldn't see well anyway. People were standing on chairs and tables just to see them.
I also got a chance to have a one-on-one consultation of sorts with
Charlotte Cho
of
Soko Glam
. I finally had someone sort the Korean skincare regimen. Essence vs emulsion vs serum, and all that jazz. This whole regimen is my holy grail along with Korean skincare products.
Before saying goodbye to the expo floor, I finally gave in and asked for another picture with Timothy Kim aka T-Dragon. He was at the
Epik High
concert too. I did see him all three days of KCON but my final hurrah was asking him for a pic. And this turned out waaay better than our previous one.
After that, I just lined up at Staples for the concert. I got lucky with my ticket. Not only was it a great view of the whole stage from all directions, it also has a VIP line going in. "PR" apparently means "priority". Heh, for the same price as the other P3... I think I know where my KCON LA 2016 tickets will be. Not to mention I had the best seat mates! Not those batshitcrazy K-pop fans. On one side, I had parents chaperoning their daughters who were brave enough to go P1. On the other were very fun people that I can actually hold a conversation with. It made the experience so fun. Our row was the only row in the section that had complete attendance those two nights. We were bright and ready way before the concert started and we certainly talked the most. There were older Korean ladies in the row behind us during the Day 2 concert and they were pretty calm. They seemed excited over the traditional Korean performances. Day 3 concert had
AOA
and
Red Velvet
fanBOYS. Like, they would dance and sing and rap along with everything. They rocked out harder than we did. (But there was a dude who rocked hardest amongst everyone.)
Dumbfoundead
started off with the pre-show like the night before. I tell you, MNET... since you love the K-drama,
Show Me The Money
, too damn much, have DFD perform at the pre-show.
Are We There Yet
is my jam! As always, DFD trying to speak in Korean is the cutest thing ever.
One of my favorite parts of this concert was the pre-show act. They are an indie band called
Coremagazine
. And they were amazing. The first thing I did when I got home was look them up online and listen to more of their stuff. Have a listen to
Regret
and ... well, you won't regret it. ;-) Indie K-rock is real and strong, people. I can so get into this.
The second pre-show act was a familiar face,
Jun Sung Ahn
. And he did
Loser
on the violin. I have a video of him covering
Eyes, Nose, Lips
at the 626 Night Market last year. It's somewhere in my Instagram. And he also danced to
Sistar
's
Shake It
. Yes, people... this violinist is a great dancer too. He has a practice video on his own
Instagram
.
And then...
Kim Soohyun
. All weekend, people have been wondering when and where he's going to show up. If organizers were crazy enough to have
Got7
and
Shinhwa
roam the expo hall, I don't think they can make the same decision with Do Min Joon... I mean, Kim Soohyun. He basically flew in just to say hi and bye. I think he flew back out the next day.
That was very short but dayum, he looks fine. Those shoes win. How I wish he "hosted" the whole night but methinks his hurry up and wait time is more expensive than the talent fee of everyone involved that night.
Red Velvet was the first act of the night. I'm telling you right now, I know absolutely nothing about them. I don't know their names, faces, or ages. I've only listened to just one song. But their
fanboys GIVE. ME. LIFE
. I honestly had more fun watching them than these girl groups, no offense. I mean, these girls were cute and colorful but the fanboys are just absolutely jamming.
Will I look more into them after KCON? Probably not. They're not really my cup of soju when it comes to girl groups. But what impressed me the most about them is their cover of
Stickwitu
by the
Pussycat Dolls.
I'm not sure if they were singing live or not but it sounded good. I wish K-pop idols covered English songs more... even after they debut. I've seen training videos and they would always sing in rather good English. Then we never see that again after they debut.
I was surprised that the next one up was Block B. No... I have to sit through one more hour of concert stuf. LOL J/K. And what's more disappointing - to me, anyway - was they didn't perform
Nillili Mambo
. Sigh. That's okay,
HER
is a pretty hot one! And Zico is fcking crazy. He was bouncing around everywhere. He's a character on his own.
PO
not only sounds like
TOP
, he also looks like him with the white hair and the suit. I may not talk about Block B that much but I genuinely enjoy their songs. They are par with the stuff I get from YG... how I wish they're with YG so that we can get more "original Block B" interactions, if you know what I mean. Seeing Zico and Mino perform together on
Show Me the Money 4
was fantastic. I hope I can see that live.
Then two oppas from Shinhwa went on to introduce AOA. Please don't ask me about names. I'm bad at them. Like with Red Velvet, I don't know anything about AOA apart from
Jimin
. I've heard of her in passing via
Unpretty Rapstar
. And I'm so sorry, guys... I cannot get into this. Either it's the high-pitched voices not sounding good with the Staples Center acoustics or whatever but this whole stage made my head hurt. I was watching the fanboys more than these cute girls, unfortunately. And the whole image of cutesy, innocent-y girls dresses as cheerleader waitresses but then they roll around on the floor gyrating their butts off... it doesn't sit well with me. Nothing prudish or anything; it's just the pictures in my head aren't adding up. Plus, it's really questionable if they're singing or not. And you guys know my issue with lip-synching, right? So no AOA for me.
Eric Nam
and
Irene Kim
did a short emcee skit then they introduced
Zion T. & Crush
. YES to this kind of music. So smooth... K-pop always tries to be RnB but rarely sells it. These two do that just right. Do yourself a favor and check out Zion T.'s song
Yanghwa Bridge
. Flush out all that overly manufactured bubble gum music. K-pop needs more of this. I'm glad KCON was able to include them in the lineup.
The special stage of this night involved the rappers. Jimin did a hot set. I like this more than the AOA stage. She's still cute but girl can rap. Zion T. and Crush brought out Zico back out for their special R&B/Hip-hop stage. It was all hawt.
And finally... the OG oppas.
SHINHWA
.
If you thought
Super Junior
's 10 years is long... the children born when Shinhwa first came out are probably in their final year of high school. Think about that. It's because of these men, we have the boys we love today.
And guess what... oppas still have it! They can still rock it out as hard as the younger guys. Remember, they're closer to 40 than 30. I've seen
New Kids on the Block
in concert some years ago. I expected some awkwardness but no, they still had the same energy and same appeal as they did when they were literal new kids on the block. Same with Shinhwa. At least with them, I can honestly call them oppa. If not ahjussi. LMAO.
The Day 3 concert felt shorter than the previous night but it seemed like there was more people. Hmmm, fanboys came out in droves? I figured more would've come out the night before because of Sistar and SuJu but I may have seemed to underestimate the power of girl groups. Heh.
(My baes,
Danny Im
and
Roy Kim
presented somewhere in the middle of that but they stood at our side of the stadium so I wasn't able to see them.)
All in all, I'm extremely glad that these acts were able to fill up Staples Center. I was bursting when Roy Kim was on stage, all by his lonesome with his humble songs, charming the stadium with his purity and sincerity. I'm happy to see rookie groups give it their all in front of an audience that they thought had not seen them before. The mix of rookie and veteran groups on one stage... everything about this concert and exhibition was money well-spent.
Before I flood you with pics one last time, here's my
KCON 2016 WISHLIST:
Winner (will never happen but... wishful thinking)
iKON (I can see this happening more vs WINNER but as I heard, YG artists are more expensive...? But hey, how else am I going to see these boys?)
miss A (poor girls' careers seem to exist only on Instagram now. IDC about Suzy tbh.)
Jung Sungha (if they can't get YG artists, he's the closest one. Have him and Jun Sung Ahn on the same stage, please.)
Seungri (I keep hoping. Hoping that they bring him to KCON and for Papa YG to realize how brilliant our super maknae is.)
Akdong Musician (Can't say I haven't tried.)
Bring Roy Kim back. Have Jung Joon-young with him and please, play Becoming Dust.
Lunafly.
Actual Running Man cast members.
Have Dumbfounded rap. Even at the pre-show. And DANakaDAN. And Lydia Paek.
PICTURE TIME!
Woo Hyun Jeung, celebrity makeup artist
Shinhwa oppas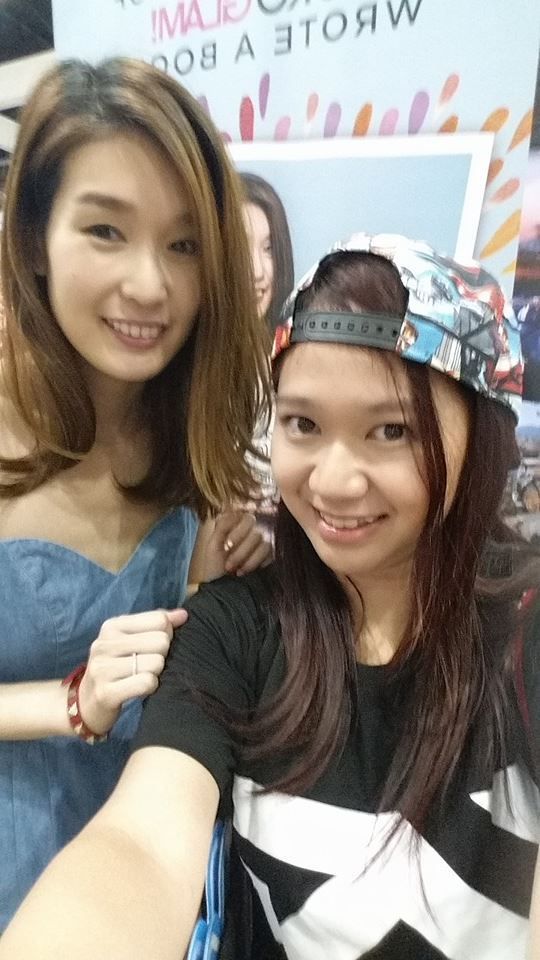 Charlotte Cho of Soko Glam
Coremagazine