SMTM4 Concert in LA!
I know. It's been almost 20 days since this event. It's 7 days away from my next K-pop related event. Forgive me. It's been a trying September.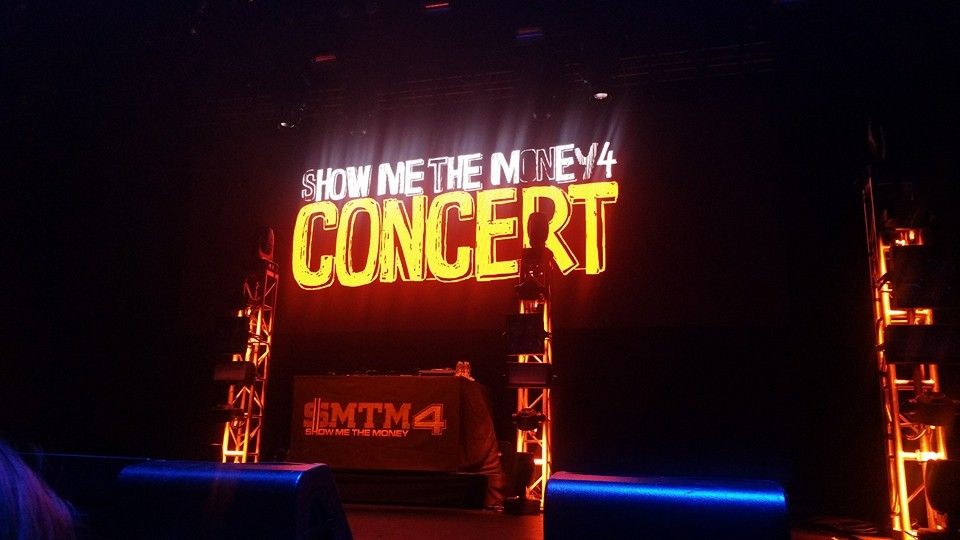 I could not contain my excitement when they announced the Show Me the Money 4 concert tour stop in Los Angeles. My Inner Circle heart was cheering that I will finally see someone from WINNER but it wasn't yet meant to be. Finalist, Song Minho, had other engagements and had to skip out from the whole tour. BFF Zico from Block B wasn't going either. But that's okay; I saw him at KCON not too long ago. (And I might see him again in November. I have to see the ticket perks and prices before deciding.)
But the real reasons why I was so hyped up were... Verbal Jint and Jinusean. Meeting Tablo for the second time in the same year was a very welcomed icing on the cake. I've admired Verbal Jint's music and lyrics for a long time. I think he is a fantastic human being and to see him perform live... it took so much from me not to tear up. Who the hell cries at a hip-hop concert?! I almost did. I'm a YG stan so I'm happy to meet anyone from YG. Jinusean was one of the first ones and their song, 한번 더 말해줘, is my JAM. It's so catchy with a sort of old school 90s feel to it. Not to mention it brings me a tad bit closer to two of my favorite shows, Superman is Back and Running Man. (Upon rewatching more episodes of RM, I realized that I've met more guest stars that I initially thought.)
My love for Tablo's talent (and the rest of Epik High) knows no bounds. I could not pass up the opportunity to see him again. That alone paid for my ticket. Among other things, of course. Jay Park and almost all of the AOMG crew were there. San E and the sole representative of Team ZiPal, Palo Alto were there too. Heck, even Dumbfoundead was there. And if anyone from YG was there, Danny and Ben Baller would be too. I wish Danny and DFD joined the hi-touch event lol. (More on that later.)
I admit, I'm one of those who paid attention to SMTM4 because of Mino. Not gonna lie. But I stayed because of the other rappers on the show. I was familiar with some by way of collaborations with other artists that I know and some I'm glad I found out through the show. I do not care for Western rap/hip-hop that is playing on the radio today. AT ALL. (I've been known to say that "If it is in English, I might not listen to it. I don't know 90% of the songs on the radio today.) Most of it is empty and it's like who can spit out senseless shit faster. Make up words along the way, why don't you. It's not for me. My interest in American hip-hop ending some time before 2010. But that was when my love for K-hip-hop resurfaced. Yes, I don't understand most of it but you can just feel the passion and emotion in their voices. Look up the lyrics and you'll see that it's not empty made-up bullshit. It actually speaks to you.
(A marvelous example is LeeSsang. Do yourself a favor and listen to either Hexagonal or
Asura Balbalta, look up the lyrics, and try not to feel sad and cry.)
Anyway, enough with the sales talk.
It was such an experience. First of all, it was refreshing to see a lot of guys in line and in the audience. And they weren't just boyfriends tagging along. There was a group of five guys and they ended up behind me in the audience. They knew all the words to Palo Alto's tracks, Tablo's songs... I mean, wow!
My biggest "discovery" from this concert was Sanchez. I was familiar with Phantom because Pandora includes their songs in my stations. And I've heard of him from his collaborations with Verbal Jint, most recently in the album they released called 여자. (It's amazing. Go have a listen.) He's such a cutie and that voice... oh man, sing to me all day, will you.
I'm surprised at how almost all of them spoke fluent English. Not just passable, "nice to meet you" English. Granted a couple of them grew up in the North American area (Sanchez and his brother Microdot are Kiwis), it's still very refreshing to hear them talk to the crowds in English. Not too sure about Paloalto but once he starts with those beats of his... I don't even care if he doesn't speak English at all. He's awesome.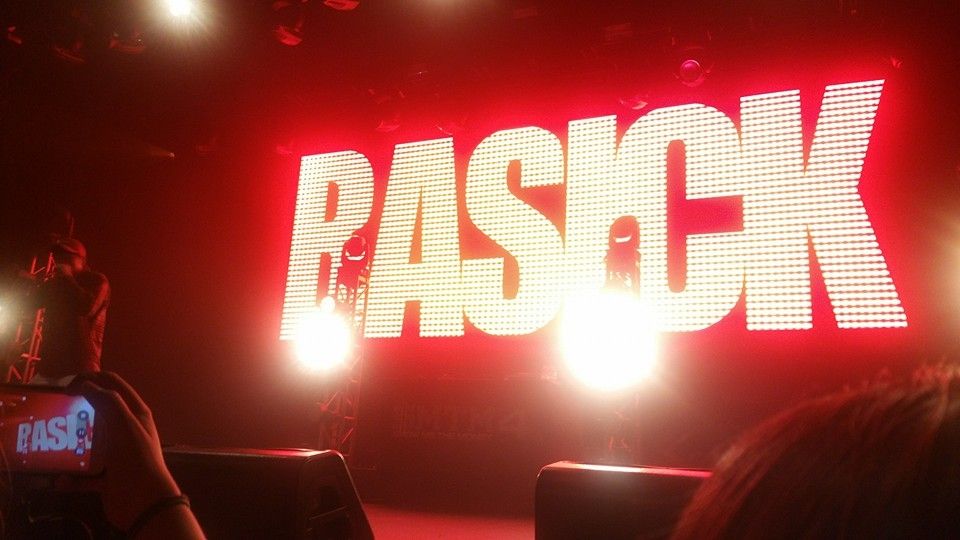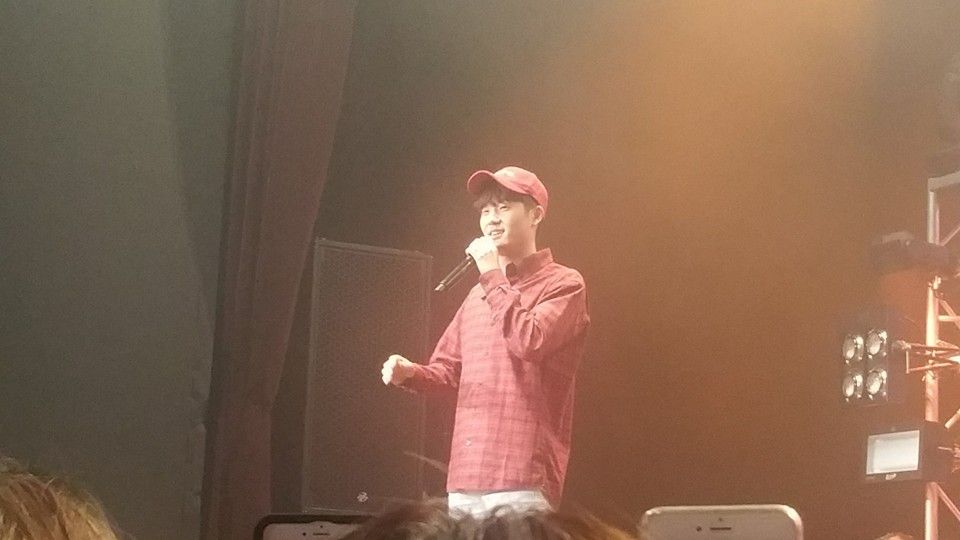 This season's winner, Basick, is such a cutie. I don't know if that word has been used to describe a rapper before but he is. He's adorable. And he spoke English so well. I loved him on the show and bias aside, I'm so glad that he won. He opened up the show. So glad he did Stand Up... the hook on that song is just so awesome. He's so unbecoming, so meek, and just adorable. But then he starts to rap and it's like a totally different person.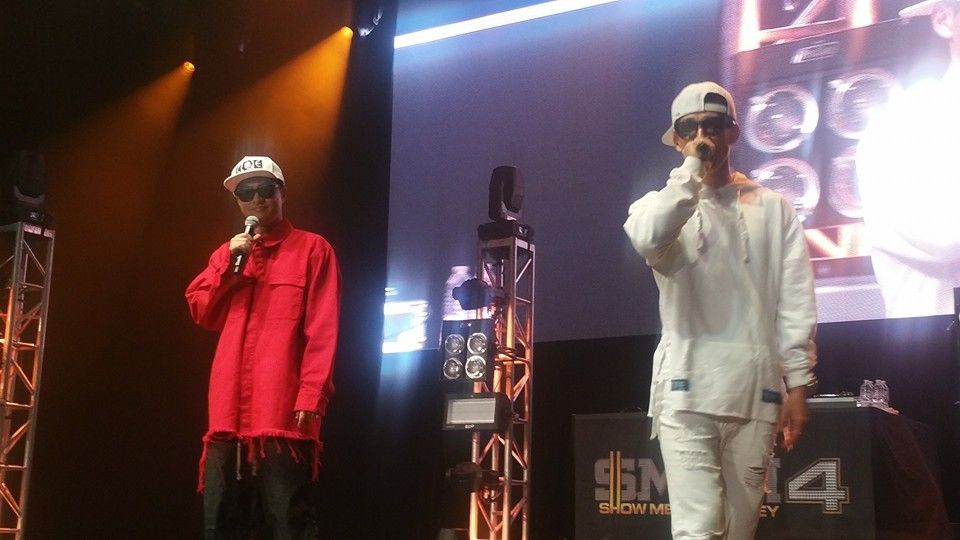 Up next were the ahjussis of hip-hop, Jinusean. I mean, talk about going back to the 90s. (There will be a 90s K-pop concert in October. Bring Turbo with you and then we'll get to talking lol.) They were dressed in 90s style and their beats... I mean, they did A-yo!
In every post where I mention them, it's obligatory to say that Jinu-oppa it hot. Sean-oppa (I almost said 삼촌, honestly lol... blame my Song triplets) is the god of childcare. You know him as this very generous, God-fearing, kind individual who loves being active and giving. Well... that working out has paid off. BIG TIME.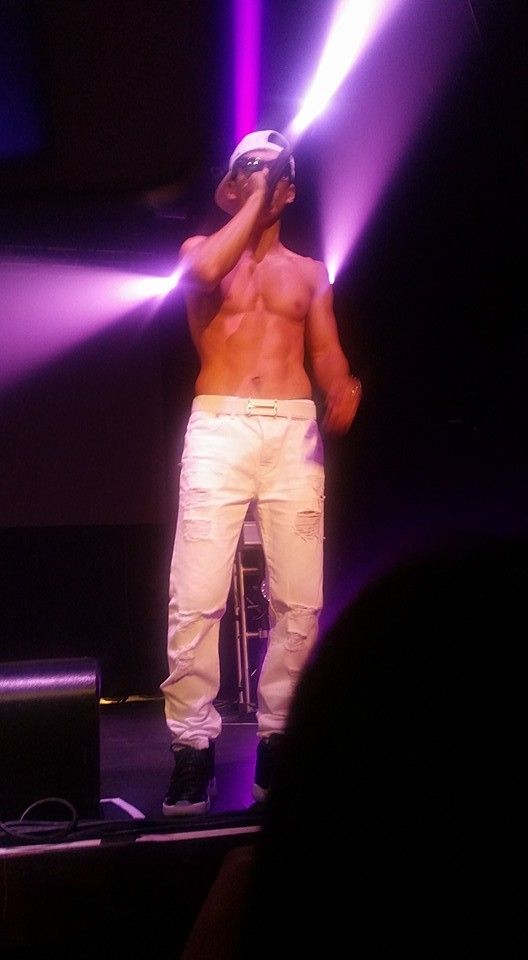 Yes.
I wanted to charge up that stage to do all of Jang Hanna's parts in Tell Me One More Time. Yes, I know them all. If you watch the video that I took very closely - and if you can ignore the blowout - you can hear me sing all of her parts. XD
The AOMG set followed this nostalgia trip. It was a crazy set! Season 1's winner, LOCO, who was also this season's coach started things off. Of course, Jay Park was there. He didn't take his cap off (or made eye contact) and he was dressed in this surely expensive ripped up shirt lol.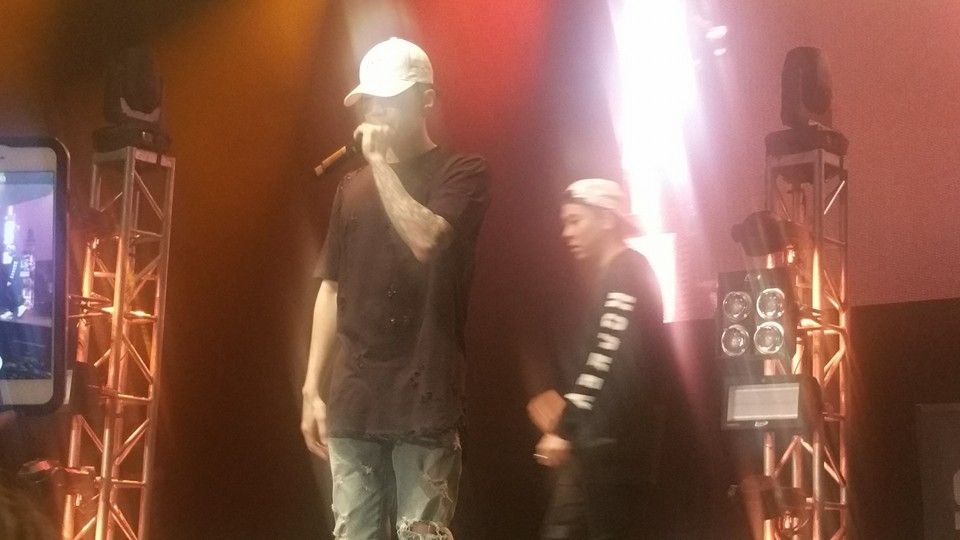 Sik-K, Lil Boi, Gee Goin, and David Kim joined and it became this one huge stage of seizure-inducing light and pumpin' beats. They actually walked past the line outside the venue at around 3PM for rehearsals. Everyone was late in reacting because it was so hot that day.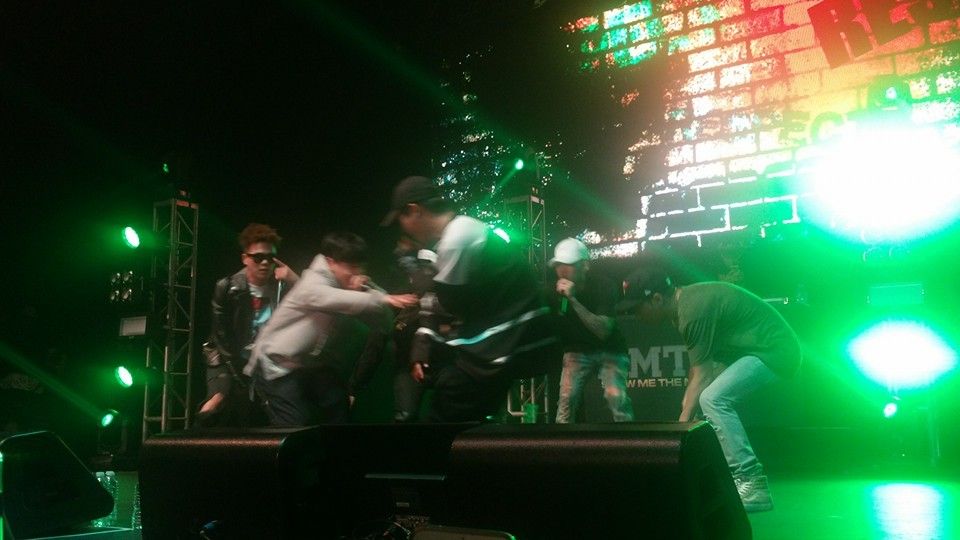 For a good 20 minutes, it was like we were watching an AOMG concert. It was hawt.
My boy Tablo followed that shit up with a short and sweet set. I was half-hoping he'd do Born Hater with Verbal Jint. If that were to happen, I would've been a crying mess. My heart wouldn't be able to take it.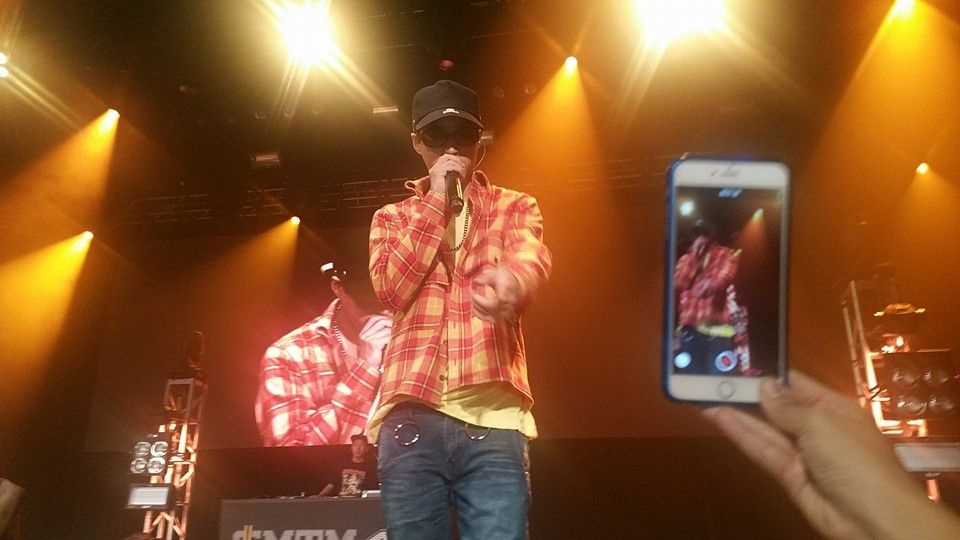 I still can't believe that I saw Eyes, Nose, Lips live twice this year. Three and four are coming up with the BIGBANG concerts next month. Yeah!
This was followed by another long set from the runner-up team representative, Palo Alto. Mino should've been here or at least someone else from the team. AndUp maybe? ;-) I've heard of Palo Alto because he used to be under the same company as LeeSsang. He had the rapper G2 helping out. Even Jay Park came on stage and jammed. All the while, I was hoping to see my K-town boy, Parker DFD and what do you know... he was there! He didn't rap but he was there sharing the stage with G2, Palo Alto, and Jay! I wish he rapped though.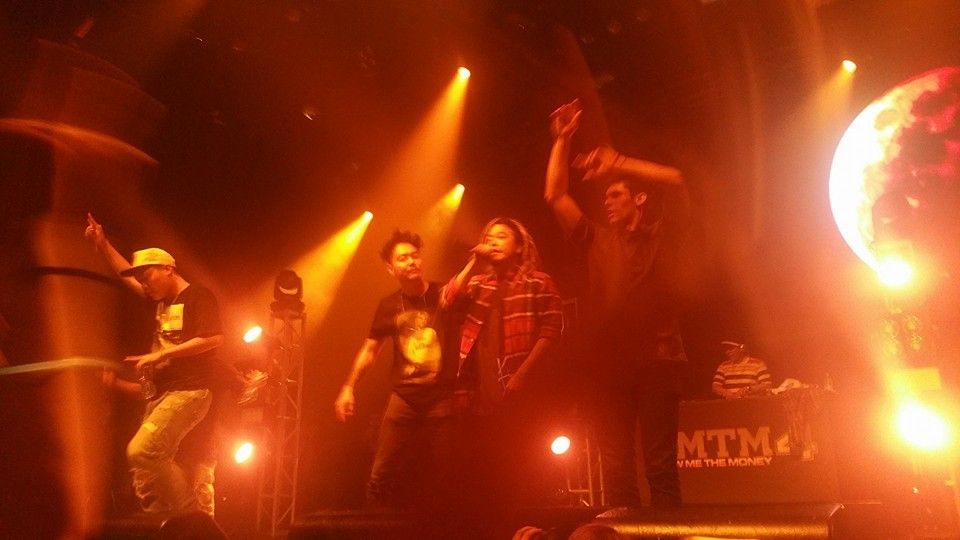 San E made the stage his too. It was a long set. He was so energetic... he was all over the place. I admit, I haven't heard very many of his songs. I enjoyed them. And I enjoyed watching San E on stage. He's so much fun. I will definitely check out more of his stuff in the future.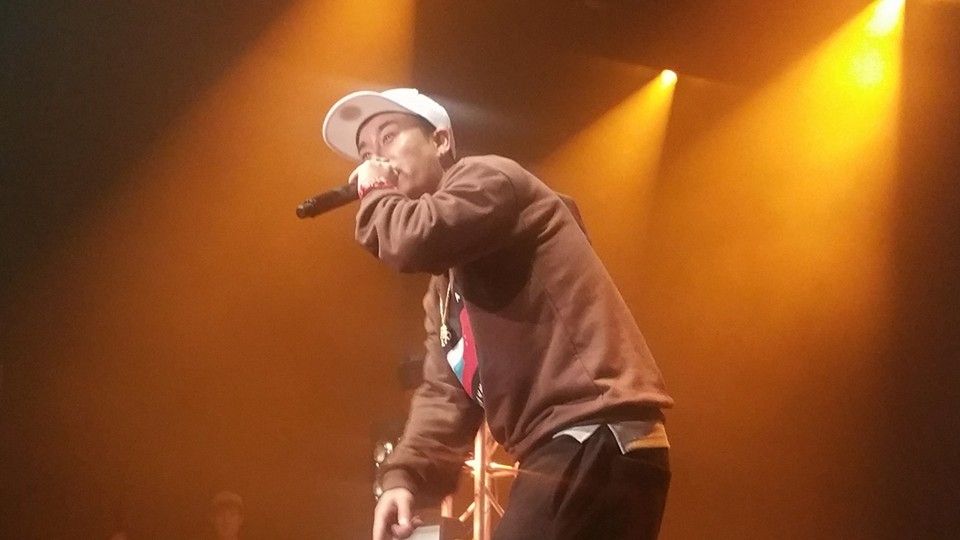 And to complete the winning team, Team Brand New Music, it's finally time for Verbal Jint. Saving the best for last? Sanchez joined him for the whole set and it was glorious.
I was screaming my lungs out when Verbal Jint came out. I even had my moon emoji pin on the top of my snapback. Yes, I was kinda hoping he'd see it. XD I literally tearing up and it was just at seeing him in person. What made me more emotional was seeing the keyboard set up on our side of the stage. It was just so overwhelming. His English speaking voice is just... aaaaahhh...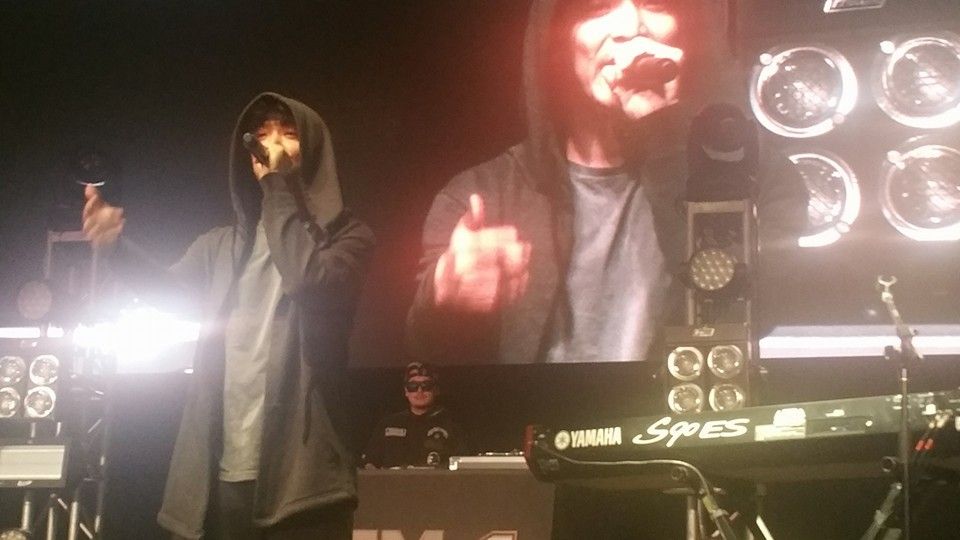 I watched Running Man episode 252 after this concert and I just had to pause every time Verbal Jint does something adorably awkward and just... I'm still reeling! I'm so happy he did Good Morning and of course, my favorite song out of his collaboration album with Sanches, Good Times.
I went a little trigger happy during this set. More than usual. I was just so overwhelmed. And my phone takes fantastic pictures lol.
They closed the concert up with a performance from the winning team. San E and Verbal Jint were joined by Basick for the final songs. A part of me wondered what if Team ZiPal were here too. Win or lose, their set would've been so hot.
Still, no complaints. I loved every second of this concert and I'm so glad I went for that P1 ticket.
There was a hi-touch event after the show. Unfortunately, Jinusean wasn't there. Sean had to leave for Korea because he was running another marathon. But Tablo stayed. Sanchez and G2 were there too. Jay Park finally took his sunglasses off. No pictures or video but yes to handshakes.
Guys, their hands were so soft. SO SOFT! All of them. I was so surprised. I held on longer to Basick, Tablo, Loco, and I even held Verbal Jint's in both my hands. I momentarily forgot how to speak when I shook his hand. I said either "Congrats" or "Great show" to the other guys I shook hands with but I had "Nice to see you again" for Tablo and a heartfelt "It's an honor to meet you, thank you" for Verbal Jint. We made eye contact and all my English left me. I'm such a dork.
What an experience. I'm meeting all the people I admire in 2015. Wow, just... wow. I mean, thank you so much.
Someone on the SMTM4 in LA events page wrote up the setlist:
1. Basick - GXNZI
2. Basick - Stand Up
3. Basick - Survivor

4. JinuSean - Oppacha
5. JinuSean - Phone Number
6. JinuSean - A-YO
7. JinuSean - Tell Me One More Time
8. LOCO - We Up There (High)
9. LOCO - No More
10. Jay Park and LOCO - My
11. Jay Park - Mommae feat. LOCO
12. David Kim - ???
13. Sik-K - Better Life
14. Geegooin - Next Level
15. Lil Boi - Round 2 rap from SMTM4
16. Team AOMG - Respect
17. Lil Boi - On It
18. Team AOMG - Bo$$
19. Tablo - Born Hater
20. Tablo - Light it Up
21. Tablo - Eyes, Nose, Lips
22. Paloalto - No Love
23. Paloalto - Forrest Gump
24. Paloalto - Celebrate
25. Paloalto - My City
26. Paloalto - My Team
27. Paloalto - Turtle Ship feat. G2
28. G2 - YAGA feat. Paloalto
29. G2 - Space Ninja feat. Paloalto
30. Paloalto - To Us (For) feat. G2
31. Paloalto - Good Times feat. G2
32. San E - Road to Success
33. San E - ??? (New single to be released)
34. San E - Rap Genius
35. San E - Rap Circus
36. San E - Superstar
37. San E - ???
38. San E - M.I.L.E
39. San E - Body Language
40. San E - Tasty Mountain
41. San E - California Love
42. Verbal Jint - Positivity feat. Sanchez
43. Verbal Jint - Perfect Day feat. Sanchez
44. Verbal Jint - Good Morning feat. Sanchez
45. Verbal Jint - You Look Good feat. Sanchez
46. Verbal Jint and Sanchez - Good Times
47. Basick - My Zone feat. San E
48. Basick, Verbal Jint, San E - I'm the Man
(I'll add more photos later. I got a bit tired.)