Playstation Experience / Capcom Cup 2015
For my final convention/event for 2015, I took my brother
to the Playstation Experience. Specifically, the Capcom Cup Grand Final 2015. Oh boy. NOTHING could have prepared me for this.
So far, I've been lucky to have a good number of events happening within a train ride or two from where I live. I admire those people who actually travel to get to these conventions and concerts. I've met people from different cities, states, and COUNTRIES just to attend these things and see their favorite artists. I said before that I could never do that. But then again, I also said that "
I wish I were that kind of fan that puts pictures up on my walls or the one who collects artwork in general." I sure ate my words on that one.
Last year's Playstation Experience was in Las Vegas. This year, it was in San Francisco. December 5 and 6, 2015. I would've skipped it if it were just that; I don't have a PS4 yet so a lot of these things don't concern me. But they decided to hold the Capcom Cup Grand Finals on the 2nd day of the convention. And that... I'd travel for that.
Plus, we have family up in San Francisco and it's been four years since I last visited. (FYI, exactly five years ago, I was in NYC enjoying the snow.) This time, I'm coming back with my mom and brother. And I finally went to Alcatraz Island.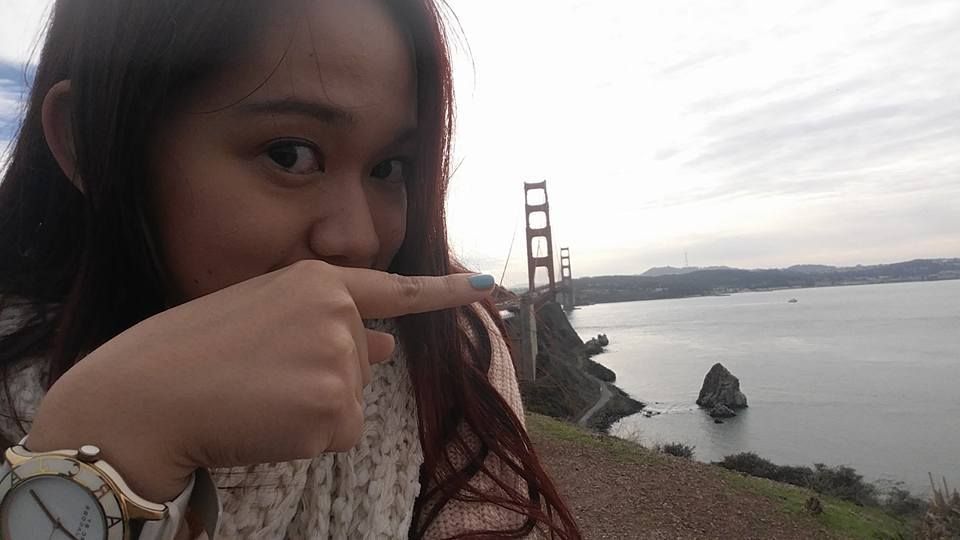 Obligatory. Obviously.
My brother and I also hit Japantown, San Francisco. As much as I love Little Tokyo in Los Angeles, I enjoyed Japantown, SF more. My brother loved that area too. There was a bookstore that carried some of the stuff in our wishlists. One casualty of PSX was my Juicy Couture purse. Girl problems, too much shit in one purse. Well, that gave me an excuse to purchase a new one. My first Tokidoki item... a Tokidoki Superfan Bowler bag. And she is pretty.
But these are not the reasons why you're here, right? Playstation Experience. Capcom Cup. Right.
I just admit, I'm fairly new to this whole fighting game community thing. Yes, I've played Tekken when I was a kid, along with Marvel vs Capcom and a little bit of Street Fighter. But I never thought that that could be as big as this. Prize money, sponsorships, endorsements... fanbases. My brother has been into this fandom/community for much longer and he actually plays games. I button mash. There's a difference. But I'm an awesome spectator. I can absorb information like a sponge. I've done that to the other gaming communities that I see my brother follow but not as deep as I went with the FGC.
Heck, I even have favorite players. For several different reasons lol. Hey, I don't claim to be an expert on this but I'm definitely above the "poser" category hahaha. I've played and watched these games so I guess that counts, right?
We arrived at Moscone West at around 9:30AM. It was raining a bit and people were lined up at the side of the building to get in. Some of them had 2-day badges but a good chunk were like us with only Sunday badges - or as I heard one guy say, "Capcom Cup tickets".
Speaking of that, who was the first person we almost bumped into within the first three minutes? Yoshinori Ono, the producer of Street Fighter IV. Yup. Capcom Cup was starting in the next few minutes and Ono-san was rushing to the venue. I think he was a bit startled as well when he almost collided on the sidewalk. After seeing him again in the convention hall, I was absolutely sure it was him.
After securing our badges, we went straight up to the tournament venue. And once we got settled in, my brother pretty much didn't move for the next ten hours. Or at least, it felt like ten hours LOL. I mean, I did the walking. He pretty much settled back on being a stream monster (sans the inane commentary) but instead of being in front of the computer, he was right there, live, in person. I could tell that he was excited. Hell, I was pumped up too. I was going to see Tokido live. (Don't ask lol.)
The PSX swag bag alone was worth the $40 I paid for our badges. It looked like the bag on the Playstation Store gift card. It was large and better made vs the free bags that I've gotten at other conventions. It came with a free t-shirt, the event brochure albeit incomplete, Capcom Cup 2015 programme + poster, an awesome PSX poster tube + poster, trading card box if you participated in the convention also... and it even came with a hand sanitizer! And oh, lets not forget my new favorite thing... a limited edition Playstation beanie. I wore that thing the whole day... and I've continued to love it today. The hand sanitizer was a genius idea. At first, it didn't make sense to me but then the convention had a lot of playable demos and I mean, who knows how many paws had been on that controller you're enjoying. Right?!!
I didn't really know what to expect from Capcom Cup. I've only watched gaming tournaments via a Twitch stream. We were at Comikaze and we were watching Canada Cup. This was totally new to either of us. But I was ready to cheer and scream and root for the players along with the audience. The energy was awesome. It doesn't matter who's playing. Of course, American players got more hype regardless of the opponent but I felt like everyone liked all of the players and characters. At least, that's what it felt like. I have my biases but really, I enjoyed watching them all.
Mike "Mike Ross" Ross
I mean, these are people that my brother and I had only watched on stream. These are regular guys who happen to be better at fighting games than the rest of the population. But there's something worthwhile in it. In a way, they become celebrities. And I felt as excited seeing them in person as with seeing Hollywood celebrities. That's the fandom way, I guess.
Side note: I've actually met
James Chen
previously. At Abbot Kinney First Fridays, Venice Beach. That was a pretty fun moment too. I heard about that event only on the day of; my friends and I were heading to Venice Beach for another food-related activity but one of our friends ended up not going so we went to this food event instead. My new favorite truck,
Okamoto Kitchen
, was there too so I was all set. Tracking them on Twitter, I saw James Chen said that he might drop by as well. We headed to Venice Beach a bit later so I thought I might not see him. But at least I'll get my katsu sandwich, right? Well... as one of our friends was holding my place in line, I checked out the dessert choices. When I turned back, who was in front of said friend? James Chen. I mean... how lucky can one girl be? I thought I've exhausted my 2015 luck. Apparently I still had more in the tank. I even had some left over for PSX as displayed by our Ono-san moment.
But I digress, back to Capcom Cup.
It was fcking awesome seeing so many guys at a convention. No particular reason... I'm just used to seeing a lot of the female population even at nerdy gatherings. It's nice to be the minority for a change LOL. I think that added to the vibe, the energy. I got stupidly excited when Mike Ross started to introduce the players. Stuuuupidly excited. Starting with Infiltration oppa. Yes, he's another one of my favorites. I'm pretty familiar with all of them because my brother watches FGC streams pretty regularly. I tried to keep it sane when they introduced Nemo. Actually, all of them were pretty hype. (Geez, I'm talking like the community now lmao.) I couldn't get a good photo of all of them because the stage was huge and my camera had seen better days. But I tried.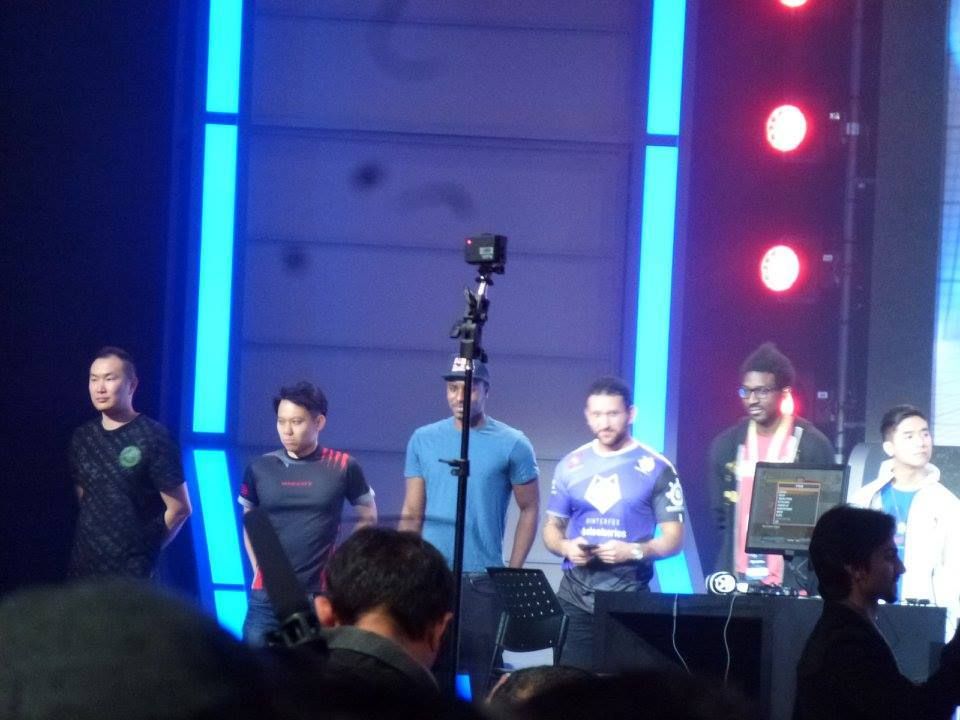 Infiltration, Tokido, Snake Eyez, 801 Strider, Dieminion, NuckleDu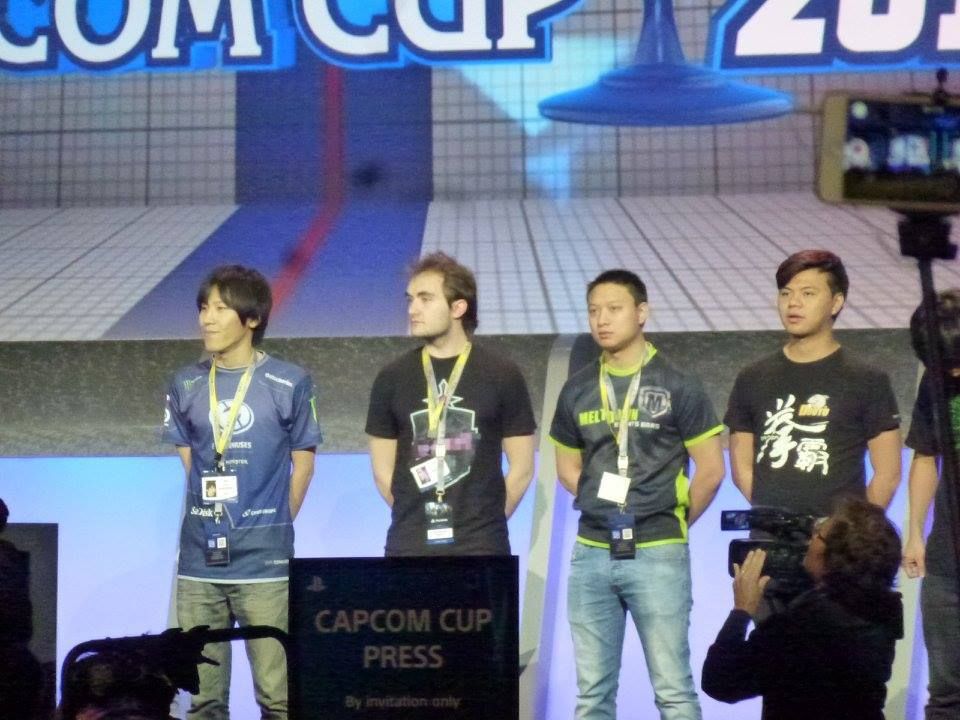 Momochi, Valmaster, Luffy, Xiao Hai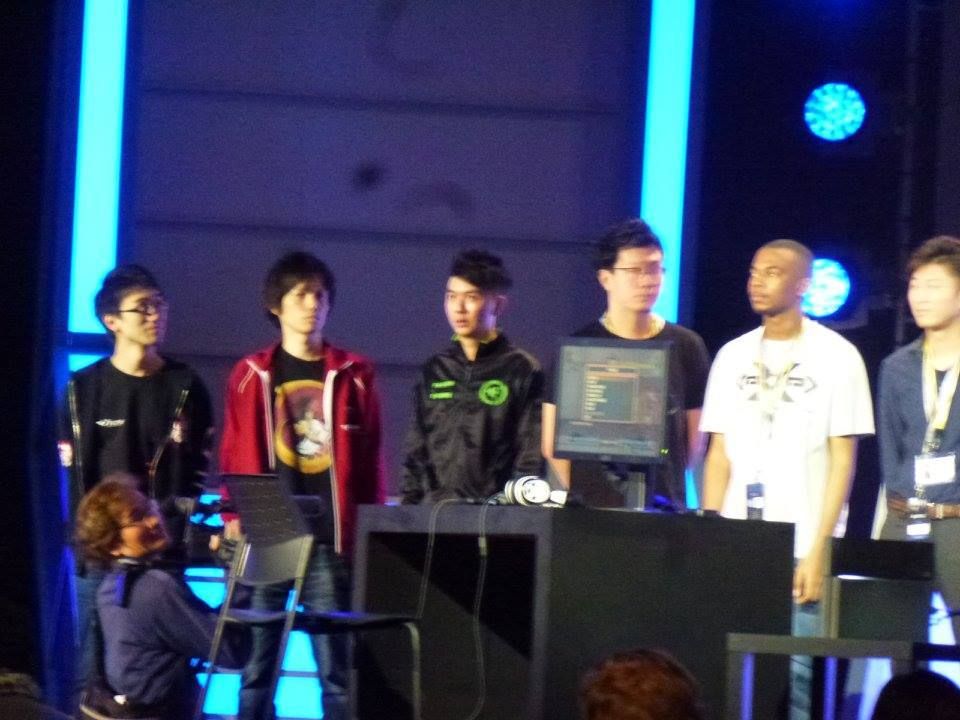 Kazunoko, Misse, Gackt, Dashio, Problem X, Nemo
Nemo, Daigo, GamerBee
Luffy, XiaoHai, Xian, Fuudo, Shiro, Dakou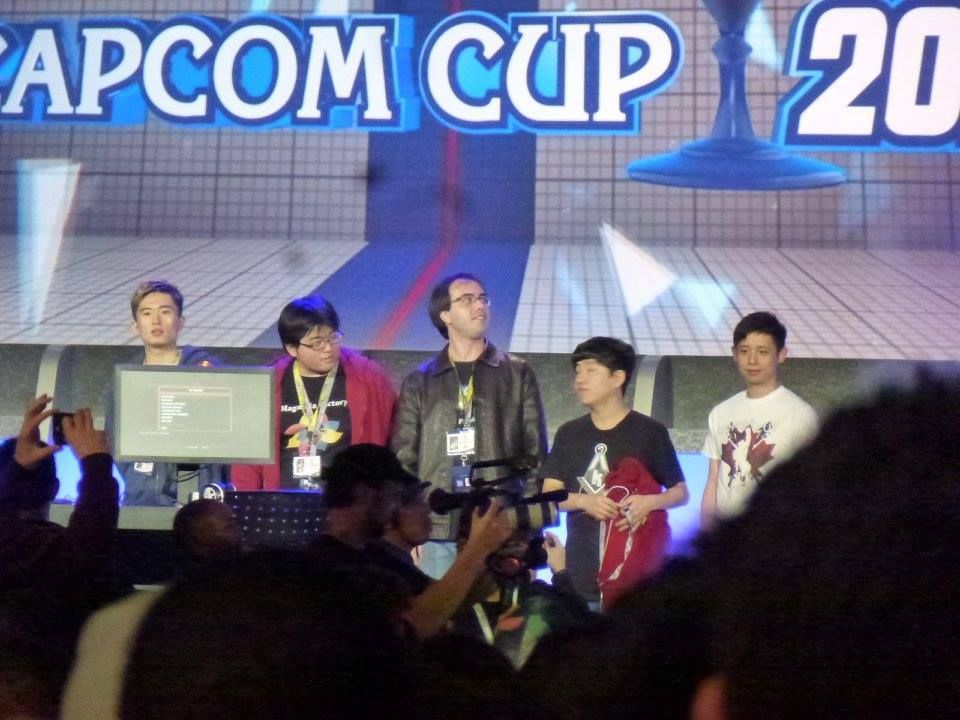 Bonchan, Tonpy, Keoma, Poongko, HumanBOMB
And there's Justin Wong!
I missed a couple of players in the excitement and it all went by so fast. Sure, the view on the stream was better but this was the experience. The main event stream was manned by James Chen (ultrachen) and David Graham (ultradavid). The 2nd stream had Sp00ky and Skisonic.
F-Word and WinnerStaysOn subbed at the main stream for Top 16. James and David came back for Top 8 action. The UK guys were awesome. I don't have a photo but I wish I did. Goodness, they made it sound so sophisticated! I hope to see more of them in the future.
Intense doesn't even begin to describe it. I can't explain it but there's something magical watching the players in person vs just seeing their characters beat it out on screen. Sure, I can't see them very well but those short moments that I see their hands working the fightstick or controller, oh man. I wish they showed that on stream too. To see the intensity in their eyes, in their posture. The movements of their hands are so mesmerizing. Their posture is still but their hands were working overtime. Some movements were explosive and some are pretty economical. It's all so fascinating to me.
After a few games, I took the time to explore the rest of the PSX floor. After all, it was still a convention. Because of that, I missed seeing some players do their thing live. And that included Nemo. Sigh. That's okay.
I admit, I've been away from the whole gaming scene for a while. I've been slowly reintegrating myself starting with FGC and in some smaller way, the rest of eSports. But it was GREAT seeing all the other games, those from publishers familiar to me, or just rebooted old school favorites. I got to sample the new PaRappa the Rapper, one of the first ever games I played on the first generation PS1.
Really, my brother was supposed to be doing the walking around thing. But his butt was nicely parked at Capcom Cup and could not be bothered LOL. He was texting me the results so as I was doing the rounds, my insides were doing somersaults. Yes, fighting games have that effect on me.
At home, we currently have a PS2, PS3, and a PS Vita. Still working on PS1, if possible. As for PS4, when I saw that Darth Vader one, I wanted it. But my brother said to wait for the slim version. Plus, my $$ was already going somewhere else that day. On a Madcatz TE2 fight stick. Legit.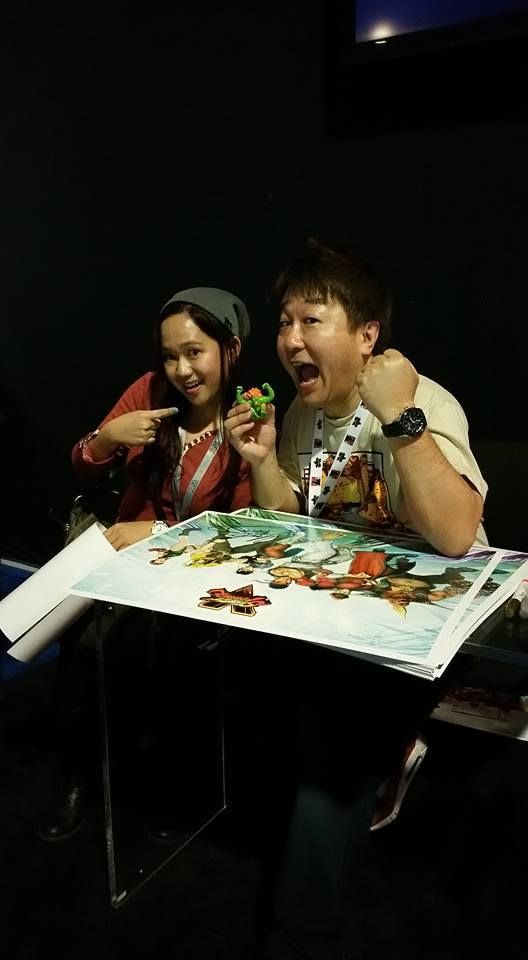 The Capcom booth was pretty active. They were demo'ing Street Fighter V and some pro-gamers were dropping by to play. The store had a sizable line and I got on it before it got crazy. I should mention that I was the only girl at the time. A hobbit-sized girl... and I bought a fightstick that came in a box that is pretty much half my size. When I told the lady at the counter that I wanted to get a stick, the guys behind me applauded and said, "Wow, she's getting a fightstick! That's hype!" Applauded. OMG. Really? XD Anyway, I got an Umbrella Corporation umbrella as well. I wish I bought more. They were just $5 and if you're a Resident Evil fan, you need one.
When the lady came back with my purchases, she was dragging a brown shipping box behind her. I thought, "Oh, they're opening a new shipment box and my stick is from that box," thinking that there are 2 in there. Nope. She hauled the whole thing on the counter and said, "It's pretty heavy, miss." Uh yeah, probably a third of my weight. And I had to haul it to the 3rd floor. I did, with some effort... only to see that the merch booth upstairs started to carry it too later in the day. Ohvey.
I bought us a bit of lunch, my brother still hadn't left his seat, and I went back down for the Ono-san signing at the Capcom booth. We brought with us a special Street Fighter artwork by Kris Kehasukjaren. We see it all the time at the 626 Night Market and then we picked up the art piece at Comikaze. I wanted Ono-san and as many SF FGC people to sign it.
When it came my turn to meet him, I handed my phone to the guy taking the photos (more meet and greets should do this) and sat beside Ono-san. When he saw my poster, he immediately called for the interpreter on standby and through him, he said he thought it was adorable and asked me where I got it. I originally planned to bring the artist's business card with me but I lost it somewhere. A missed opportunity but I told him I got it at a convention. I first said Comikaze but only the photo guy was familiar with it so I backtracked and said Anime Expo. Either way, we all got the message across and Ono-san knew automatically to sign near Blanka. He signs all the stuff with a Hadouken wave OMG. And I think our photo is the cutest thing ever. Man, I love that beanie.
As I got my free signed SFV poster, I spotted 801 Strider by the arcade cabs. Honestly, I wasn't 100% sure it was him but his shirt had "801 Strider" on the back and I knew enough what that stood for. Still reeling from my Ono-san moment, I gathered the courage to approach him and ask for his autograph. FilipinoChamp was there too but he was busy beating everybody up in SFV. I wanted to wait but eh. I also saw Maximilian Dood. There was an impromptu line of people waiting to talk to him and take photos. He was literally just standing there randomly and people started to approach him. I got in "line" and got his autograph as well.
I brought what served as dinner back up to my brother in time for Top 8. He did his share of walking that final hour of the convention. At least. LOL.
With two huge screens, I didn't know where to look! We could only hear the main stream commentary but when an American player is playing on the Loser's bracket, the crowd goes WILD.
That was especially true with Snake Eyez. The crowd totally forgot about the main stream when he was playing at the Loser's bracket. His 2nd match with Keoma was the match of the tournament! And Keoma was easily the MVP of Capcom Cup 2015. He made Brazil proud and definitely made a lot of new fans. And he's a fanboy of his opponents too.
One of the touching moments was when Poongko defeated Misse in the Top 8 matches. They shared a long hug and I heard some tears were shed. They might be opponents in a tournament but these guys are really good friends. I saw it but I don't have a photo of it. Search for it on stream.
And then... there were two. Kazunoko vs Daigo Umehara. The Genius and The Beast. Kazunoko has become Daigo's nemesis. And in the end...