Review: Rimmel London Show Off Lip Lacquer
여름 이에요! Happy Summer 2013!
Summer means bold makeup, especially on the lips. A bright lip color can instantly liven up your face. Keep the rest of your face neutral and go the extra mile with a lip that says "I'm here!"
Lipsticks have a strangle hold on bright lip color products but lately, glosses are stepping up their game. I'm not really a gloss-only person but after trying these new ones from Rimmel London, I may have to rethink that.
The Rimmel London Show Off lip lacquer, a.k.a. Rimmel London Apocalips lip lacquer is a Walgreens exclusive, for now. The UK name is cooler but the US name represents the product better. It is a liquid lipstick type product. Not exactly a lip cream because the consistency is closer to a lip gloss. It is in line with the
Wet'n'Wild Liquid Lip Colors
but less drying. And these are not matte.
Last week, I picked up four colors. I had to visit two Walgreens branches to get them. One color is apparently so popular, they cannot keep it in stock. Any guesses? It's the one I wanted to get the most. If you know me, you'll know what that is... ;-)
Yes, I am that kind of fangirl. When I read "
Big Bang
", I knew I had to get it. And it's so fortunate that it is a red rather than a plum. The other ones I picked up are
Apocaliptic,
which shares the original name of the product;
Stellar
, competing against Big Bang as my favorite; and
Luna
, another K-Pop reference (I'll explain later lol).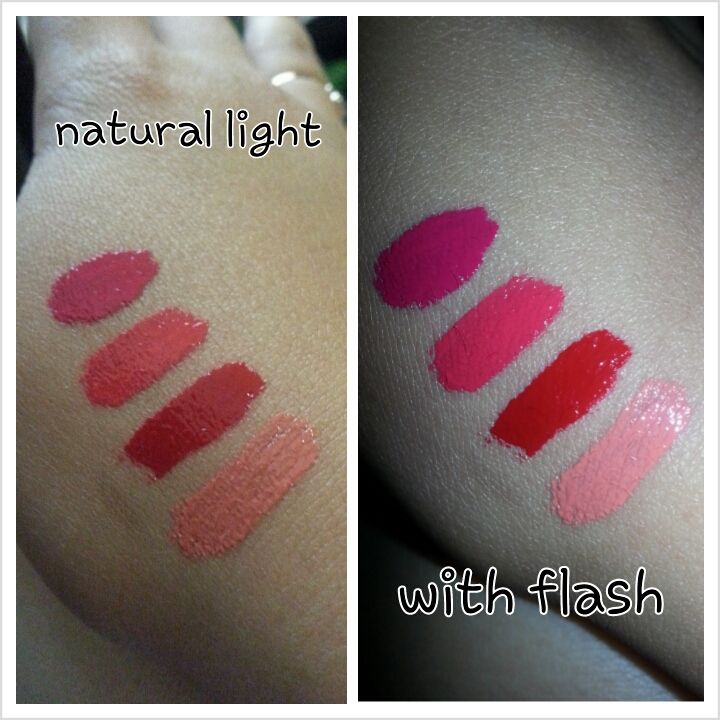 Top to bottom: Apocalips, Stellar, Big Bang, Luna
I tried to get colors that are not so similar to each other. Luna is a pinky-peachy nude. Big Bang is that true red. Stellar is a candy pink, perfect for summer. Apocalips has a slight purple tone. The ones I picked do not have shimmer in them although the line does have shimmery colors. All of them have a sheen so you don't need to put an extra gloss over them. The formula isn't thick but is creamy. It has a slight smell that is not really noticeable unless you put the applicator close to your nose. It reminds me of an overripe fruit but it not bothersome. This has very good staying power. I wore it
today
and it lasted me a good four hours before I ate and had to reapply.
The tube has 5.5ml/0.18fl oz of formula. The cap has this interesting geometric pattern in black that then fades out to the actual color of the product. The name is printed on a sticker near the cap with the bar code so don't peel that off. It is an anti-tamper sticker with
Excuse my chipped polish...
perforation when the cap and tube meet so if that seal is broken, someone already twisted that cap and possibly tested it. But one cool thing about this is that you'd know if the tube you're holding has already been used/tested. When you first open the tube, pull the wand out slowly. You will notice a space above the label. It is clear. As you pull out the wand, that space will fill up with product. Once that's filled, there's no emptying that out again. So even if the seal's been tampered with, check if this space is empty or filled. The Big Bang tube that I got had a broken seal but out of the three in the display, the one I purchased had an empty chamber.
Another cool feature that sets this apart from other gloss-type products is the applicator.
It does stain a little bit but only with the darker colors. Luna didn't stain at all. The product does not completely dry so your lips stay glossy. It stays light on the lips and it's not very drying. Feel free to apply a colored balm over your lips when you feel like it though. Also, it doesn't settle in the fine lines on your lips. There will be transfer on your cup or straw. But the color faded on my lips only when I ate dinner. Talking and careful sipping didn't move it at all. I even rinsed my mouth and I think this stuff is water-resistant lol.
I'm getting better with these darn lip swatches! Hahahaha...
My favorites from the ones that I have are Big Bang (duh!) and Stellar. My least favorite is Apocaliptic because I'm not into berry shades. Luna is a pretty nude shade, not my favorite but I love that it's opaque and non-streaky. Most nude lip products that I've come across are tough to work with. This is just lovely.
I must admit, I picked up Big Bang because of the name. Even if it turned out to be the most glittery and drying formula ever, I'd still pick it up just because. But I am so happy that it is a cream red and definitely the star of the whole collection based on all the reviews I've read. Stellar is... well, stellar. It's perfect for everyday. I kind of want to get a backup right now lol. Apocaliptic is pretty too. I'm just not feeling it on me. Wear Stellar in the day and Apocaliptic at night. And Luna... like Luna of the K-Pop group f(x). When I planned my shopping trip for these, I automatically picked Big Bang and Luna just because of the names. That's my K-Pop bias talking. ;-) Luna is another everyday shade. It works on my skin tone so it's a keeper.
Rimmel London's answer to long-wearing glosses or liquid lipsticks is definitely a win. Show off your lips with this amazing lip lacquer. This is definitely a win.