Is this your first IMATS? Prepare to be overwhelmed!
I'm going to have an awesome weekend. I know it.
On the 16th, I have
IMATS LA
. On the 17th, I have
Anime Impulse
! It's going to be my first year at Impulse and THIRD at IMATS. I didn't write about last year but I sure had a lot to say about my
first one
. Note, the photos in this post are from IMATS 2015.
IMATS stands for International Makeup Artist Trade Show. It says "trade show" but it is open to the public on Saturday and Sunday with a pro-night Friday. I usually go on the Saturday, one of the rare times when I make an effort to glam up.
Having only gone to two IMATS previously, I'm not claiming to be an "expert". Although, I've been to quite a handful of convention type events. At the end of the day, these events are pretty much the same. It's an overwhelming feast for the senses, nothing can 100% prepare you for them, you'll walk away with much more than you planned, but you're going to enjoy the hell out of it.
I've had people ask me if I have tips on attending conventions. Some, specifically IMATS. I have some in my older post and looking at it now, they're pretty much the same. I'm trying to think of other tips that I may have that apply to the bigger conventions but really, IMATS is a sample size compared to Anime Expo or Comikaze. And IMATS is rather specialized so you can sort of anticipate what to see, what to buy, and who to see.
Also, I happen to live about 5 minutes away from the Pasadena Convention Center. Old Town Pasadena is my backyard. So I'm not too wide-eyed when I see how gorgeous Pasadena is. *wink* So if I sound a little bit jaded, this is bulk of the reason. LOL. Also, it's my 3rd time... surprise me, IMATS. ;-)
WHEN YOU GET THERE.
If you're bright and early,
there is going to be a line going in
the convention center. There are people lining up before the doors open. The line can stretch around the block. It certainly did happen to me on my first IMATS. After that, I realized that I didn't really need to be there that early. Last year, we got there at around 10-11am and we were pretty much done by 2pm.
Walk, don't run.
You'll get in eventually. Sigma will not run out of brushes by the time you get in. NYX is going to still be stocked with the soft matte lip creams until Sunday. The line at Naimie's will still be as long as the convention hall is wide.
PRINT YOUR TICKETS.
In this day and age of technology, we should save a tree, right? Well... yeah, but having a printed ticket is still the most reliable way of getting it scanned with no delays or problems. Trust me, I know. I worked registration at last year's
WonderCon
and half the time, I had to manually enter the code for those attendees who didn't print their tickets. My scanner didn't pick up their phone screens easily. And oh,
bring ID
.
SO I'M INSIDE, NOW WHAT?
You're going to be overwhelmed.
It doesn't matter if it's your first time or 3rd. I'm the same with conventions. That initial entry to the convention hall; an assault to the senses. So many shiny things to see, the noise of people talking at the same time, the colors of all the costumes and makeup of your fellow attendees. Step to one side and just enjoy that for a moment. Then get your free shopping bag and start exploring. We all have our own ways of exploring a convention hall. I usually start at one end and go row by row. Since IMATS is a smaller convention, I do my canvassing that first pass then just go back to a certain booth once I've decided on what I want. I was literally speechless at the amount of brushes at the Royal & Langnickel booth. They're always the first one you'll see.
One reason to come early is to
beat the lines at some vendors' booths
. Sigma is pretty popular, as well as MAC. As many people dislike Lime Crime, trust me... there is going to be a long ass line of people wanting to buy those Velvetines and whatnot. Last I checked, they're under Naimie's as well so apart from the line to sample the goods, you have to line up again at the actual Naimie's booth to get and pay for your items.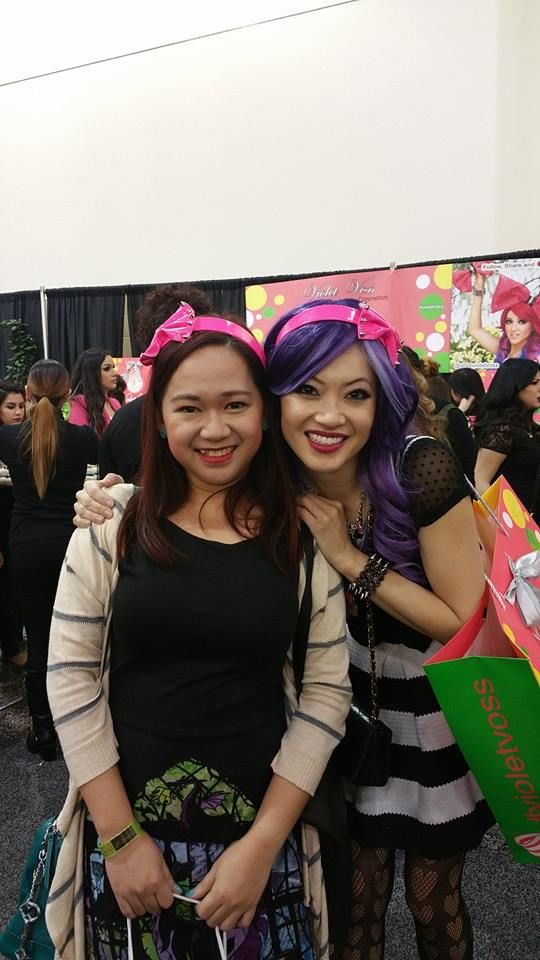 Pursebuzz!
Speaking of lining up,
it helps to have someone with you
. It could be a friend or a sister. In my case, IMATS is a mother-daughter date. But just have anyone with you to have fun with... and
so they can line up for you while you look around some more
. A good chunk of your time will be eaten up by ridiculous lines. Say your friend is on a break or all shopped out, she can stand in line for you and call/text you once you're nearing your turn. It's not a "must" but just throwing the idea out there.
I mentioned food... well... the food choices
in house
is not the best but it's okay. Just enough to give you that second wind of energy, stave off the hunger. I mean burgers, sandwiches, salads, chips, and chicken fingers. (I always get the chicken fingers, by the way.) But outside the convention center is
Paseo Colorado
. It's an open air mall with a number of restaurants. And there are 2 Starbucks in the vicinity. If you're done shopping, you can go down to Old Town Pasadena. Pastry lovers, I wholeheartedly recommend
85C Bakery
. There's also a branch of
Urth Caffe
nearby if you're feeling fancier.
IMATS is not just a huge place where makeup is sold. It's also a show. A lot of companies showcase their talents; students display their works. There are live demonstrations on models, prop-making, even a museum of special effects. Established makeup artists make appearances to meet fans and also demo their own products. If you watch Youtube, you're bound to meet a beauty guru or two. And oh, you'll see a LOT of people with their cameras facing themselves, vlogging and social media-ing everything. I'll be on Instagram if you need me.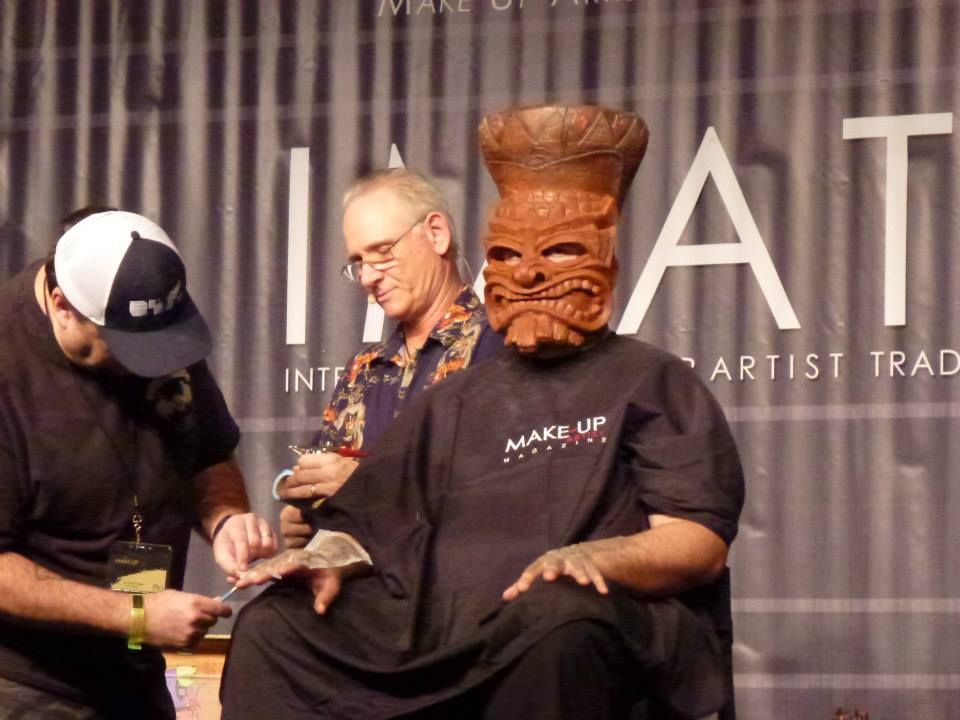 IMATS is also a place to discover new things. May it be a makeup brand, item, technique or what have you, explore to your hearts content. IMATS 2014 was my first time hearing about
BH Cosmetics
and
City Color Cosmetics
. Now, they're a few of my favorite brands.
2nd Love Cosmetics
is a hidden gem. I only buy brushes once a year and it's at IMATS. The selection in the Crown Brush booth is insane. And you can't beat that price.
MY DAY IS DONE!
Good. How many shopping bags do you have? How light does your wallet feel? LOL, it's so easy to get carried away. With so many stuff and such good deals on everything, it's a makeup lover's heaven. I know of people who actually ask for IMATS tickets as Christmas gifts. IMATS ends quite early so you'll have time to explore Pasadena and eventually make your way to other places. But really, Old Town Pasadena is an awesome place.
TIPS:
(I mentioned these in my older post but I'll mention them again here.)
Take wet wipes or makeup remover wipes with you. Some booths have samples. You'll be swatching here and there and your hand is going to be a warzone after a couple minutes.
Bring a small-ish bag or purse. There's going to be a lot of people milling about with bags and bags of goods with them. Your HUGE tote will only get in the way. And besides, IMATS provides you with a shopping tote. Take extra.
Wear comfortable shoes. I get it. It's "Los Angeles". It's a beauty event. But giiiirl, you'll be on your feet most of the time. What's the use of looking cute if you end the day with a sprained ankle. Go back to your hotel after the event and change into your heels if you have other plans in the evening.
Have cash on hand. It's faster. And some booths don't accept card. There will be ATM but who wants to bother with the $2.50 surcharge?
Even if it's your first time, plan ahead. This is not your local drugstore that you visit everyday. There are many more brands selling their wares and it helps to be familiar with some of them. Also, it'll save you time and money if you have an idea of what you want to get. Go on the IMATS website, check out the vendors list and click on the "new to you" names and browse their catalog. IMATS is a great place to get those "harder to get" items that Youtubers seem to always have and those "pro-only" items that seem to work better than mass market products.
Take business cards and samples. I find that they don't give out many samples but if they offer it, take it. It's free and it's a good way to discover something new. And sometimes, those business cards have coupon codes on them.
ENJOY. THAT'S THE MOST IMPORTANT THING. Make friends, smile, be loud, help each other out. It's like one huge club where everyone understands the insane love for makeup. Don't judge. No one's judging you and you'r 345632 tubes of lipsticks. In fact, the person beside you might have more than that. ;-)
So there you have it. These are the things I learned from my two previous IMATS attendances. I will be there on Saturday, January 16th. I don't know what I'm going to wear yet. I'm still doing some wishlisting but I'm for sure excited. I've gone through my brushes and discarded those that have seen better days, making room for new stuff.
But yeah, I'm looking forward to this weekend!