KCON LA 2016, Days 1 & 2
KCON
is a tricky thing for me to talk about because I like it and hate it at the same time. This is my 3rd non-consecutive time attending. I like that it's a convention about K-pop, a fandom that is not as big as the comic book types and the otaku. I like that one concert can have five or more acts. I like that it gives fans an opportunity to meet their faves, may it be a K-pop idol, actor, or online personality. I like that this year, they have food trucks.
But that's about it. Everything else, I either don't care for or dislike completely. I'm the simplest of K-pop fans. I stan 2-3 groups, passively listen to everything else, and only go to
YG Entertainment
(and
Block B
) concerts. So half the things at these kinds of events seem irrelevant to me. But I view it as
discovering new things
. And in that respect, KCON has not disappointed me. I've started listening to new or new-to-me groups as well as incredible indie artists that they've invited. Although there are some things that I dislike about this convention, I always end up enjoying myself. That, 우리 친구들, is reason enough for me to go every year.
KCON actually had a Day 0 this year. I think it was open from 1pm to 6pm, which was essentially useless to me because I get off work at around 6pm.
Anime Expo
's Day 0 was on until 12mn. They said it was convention center policy. The venue closed at 6pm. They didn't want to pay their employees extra. Okay, fine. But they had to be ready for the chaos the next day, right? RIIGHT?
No.
I got lucky. The first thing that you learn from going to multiple conventions is that lines are inevitable. The earlier you are, the better off you will be. I lined up on Friday at 7:30 am and already, the line was quite sizeable. The line got to moving at around 9:30 am and I was done by 11 am. It was still 4 some hours but mind you, the convention center doors opened for registration at 9:30. So in hindsight, it wasn't that bad. For me at least. The convention floor opened at 12 noon. The bag check line was as insane as the registration line. I held back for a while, trying to dispose of my fan engagement vouchers. I left the convention at around 5pm to go eat at the night market with my brother and I hear stories of people still lined up outside at registration.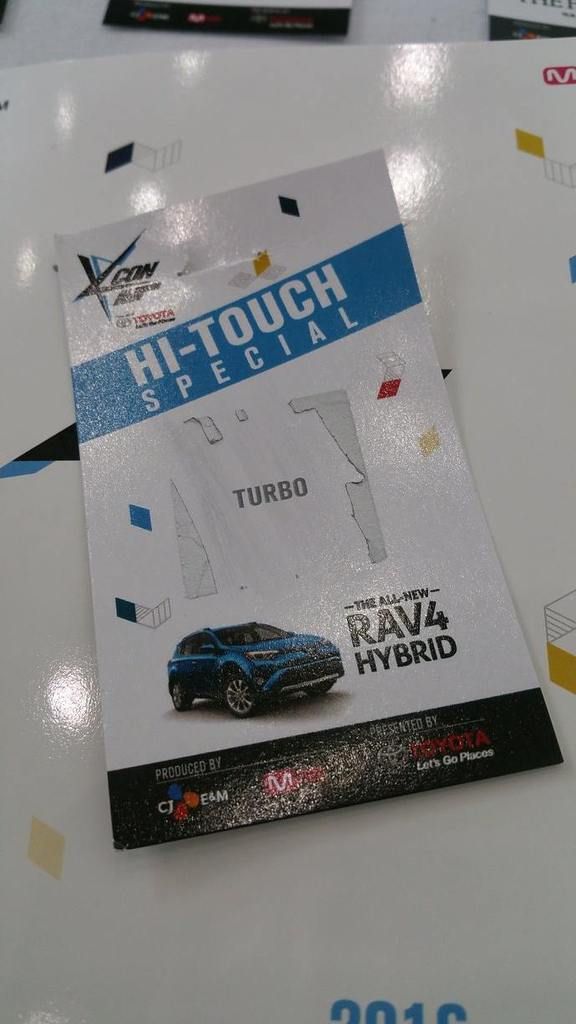 Man. And it didn't get better throughout the weekend. You either spend your time in line at registration and/or bag check or going around with signs for buying/trading fan engagement. I got lucky with mine because I happened to be lined up with very nice and "experienced" people while at registration. Guys, all I really wanted was a
Turbo
hi-touch pass. It was a surprise that they were doing fan engagements, let alone them being part of the concert proper. More about that later. I would've also liked a Block B hi-touch but I already did that last year at their
LA concert
. Turbo... I was ready to BUY that pass. But this nice person said she'll give me a Turbo hi-touch if she manages to get one from her bundle. And it happened! Hell, I could've gone home right then and there. XD I decided to pay it forward. I gave this awesome fanboy my
Davichi
audience passes. All he cared about was girl groups and he couldn't believe that I was just giving it to them.
I sold both my
Monsta X
and
Astro
audience passes for $20 each. I've heard of horror stories of those passes being sold for upwards of $300. That's insane. All I wanted as lunch money. $300 was the price of my combo ticket. For just an audience pass? Wow. I hi-touched Block B and made eye contact with
Big Bang
for less than that. I get that you want to recoup what you spent on the concert but think about it... the people you sold it too also bought tickets, will spend at the convention, and probably are from out of town somewhere spending mad cash for travel and lodging. K-pop fandom, wtf?!
And that's not the end of the heartbreak. There were posts of scammers, fake tickets, fake fan engagement passes... man, where does this end? I just feel so fortunate that I didn't have to go through any of that nightmare. I didn't have to worry about parking, hotel rooms and rates, not being familiar with LA, budget, and tickets. I bought my P2 seated tickets inside of 5 minutes using the unreliable internet connection in Quezon City, Philippines.
Yes, overseas. Five minutes.
I actually had leftover adrenaline from that ordeal. I was rolling in bed awake for about an hour before I crashed. It was, by far, the easiest ticket buying experience EVER. That's why I decided to help out in the KCON communities that I was a part of in any way I could. I've been to two previous KCONs not to mention many other ones so I wanted to make it as smooth-sailing for them also.
I appreciate their efforts at upping the security but the constant bag checking got a bit tedious. The panels were located far away from the convention floor and both areas required bag checks and only one entrance and exit points. You had to walk to the other side of the convention center (to the West Hall) to get to a panel located close to the Concourse Area closer to the South Hall. (Remember where they did the Open Mic Karaoke Rooms at AX2015? There. But the entrance is at Petree.) Such a hassle. Then the cafeteria was inaccessible from the concourse area. You'd have to go down to the lobby, go through another bag check, go up the stairs to the entrance of South Hall convention floor and walk to the cafeteria if you want to get coffee or food. I just... what a waste of time. I give K-Town Night Market Food Street a pass because they're totally different and they needed more space than the parking lot across the street for all their vendors. But inside? I saw no point in it.
I did one walkthrough of the convention floor on day 1. I didn't buy anything yet. After spending half my day in lines, I just couldn't be bothered for a free tote bag or other stuff. Clutter that I didn't need. Speaking of bags, P2 should've had a "limited edition goodie bag". All I got was the standard blue tote and a LINE Boss sticky note. I looked at the guy giving them away as if "Srsly? This is it?" and he just ignored me and continued chatting with his friends.
Really, KCON? Would it seriously kill you to train your volunteers a bit more? Some P2 people got a plushie. Some got magnets and other stuff on top of the note pag. Now, I understand if you run out of them but at least have your pretty boys explain that to people. I volunteered for
Wondercon
and at registration, they told us to smile and at least start the patrons' day right. I was ready to throw that bag away; it was already fraying at the sides.
Anyway, the highlight of Day 1 was this indie disco/rock band called
Sultan at the Disco
(linked is their song
Caravan
). At last year's KCON, I discovered
Coremagazine
. Sultan at the Disco was performing at the main convention stage and I was immediately drawn to their unique sound. Oh boy that was a fun set. I fell in love with their quirky image and awesome songs.
How I wish they performed at Staples Center to a bigger audience but I think this is their thing. I wish everyone in that audience checked them out and I hope you do too. When I got home, I immediately got two of their albums and followed their stuff on
Spotify
.
I ended they day with my brother and friends at
Okamoto Kitchen
. My brother finally had the green tea parfait. You should too when you see it. Maybe tomorrow at 626 Night Market? ;-) If not for the food and Sultan of the Disco, it was a tiring and disappointing start to a con. It honestly didn't bode well for the rest of the weekend.
Day 2 was fan engagement and concert day. In short, TURBO day. You can say that they're the reason why I went to KCON at the first place but you can't because they were announced as "special guests" after I bought my ticket. So I was near tears when it was announced that they're doing fan engagements. I was over the moon when it was confirmed that they were performing at the concert proper. At first, I thought they were doing pre-show but lo and behond... they had a special stage! *ded*
(L-R) Kim Jungnam, Kim Jongkook, Mikey
I headed to the convention center just before the Turbo fan engagement and managed to see Block B finish up theirs from afar. Hell, I really was just excited for Turbo. I met some fun people while waiting in line and waiting for the event to start.
I was hit by such happiness when I saw them for the first time. I'm familiar with that this group went through throughout their long career. They started out as a duo between
Kim Jongkook
and
Kim Jungnam
. Then a change of members added
Mikey
when Jungnam left. Then KJK went on to have a successful solo career. Then on their 20th anniversary, they came back as a trio. To have them comeback, be successful again, and face their international fans like this... I felt a bit emotional. Seeing how big their smiles were and how excited they were... It makes my heart so happy.
Mikey is from LA so he speaks English. I knew KJK spoke English but I was still surprised. Kim Jungnam doesn't speak English and he let us know from the get-go LOL. And yes, David from KCON Live Chat, they are so good-looking. They looked like excited children! And we were just as excited.
Let me just say that Korean celebrity hands are so soft. I've hi-touched a lot of them over the years and all of them are crazy soft. When it was nearing my turn,
Again
started to play. The girl in front of me started dancing in front of Mikey. So I was like,
pressure...
but I danced along anyway. She was still dancing when she got to KJK. Sadly, I don't think anyone got video of that. Sigh. That's okay. Memories are more special. Aaaah, up close they're even more attractive! Mikey!!! XD
I shook their hands with both my hands. High fives are nice but I wasn't there for that. I was just so happy to meet them. To see them perform live, that's my ticket right there.
Concert time meant another hour or two in line. It wasn't super hot and I got a bit of reading done so it was fine. I got my bridge camera in so it was good. My phone still had juice to last me the concert without tapping into the power banks. I was praying for good concert seatmates and I got them. On one side was a
SHINee
fan and on the left was a
BTS
and girl group fan. I was the odd Block B and Turbo fan in the row.
Like last year,
Jun Curry Ahn
opened the show with a violin cover and dance. I remember back when I first saw him at 626 Night Market playing
Eyes, Nose, Lips
. He's always a crowd-pleaser and it's looking like he's becoming a KCON staple.
Next up was
Eluphant
. They were celebrating their 10 years in the business. They're a rap group and I really liked their set.
The surprise of the night was
Quincy Jones
. THE Quincy Jones. I was freaking out. He's a true legend and he graced us unworthy souls with his presence. He was there in behalf the CJ and the Berklee College of Music. Mind you, when the president of Berklee mentioned a list of K-pop idols who attended Berklee, the cheer for
Park Bom
was the loudest. Yes, people. We still love you, Bom!
After that excitement, came another one. Remember last year when
Kim Soohyun
just said hi and goodbye for like, 2 minutes?
Daniel Henney
at least had a fan engagement. This year, we had
Lee Minho
. He only made an appearance at the Saturday concert through. At least he had an AVP and at least 3 minutes on stage.
I admit, I'm not his biggest fan but dang, he's cuter in person than in pictures! He introduced Hallyu to us and opened up the concert. It was nice. I understand why he skipped any fan engagement. A K-actor that popular... he'll be mobbed in no time.
The first act was
I.O.I.
They're the "temporary" girl group that came from the survival show
Produce 101
. I don't know anything about them, really. They were cute and there were a lot of them. And I'm pretty sure they weren't singing live. I have to see the MNET footage to be sure. I tried looking for fanboys to pass the time and they did not disappoint.
I still think
Pick Me
is an annoying song. I am glad they performed it though. Just to get it out of my system. XD
The special MC's of the night were
f(Amber)
and Shinee's
Key
. I was impressed at how well he spoke English and how he held his own when Amber wasn't on stage with him. They were fun and played off each other well. Eh, both of SM artists anyway so they know each other well.
Next up was
DEAN
. Oh you, darling you. He's amazing. That's all you really need to know about him. I want a show with him and
Zion T.
His songs are so fresh, so sexy. ;-)
He shared the stage with
Zico
later on in the night. I love it when K-artists collaborate. Much when when I see it live. I secretly wish a full concert of idols singing other idols' songs. Live. If you're lipsynching, go back to training or just don't go at all. Dean and Zico were definitely singing live.
The next act was
GFRIEND
. Yep, the group that made it tough for
WINNER
to win at awards shows. LOL.
Me Gustas Tu
is one addictive song. I'm still singing it in my head!
I admit, I don't know anything about them. I will check them out, as I do all artists in the line up after watching them live. They're so cute in those waitress-looking outfits.
Next was one of the two special stages. Zico and
U-Kwon
took the stage. The duet with Dean came after. Amber and Key introduced the two Block B members and they did one of Zico's solo songs.
Speaking of Amber... all you need to watch is her live performance of
Borders
. Try not to cry. Actually, cry. Let it all out. Such a powerful song. And oh, SM... she's a singer. Go find another rapper for
f(x)
. Her voice is phenomenal.
And then the stage that I was waiting for the most. Key introduced opened up the stage, saying that the next group has been around for 20 years. (Some of the people who performed were not even alive back then.) Little did everyone know that it was going to be a TRIBUTE stage. Astro, who were scheduled to perform on Sunday opened the stage with a dance cover of
Goodbye Yesterday
. GFRIEND then appeared and performed
Black Cat Nero
. And I just lost it. XD
I was so happy that KCON decided to do this. Mind you, Turbo wasn't in the original lineup and yet they not only include them in the concert, they also make a tribute out of it. OMG, this is those times when I love you, KCON. Really.
And then they do
Again
. I was going crazy. I didn't even care who saw anymore. Geez, Mikey omg... *hearts in eyes* And then there was this guy a few rows in front of me who stood up during the last chorus and danced ala-
Lee Kwangsoo
. It was hilarious! They're so pumped, they were singing live, they were dressed so well... ah, everything! And they looked so happy. That's the most important thing to me. This is Staples Center. All these kids would not be there if not for Turbo and the other "legends" of K-pop. They still have it. In fact, I think they were much better than these youngins.
Of course, it's not a Turbo stage without the classics.
Twist King
, anyone? Astro and GFRIEND joined them for that and it was so much fun! I fell in love with Astro right there. I loved their enthusiasm and energy. (If you're watching me write this while rewatching the Turbo stage, I must've said "OMG Mikey" a hundred times lmao.)
Then they made an announcement that they're planning to have a concert in Las Vegas on November 19th with
Iron Bros
and
Haha
. I'll try to make it; I can't be so sure yet but dang, another live performance from Turbo? I cannot miss that.
Their next song was
Loveable
. Watching back the video, I think I can hear myself scream from P2 LMAO. I was so excited. Then they closed their stage with
December
. Easily, it was the longest set in those two concert nights. I just could not get over it. I can't believe I saw Turbo perform live on their comeback as a trio. Thank you so much, KCON. I hope you bring them back next year. *hint-hint*
If that wasn't enough, the next stage was BLOCK B! Dang, no wasted adrenaline here. But
Park Kyung
wasn't there. Aw, the LA boy. I so wanted to see
Toy
live and they delivered. Sad Kyung wasn't there because
Walkin' In the Rain
is also one of my favorites. Or his newest solo song, GFriend was there so a duet was possible. Although...
It Was Love
by
Taeil
featuring
f(Luna)
. KCON France got that. I'm jealous.
A Few Years Later
was their next song. I live for Taeil's and
PO
's parts in this song. Then they performed older favorites
HER
and
Very Good (Rough)
. Sigh, still no
Nillili Mambo
. I just love them so much. And I'm glad they're close to Winner and other YG talents. That way, even if we can't get official collabs, there's always social media.
Fun fact, last year
when Block B performed at the Sunday concert
, I was wearing a
Song Minho
shirt. This year, I wore it again. ;-)
And for the headliner of Saturday's concert, SHINee. I admit, I was excited to finally see them live. They're in that generation of K-pop idols who are the same age as I am and I do genuinely enjoy some of their songs. And as far as I know, ALL of them sing. Quite well I might add.
I was looking forward to a longer set. These guys knew how to pump up a crowd. But wow, that flew by so fast. I remember last year
Super Junior
and
Shinhwa
performed the longest. I mean, it certainly felt like that. Turbo's set felt longer than SHINee's. A bit disappointing but it was still a fun stage.
And then it just ended. There was a rain of confetti which got everywhere and the artists came out for their final bow. There was so much confetti that I couldn't see well hahahaa. But I did saw Block B and Turbo come out. It was so nice; SHINee gave their Turbo sunbaenims a 90 degree bow. There were hugs all around, especially between the rappers Kim Jungnam and Zico and
Running Man
regulars, Kim Jongkook and Taemin.
Overall, I have to say that this is my favorite KCON concert night so far. I enjoyed all of the performances even though I didn't know them all. Two of my favorites are here and so was Dean. Really guys, I'm just super excited that Turbo performed their new and old hits in front of a huge crowd at Staples Center. Thank you, KCON, for giving them that.
Are you ready for more pics? I hope so. There's more to follow (and another blog post for Day 3).